by Aude Camus
A month ago, I was in Macau to attend the foodie event of the year: the launch of the Hong Kong and Macau 2020 Michelin Guide (
right here to read our article and rediscover the full list of awardees
). On the menu: a few disappointed chefs but mostly a lot of happy faces ranging from regulars to newbies. Among the happy ones, Adriano Cattaneo who was for the first time representing L'Atelier de Joël Robuchon as Executive Chef and did maintained the three Michelin Stars of the restaurant six months after being promoted. Knowing that he would be stuck, just like me, in Hong Kong over the festive period, I decided to seat with him on December 26, in between to festive meals, to discuss chef Robuchon's legacy, Michelin Stars and yummy stuffs.
Hi Adriano! Thanks so much for making time for me in between two festive dinners! Would you tell me a bit more about your background?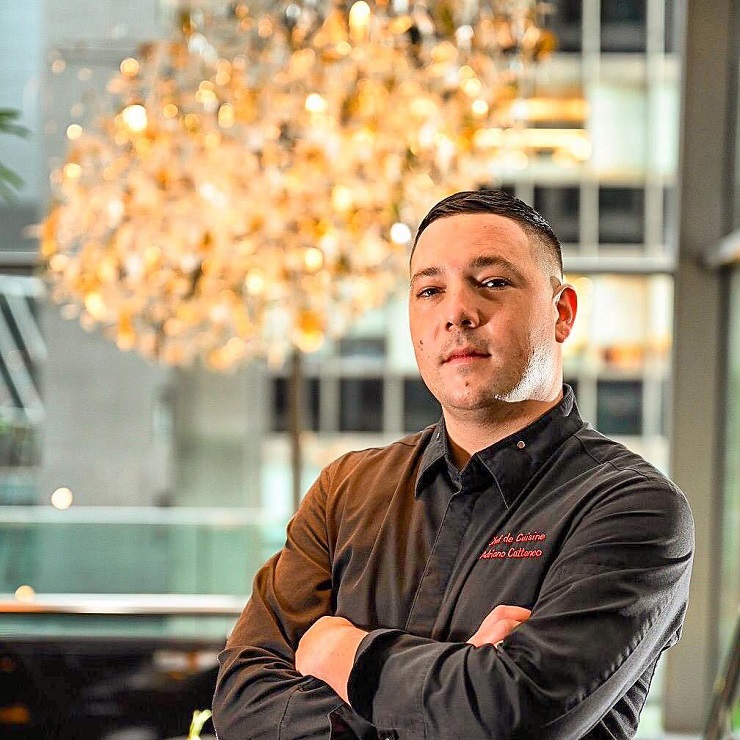 I first started my career in France, right after graduating from hospitality school. My first job was at chef Eric Frechon's Michelin Star restaurant in luxury hotel Le Bristol Paris. Quite a first experience! I spent two years there before moving to another luxury hotel, Le Meurice. I left this position to embark on a quite different adventure with my friend Julien Tongourian, who is now the Executive Chef for Robuchon au Dôme in Macau. Unfortunately, things didn't really go as planned … Julien felt bad for embarking me on this adventure and offered to introduce me to Robuchon. This is how I first entered the group, joining L'Atelier de Joël Robuchon in Paris, and how I met David (editor's note: David Alves, former Executive Chef at L'Atelier de Joël Robuchon Hong Kong). I unfortunately only spent a year there because there was no Sous-Chef role available back at that time. I therefore took my first Sous-Chef role with chez Jean-Louis Nomicos and I am so glad I did. Jean-Louis Nomicos truly inspired me and gave me a fresh boost. I like to say that before meeting him I was mainly doing what I was told to do but he taught me how to think. And then, one day I received a phone call from David offering me to join him in Hong Kong.

Have you ever thought of moving abroad?
Not at all. I have always had in mind that I will do my career in France.

Was it a difficult decision to make?
It was not an easy one. And I was not the only one to decide because moving to Hong Kong meant taking my wife and daughter with me. We did think about it carefully but here we are, 4 years later, still in Hong Kong.

David Alves left L'Atelier de Joël Robuchon Hong Kong last July (editor's note: and he is now Executive Corporate Chef for Joël Robuchon International) and you have been promoted Executive Chef. Knowing that you were previously David's Sous-Chef and working quite closely with him, it is a big change?
I thought that it wouldn't be but it is. As a Sous-Chef, I did think David and I were both working equally hard but now that I am on the other side I do realise that being the Executive Chef comes with greater responsibilities.

You first started your career in a Michelin Star restaurant. Have Michelin Stars always been a dream to you?
Yes. I am the kind of person who like to do things well so embarking into a chef career it made sense to me to join a Michelin Star restaurant. But I have to say this first experience was very intense for a young rookie. After that, I thought that I should maybe give a go to non-Michelin Star restaurants and did try and work for a few bistros. But that wasn't me. So, I went straight back to Michelin and joined chef Yannick Alléno and his three stars at Le Meurice.


Chef Robuchon passed away in 2018. Did it change anything for the chefs of his restaurants?
I mean, of course it's different because we felt close to him. We were not seeing him every day but still, he was always traveling to his restaurants and we would saw him at least three times a year. So, you cannot say it doesn't change anything. I am proud to say I have worked for him and with him. But on a more operational level, chefs Eric Bouchenoire and Tomonori Danzaki who were always following him all around the world are still supervising all the restaurants, and visiting us few times a year, making it quite smooth for us.


Is Robuchon's legacy something stressful?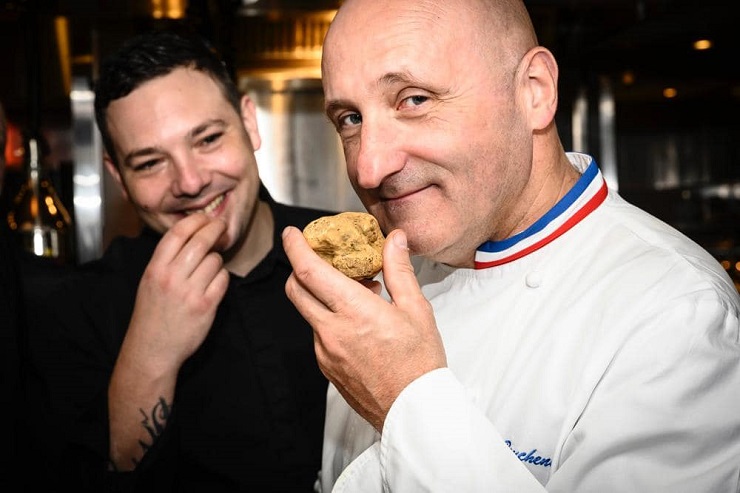 Chef Adriano Cattaneo and chef Eric Bouchenoire
My job is stressful. But I chose it, many years ago. I believe I am now past the "being stressed all the time about everything" period of my life.


Speaking of stress, was this first Michelin Star Ceremony as Executive Chef of the restaurant stressful for you?
Yes, it was. You know what you do, you know that you do it well but still, right before the ceremony, you can't help but thinking "what if?". I have to say I feel very relieved.


And the open kitchen of the restaurant, isn't it stressful?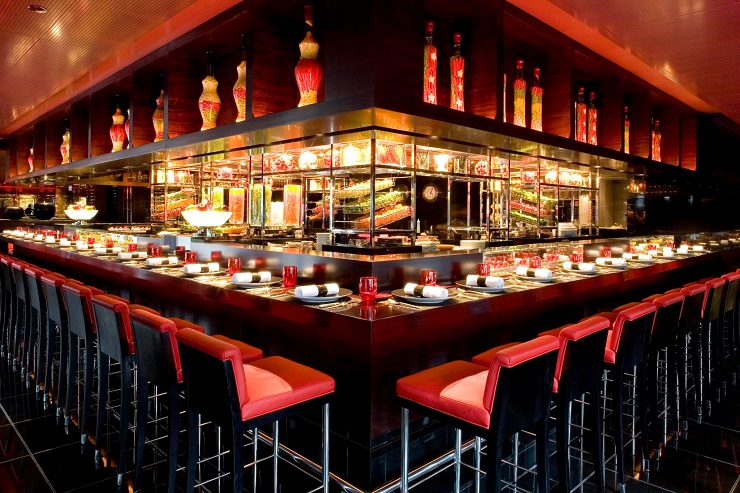 It was, when I first started. Working in an open kitchen means you can't afford to make any mistake, it also means you have to be ready to directly engage with customers and, being a chef, that's usually not what you have been trained for. But today, I can't imagine not working in an open kitchen anymore. I want and need to engage with diners, I want to see their reactions, I wanna be able and talk to them directly. It's also a way of perpetuating monsieur Robuchon's legacy because he was one of the first chefs ever to go out of the kitchen, say hi to diners and take pictures with them.
Imagine it is my first time visiting L'Atelier de Joël Robuchon, which dish should I absolutely have?
The Sologne Imperial Caviar over Crispy Poached Egg. It's iconic, perfectly balanced and never gets old.
One last thing, can you share your favourite foodie places in Hong Kong?
L'Envol
(
right here to rediscover our interview of chef Olivier Elzer
),
Caprice
(
click here to rediscover our interview of chef Guillaume
Galliot
),
Belon
… I don't wanna forget anyone but I probably will. I also love to go for a crepe at
Fleur de Sel
, some comforting bistro dishes at le
Bistro Winebeast
and a croque-monsieur on Sundays with my kids at
Metropolitain
. My kids also love
Din Tai Fung
, I like the food but the atmosphere is too much for me, I like to be able to seat, relax and chill over a nice glass of wine when I am not working.