Launched in 2010 by the two very Frenchy Manon and Clemence, Hong Kong Madame is the only city-guide in Hong Kong with a Parisian twist: elegant but not uptight, chic but funky, definitely not to serious and with a nice dose of self-mockery … a true Parisian! Just like its new Managing Editor (since 2018), Aude Camus.

"From Michelin-star restaurants to hole-in-the-wall places, from secret shopping spots to super interesting deals, from fancy events to cheap ideas … I'm sharing will you all my latest finds and crushes, just like I would if we were best friends" Aude.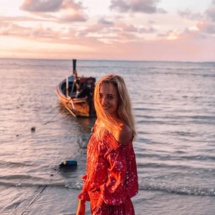 ABOUT AUDE
"Born and raised in Paris and having lived in Nantes (West of France) and Sweden for my studies, I have decided to swap baguettes for dumplings in 2015. I love nothing more than eating and am always on the look for a good meal to brighten up my day! When I am not eating, you'll find me hitting the gym to sweat it all out or testing new beauty products if not traveling or running from one meeting to another."
Aude also contributes to
Destination Deluxe
, a travel and wellness publication.
OUR ILLUSTRATIONS
Our brand new logo and all our banners have been created for us by Ophelia, Founder/Illustrator of
MERAKILYA
. We absolutely love her work!