by Aude

You know me, absolutely obsessed with food. So obsessed about it that, I don't only eat the food but I also read, dream, live food. So, it was only a matter of time before I decided to infuse more food in my "People of Hong Kong" series and start interviewing Michelin Star chefs around town. Kicking off with a French one (what else), Guillaume Galliot, whom I first met before Christmas right after Caprice, where he is Chef de Cuisine, was awarded 3 Michelin Stars. Have heard so much about Caprice, after this third star and meeting Guillaume, I had no more excuse not to finally give it a go which I did early January. OMG, guys you know am not the kind of person to lie about food, well I can tell you it wouldn't be lying saying that dinner at Caprice was probably one of the best one of my life (and am lucky enough to have had a lot of fantastic dinners in my life already). Well of course I had to know more about Guillaume!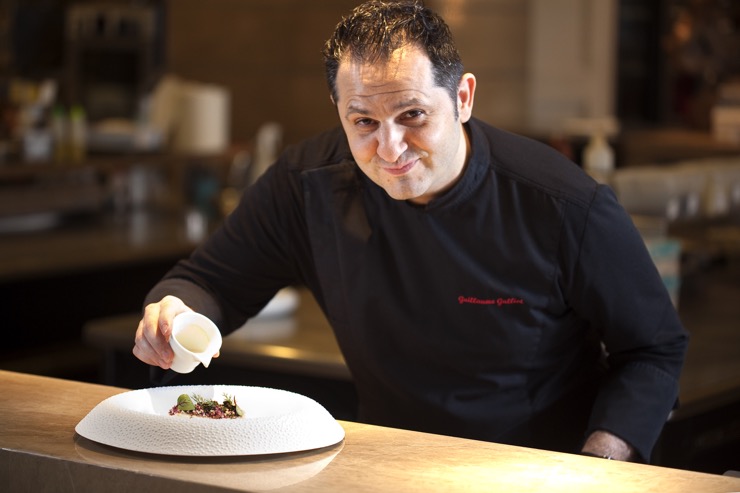 Hey Guillaume, thanks for having me today! Can you tell me a bit more about your story? How did you end-up here, as Chef de Cuisine for Caprice?
I'm originally from Tours (editor's note: centre-west of France) and started my culinary journey working for Chefs Jacques and Laurent Pourcel at their three Michelin start restaurant Jardin des Sens in Montpellier. I've been lucky to do a few culinary demonstrations with them around the world and knew I wanted to go and work abroad which I did at 21 moving from France to Saint Barthelemy.

After a stint in New York, I was offered a great position in Miami at The Raleigh Hotel but instead decided to accept a less-paid position at the Raffles Hotel in Singapore. Why so? I was young, Asia was super attractive to me and I've visited Singapore before and loved it. So, I thought, why not? Plus, being 23, I was the youngest ever Sous Chef in the history of this iconic hotel. I spent 2 years in Singapore before being offered my first ever position as a Chef, at the Raffles Hotel Beijing where I spent 4 years.

I then left Asia, but only for a few months, and went to Morocco working on some culinary consulting projects for the Pourcel. While there, my Chef from Singapore, who had then moved to Macao, contacted me because he was looking for a French Michelin-starred chef to open a signature restaurant. I gave him a list of names and contacts and told him "there is also one guy, Guillaume Galliot, he has no Michelin-star yet but therefore he is cheaper". I think he first thought it was a joke but few days after he came back to me and told me "if you are serious about this, I can fly you in for a tasting with the owner". I did the tasting and while waiting for their feedback went to Singapore, where I had just been offered an Executive Chef role, for another tasting. It ended-up with me also getting the job in Macao.

And you chose Macao. Why so?
At that time there was no Michelin guide in Singapore but there was already a Hong Kong and Macao edition. And in Macao they were offering me to put my name on the restaurant.

Are Michelin stars something you've always been aiming at?
Yes! I am French, I grew up with the Michelin guide, so it definitely means something to me. And I've always worked in Michelin-starred restaurants.

In 2010, I was given the opportunity to have a restaurant with my name on it. It wasn't easy opening The Tasting Room by Galliot and it took us a year and so to come-up with the right concept for this place which was previously a steakhouse. We opened in 2012 with striking beginnings but then after 3 to 4 months things started to slow down, and the casino started to ask us to maybe change the concept. Which I absolutely didn't want to. I was clearly aiming at receiving my first Michelin-star and knew I had to be consistent. Luckily, the owner and I were thinking alike. And 7 months after the opening, end of 2012, comes the first star.

Did you immediately see a difference after this recognition?
Yes, 30% more clients …

The Tasting Room then received two Michelin star rating in the 2016 and 2017 Michelin guides. What made you move here to Caprice in 2017?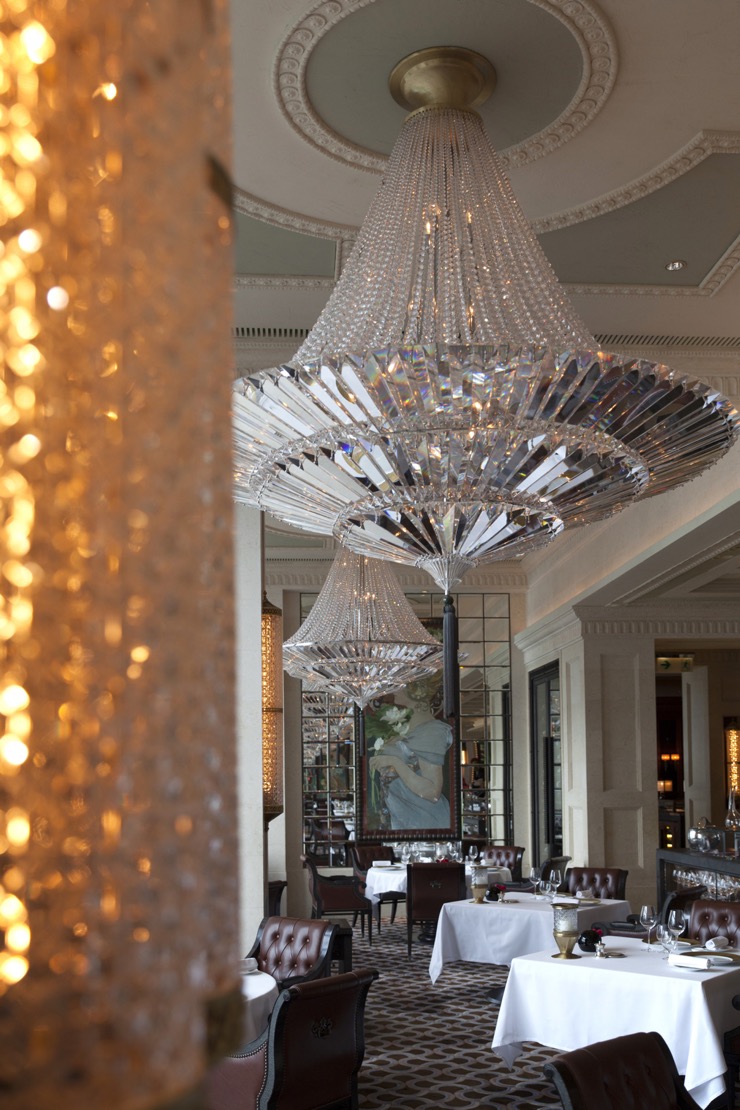 I had been in touch with the team before. In 2013 they already asked me to join them but back then Caprice was a three Michelin Star restaurant and I had just received my first star, so I thought it was too much of a challenge and said no.

When they contacted me again, it was two Michelin stars on each side, and I was up for a new challenge. I've always loved Caprice and for me it's a privilege to have the opportunity to continue what Chef Vincent Thierry started and Chef Fabrice Vulin contributed during their tenures.

Were you afraid of this new challenge?
Not for the culinary part. More in terms of volume and people. Back at The Tasting Room, the team was like 10 to 12 people and we were serving 30 person per day. It is definitely not the same to lead a team of 35 people and serve a hundred people a day. But I brought with me my Number 2 from Macao to help me.


The team am working with is something super important for me, am looking at training people. I'm more interested in people who haven't yet spent many years in the same maison because it means that I'll be able to teach them my cuisine. It's also important for me to work with people from different nationalities and different background.

And so, a year and a half after joining Caprice, the restaurant regains the third Michelin start (editor's note: in the 2019 edition of the Hong Kong and Macau Michelin guide). What's the next step?
It doesn't really change anything to be honest. It doesn't remove any of the pressure. We've been working very hard for this third star, even though I thought it might take a bit longer to get it. But now we need to continue working as hard to keep it.

For you personally, has this third star changed anything?
I am more visible. I have received congratulations from all over the world and from Chefs I knew from before but other I've never worked with. It's like being part of a very restricted club. There are not that many of us.

And you can't imagine how many new friends I've made. It's funny how everyone is my friend, even people I don't know, and have something to ask me!


And a few yummy questions to end this discussion … Your signature dish?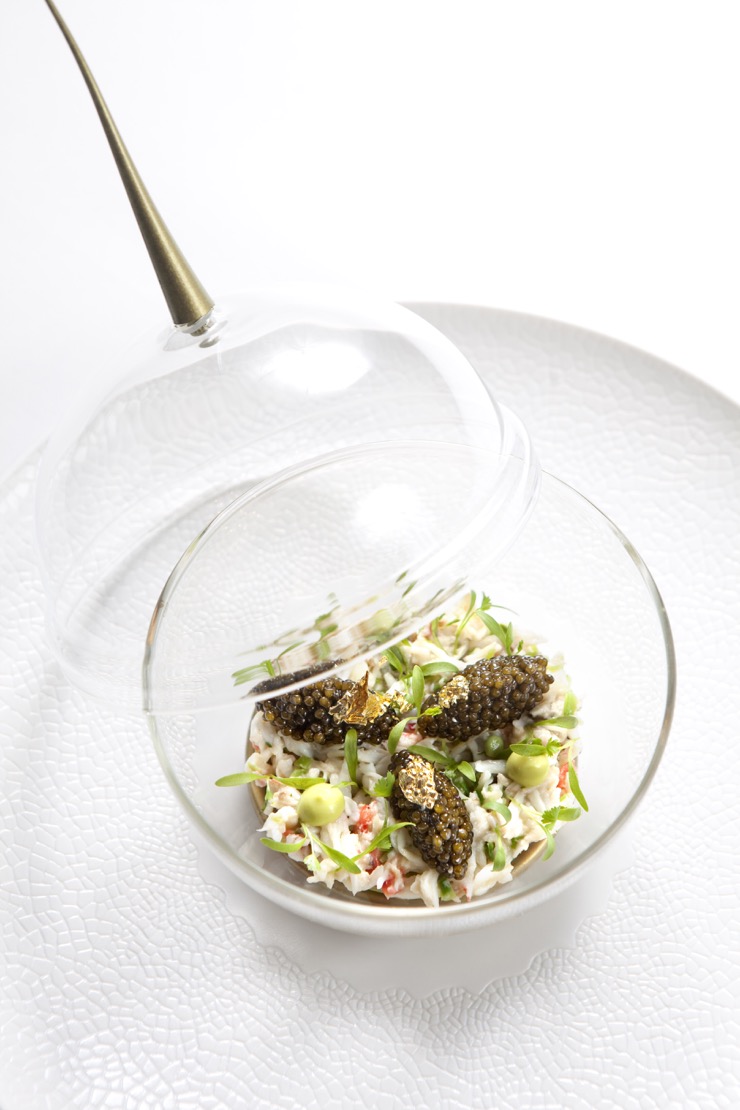 The King Crab Salad (
editor's note: tested and 100% approved, Alaskan King Crab with Gillardeau Oyster and Prawn Jelly, Caviar Baerii from "La Maison Nordique")
or maybe the Pigeon (
editor's note: cooked in cocoa pod
) but also the Turbot.
Are you more of a savory or sweet person?
Both! I can't end a meal without a sweet finish.
Someone you dream of cooking for?
I'm happy to cook for everyone, from a person who has saved money to enjoy a very special meal at Caprice to a famous soccer player or family and friends. It's a dream for me to cook here every day.
Your fav restaurants in town?
I love both Vicky and Vicky! Chef Vicky Cheng at
VEA
and Chef Vicky Lau at
Tate Dining Room
, for his local approach to western food. For Chinese food, I am super impressed by the food at
Tang Court
at the Langham Hotels and at
Xin Rong Ji
i n Wan Chai.
Belon
or
L'Atelier Robuchon
never disappoint when it comes to French food, they are always great. And for Italian, I of course love 3 Michelin stars
8 ½ Otto e Mezzo BOMBANA
but also
Locanda dell'Angelo
in Happy Valley.
Caprice
Four Seasons Hotel Hong Kong