by Aude Camus
The St. Regis Hong Kong is basically my new home (I wish!). I completely fell in love with this elegant hotel when visiting early May. I mean, sleek design, timeless stories, damn good Bloody Mary, how could I not loved it? I was lucky enough to enjoy an absolutely lovely staycation at the hotel just a few days later (which I am telling you all about in
this article
).
One of the things which definitely make the place very special? The elevated food offer whether it comes to enjoying a signature Bloody Mary at
The St. Regis Bar
or indulging on tea and scones at
The Drawing Room
or discovering the culinary delights of the two in-house Michelin Star awarded chefs: Chef Olivier Elzer at French restaurant
L'Envol
and chef Hung Chi-Kwong at Cantonese restaurant
Rùn
. Chef Olivier Elzer who happens to be my next meeting today …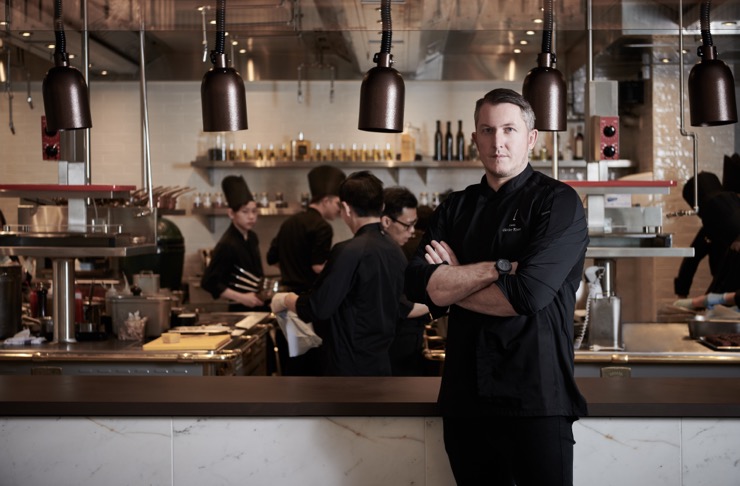 The chef, who recently turned 40 and has now been living in Hong Kong for over a decade, is a well-known personality for all the foodies in town thanks to its former Michelin Star restaurant Seasons by Olivier E, opened after he left his role as Head Chef of L'Atelier de Joël Robuchon Hong Kong (3 Michelin Star Restaurant). Michelin Star, something the Chef definitely masters, having gain 18 of them so far. I had the chance to be one of the very first to have lunch at L'Envol and loved it, I had to make this gourmet break last a bit longer so decided to sit with the chef!


Hi Olivier, very lovely meeting you today. Can you tell me a bit more about your background? Who are you? How did you end up here in Hong Kong and what have you been up to over the past 10 years?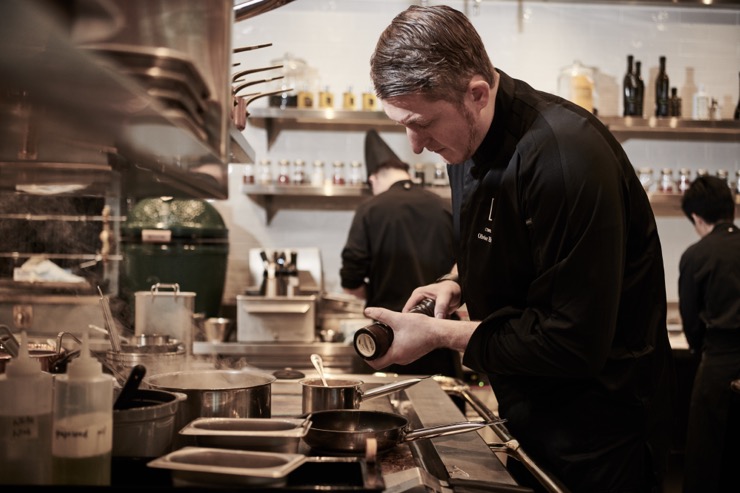 Before moving to Hong Kong, I was the Chef at L'Abbaye De La Bussière in Burgundy, a place where I had been awarded with my first Michelin star in 2007, only 8 months after the opening. I spent around 3 years at this place and knew the second Michelin star was potentially coming which meant I would have to stay at L'Abbaye de La Bussière for another 2 or 3 years. You can't really leave a place after gaining a Michelin Star … inspectors don't like that at all. I wasn't sure this was what I wanted. Back then, my wife (who is today my ex-wife) and I were thinking about moving abroad and we decided it was the right time to do so. At the same time, Pierre Gagnaire was looking for a Chef for his Hong Kong restaurant and I flew all the way here to meet him in 2009.

I had never been to Hong Kong before and had no idea what to expect. For me, Hong Kong was the city from the 1970's Jacky Chan movies. Needless to say that landing here was quite a shock! But my first few days were so intense that I didn't really had time to think about it.


Are you still in touch with Pierre Gagnaire?
Yes, I am. He was slightly angry at me for leaving him in 2012 when I went to work at L'Atelier de Joël Robuchon Hong Kong but it's old story now and I am very proud to say he is the one who basically brought me to Hong Kong.


You very openly speak about your Michelin stars. Is it something that you are proud of? Something you've always been dreaming of?
Of course it is.


Today, being a Chef is quite trendy. Do you see it as a positive or negative thing?
A bit of both, I guess. I like it that more and more young people are willing to learn and train to become chefs. But I don't like it that some TV shows have them believe that being a chef is being a star and is something you can achieve in 2-3 months. I'd love those show to focus more on the hard work it takes to be a chef.


Speaking of TV shows, is it something that you would be open to explore?
Never say never.


You didn't choose the easiest way to make it where you are today, right?
True. But it was my choice. Working with the greatest chefs but also the toughest one was something I wanted. I do not feel at all that I should be hard with my team just because people didn't make things easy for me. I am not like that. And times have changed! Not to mention I'm not a local so I have to understand how people here work and feel. Something I've come to realize quite quickly is that here, unfortunately, people are less driven by passion than money. Being a good captain is about understanding your team and adapting to them. And whenever I find someone who is passionate about what he/she is doing, I definitely make sure to make him/her feel like I'm the right person to help him/her grow!


Not being a local … has it been an issue for you? Or on the contrary, do you think that being French has been an asset?
Being French has definitely been an asset. It's absolutely not the same being a French chef in France and a French chef abroad. I'm proud of where I come from and I'm doing my best to be a good ambassador.


Has your cuisine changed over the past 10 years spent in Hong Kong?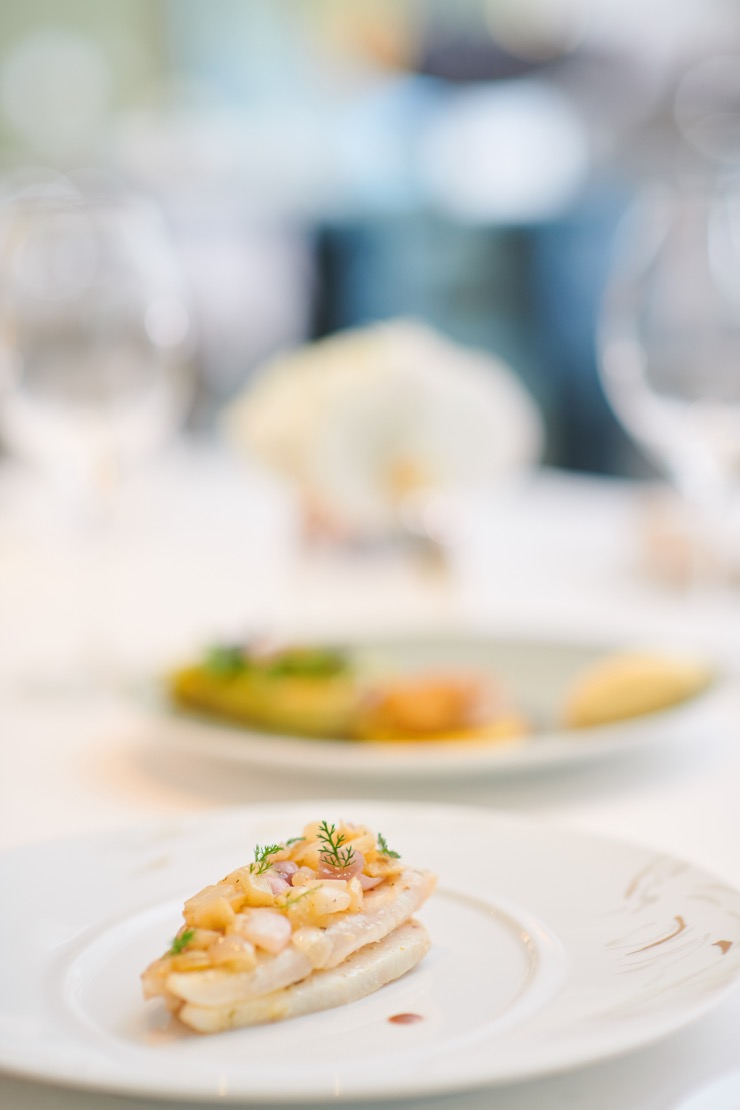 Chef Alain Passard once said that you only reach culinary maturity around 50. I am only 40. If we were to do this interview again in 10 years my cuisine will again been different from today. Like it is different today from what it was 10 years ago. Of course, Hong Kong has influenced my cuisine. And it has influenced it in a different way than any other country would have only because clients are always different from one country to another. You can't just say "French cuisine is like that, whether you like or not", you have to find the little things which make it appealing to local palates.

Is Hong Kong a thought market?
Absolutely. There is such a wide variety of restaurants here, it's not easy to stay competitive. Take 2 and 3 Michelin stars restaurants here in Hong Kong, you'll see that the average bill is 30 to 40% lower than the same restaurants in France, but our product cost is 30 to 40% higher. The only cuisine that Hong Kong people feel like it's ok to pay an expensive price for is Japanese cuisine. But they wouldn't be ready to pay that money for French cuisine, so we have to understand that and adapt.

Something I am really impressed with is the culinary memory of local people. For example, I went twice to a restaurant with the same people and the second time we were there I've heard someone saying "Pecking Duck tonight isn't up to standards" whereas for me, even as a Chef, the difference with the first time was really hard to notice. They have a very precise memory of what things should taste like,


Is a Michelin star something you are aiming to, here at L'Envol?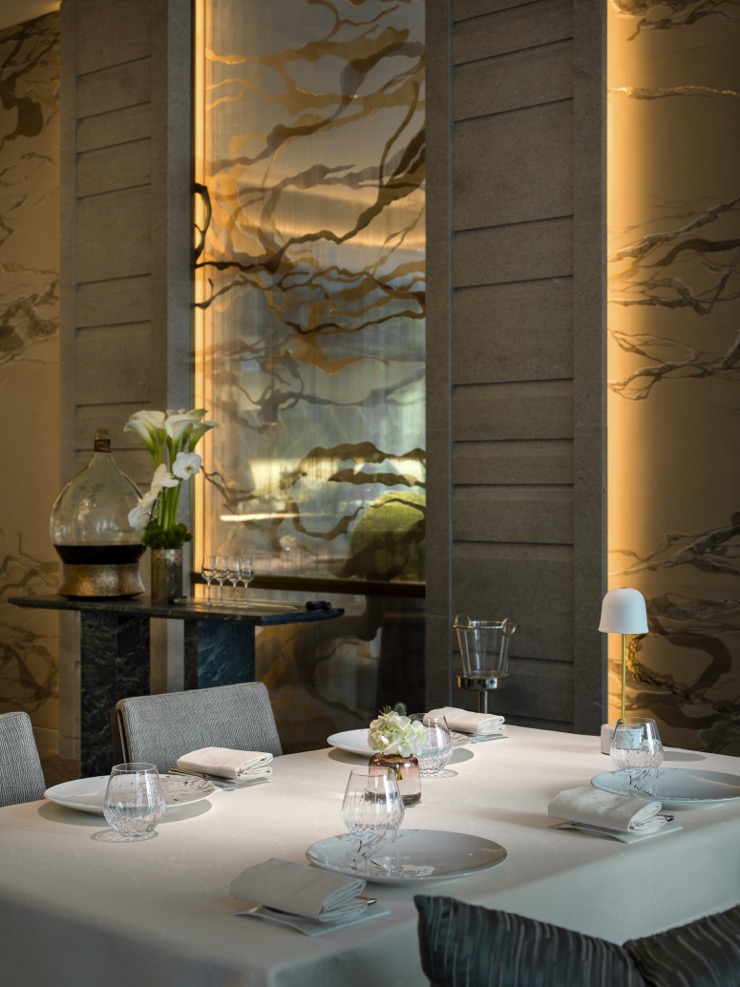 Yes. I've always had stars wherever I've worked, and I am proud of it. I also think this is one of the reasons why they brought me on board. We've also decorated the restaurant and built the menu with that in mind.
We've been open for a month only and we are already very full, so we are pretty happy with it. Knowing that we haven't yet done any marketing communications as I first wanted us to be fully operational. People coming at the moment are hearing about us thanks to the word of mouth which is great.
One last question, can you share your favorite foodie places in Hong Kong?
I do love
Caprice
and Guillaume is one of my best friends here in Hong Kong (
editor's note: follow
this link
to read our interview of Guillaume Galliot
). I was so proud of him when he was awarded with the third Michelin Star! Of course, I love
L'Atelier de Joël Robuchon
. For Japanese food I think
Sushi Mori
is great but it's very expensive, so you'd better have something to celebrate. In a completely different style, I also love heading to
Yat Lok
on Stanley Street for roasted goose. Simple, cheap and yummy. And to fix my French food cravings, I usually visit one of the bistros opened by my friends Jérôme and Olivier who run
French Creations
(
editor's note: we interviewed them recently, find the article
here
). This is what I love about Hong Kong, you can have it all!