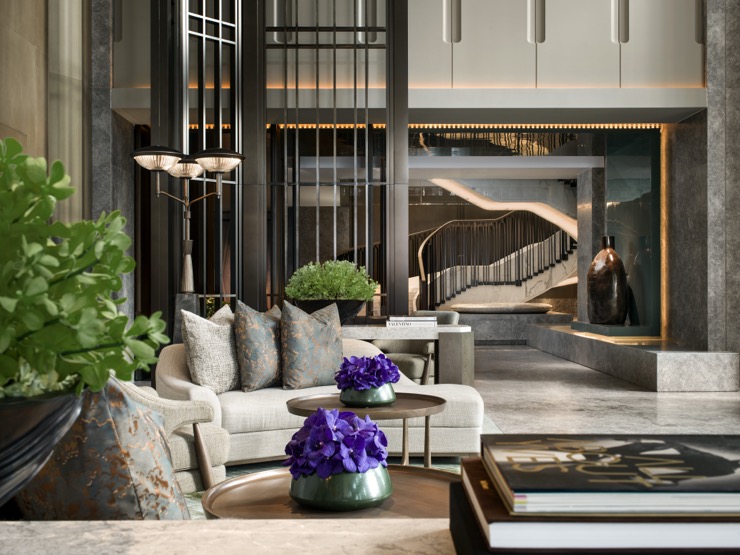 by Aude Camus
Earlier this month, I was visiting the St. Regis Hong Kong to give you a
sneak peek
of this brand-new hotel and was crushing hard on this elegant and timeless mansion designed by André Fu. Couldn't get over how beautiful the place is … Manhattan glam meets Hong Kong heritage. I had to check myself in the hotel for 24h and see if the entire experience was as seamless and beautiful as you could imagine when simply visiting the place.
Checking in the hotel definitely is seamless. Forget about the check-in desk … our butler is waiting for us at the front door, whisking us to our room for us to enjoy private in-room check-in. Did you know that butler service was a signature of all St. Regis Hotels & Resorts around the world? Joy, our dedicated butler, is the most thoughtful person! She heard me say I was tired during the check-in and offered coffee. Later on, coming back from diner outside the hotel, we would find a yummy chocolate cake and the sweetest Birthday card waiting for us in the room simply because I mentioned to Joy that me and my other half were staying at the St. Regis Hong Kong to celebrate his birthday. Personalized experience definitely is a thing at St. Regis Hong Kong!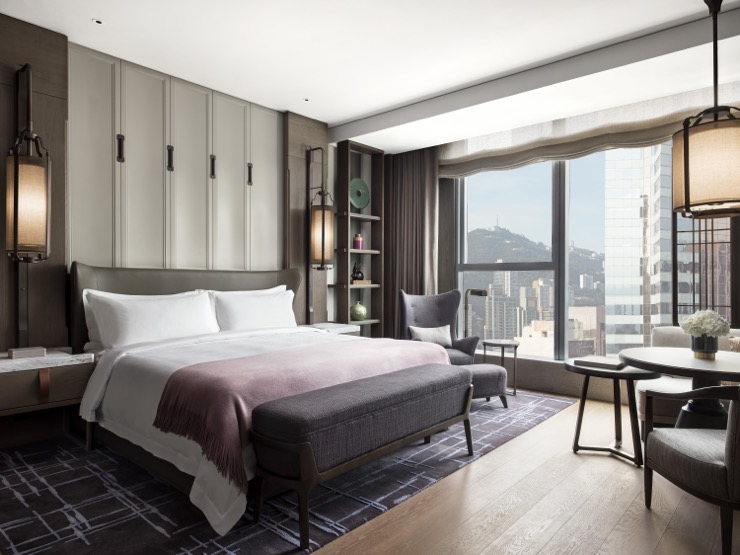 But back to our room. Am loving absolutely every detail of it. I already told you all about the beautiful design of the hotel mixing subtle New York Art Deco elements and artisanal details paying tribute to Hong Kong's rich and diverse culture in
this article
but design isn't the only thing which makes this room very special. First of all it is massive. Then, the (massive) kind-bed is the epitome of plush with its luxurious fluffy sheets. The room also comes with high-end technology and a very posh minibar where you won't find the usual sodas and can beers but instead fresh French fruit juices from Alain Millat (my fav bottled juices on earth, they are so chic and yummy), St. Regis-branded alcohols (rum, vodka, gin) made in France and a bottle of Ruinart Blanc de Blancs if you are in the mood for some bubbles. Staying here definitely makes me wanna pop some champagne!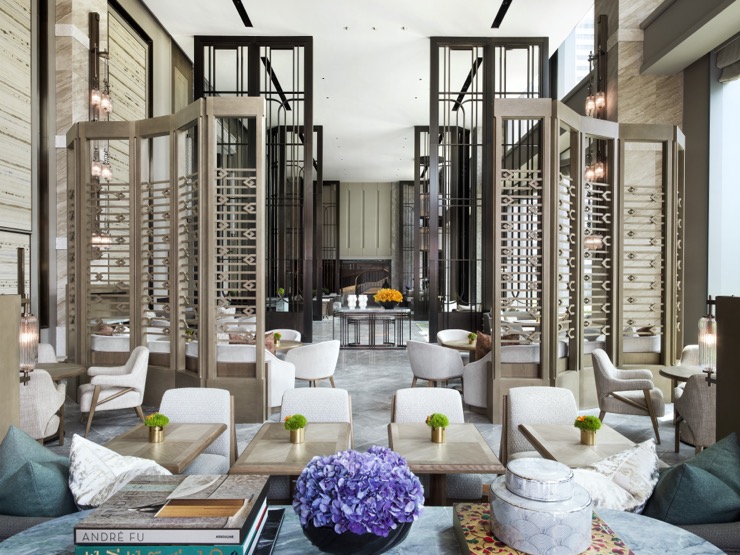 But hurry-up it's almost 5.30pm and which should go down to The Drawing Room if we wanna catch the Champagne sabrage ritual. Another St. Regis brand's signature, marking the transition from afternoon to evenings in all their properties. You know me, always in when it comes to having a sip of Champagne.

I am afraid I won't be spending the next hour with you. I am meeting Michelin Star French chef Olivier Elzer at L'Envol, the hotel French haute cuisine restaurant, for an interview (coming up soon, stay tuned). But I'll meet you at The St. Regis Bar in an hour for cocktails. Loving the cocktail menu inspired by the New York subway and the Hong Kong tram line which both opened in 1904 which is also the year of opening of the first St. Regis hotel, in New York.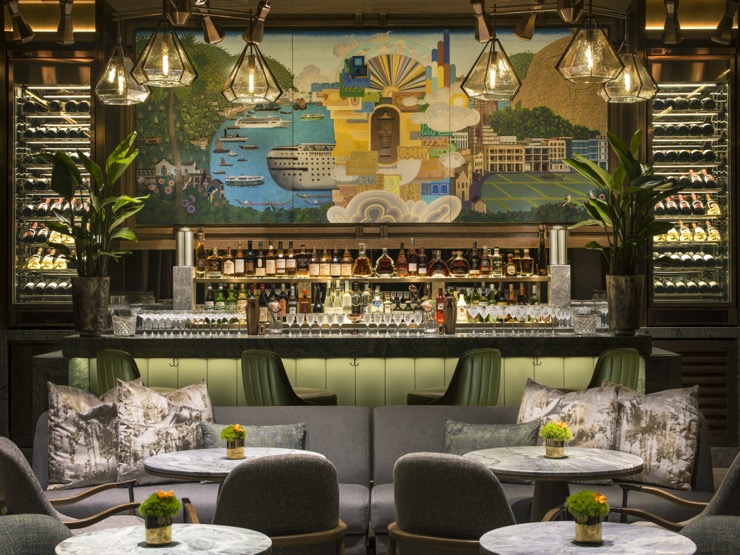 So, where will you first drink take you tonight? Hong Kong or New York? I'll go for the house signature: the Bloody Mary. Did you know that the first ever Bloody Mary was served at the St. Regis New York? Nowadays, each and every St. Regis in the world offers its very own twist on this cocktail and at St. Regis Hong Kong you'll be offered a Canto Mary featuring a dash of Kowloon soy sauce. Also available with green or yellow tomatoes juice instead of the traditional red tomatoes one. Not sure which one to choose? Order a tasting portion of them three, you'll get to try them all and decide which one is your fav. Green tomatoes for me!

Rest of the night was spent out of the hotel for a special Birthday dinner celebration.

Waking up next morning after a perfect night in the comfiest bed and in the mood for breakfast. Hotels breakfast are something I am obsessed with. We could had have it served in our room but I'm the mood for crowd-watching so what about we enjoy breakfast at the restaurant instead? Just give me 30 min, I'll run myself a bath … would be a pity not to enjoy this gigantic bathtub.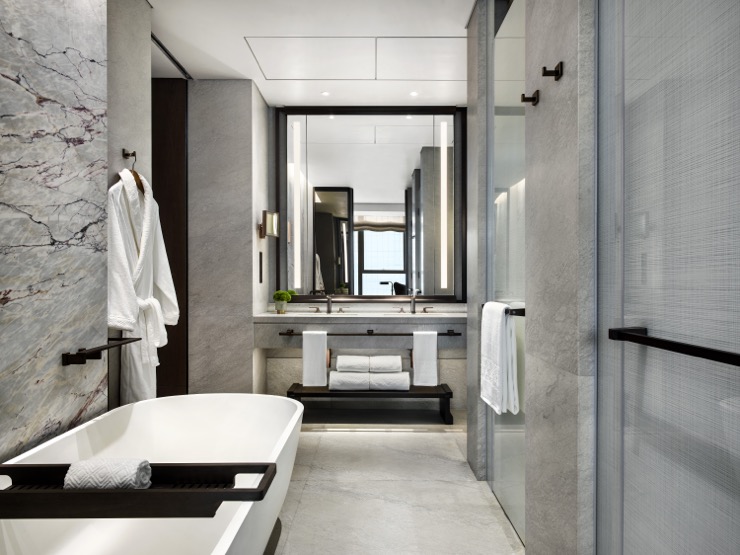 Oh oh, might actually need a bit more than 30 min, just realized there is a TV right above the bathtub … anyway, we are not in a hurry, right?
Ok ok, I can feel someone is hungry so let's go for breakfast. Semi-buffet style, it is served at Chinese restaurant Rún in a beautiful décor inspired by a traditional Chinese teahouse. Croissants, brioche, fresh fruits, fresh pressed juices, cereals, fresh yogurts … all the breakfast essentials are available on the buffet while eggs or dim sum are made to order. Loving the jam stand standing on each table. Eeny, meeny, miny, moe … I'm jamming hard this morning. My absolute fav? The St. Regis' take on Nutella. God this is good! Service is on point … A cappuccino, The New York Times and a bit of crowd-watching, I am loving my slow morning. But it is soon going to be time for us to leave the hotel and before we do so you might wanna enjoy a bit of quiet time on the terrace or by the pool (which is not yet opened but will be very soon). You could also choose to hit the gym which is fully furnished with only the latest equipments. Just hurry-up, check-out time is approaching.
Do we really have to leave? I would have happily spent another day at St. Regis Hong Kong, guess I'll have to be back …
The St. Regis Hong Kong
1 Harbour Drive – Wan Chai
This write-up is based on a one night stay hosted by the St. Regis Hong Kong (no monetary compensation)