by Aude Camus
In the spring of 2023, Hong Kong's dynamic bar scene welcomed a captivating new player,
Artifact Bar
, a speakeasy-style joint nestled within in
Basehall 02
, opened its doors. The brainchild of an all-star F&B team, including the visionary Michael Larkin (co-founder of the beloved Quality Goods Club), the creative genius Beckaly Franks (the mastermind behind the award-winning The Pontiac), and the vivacious Ezra Star, Artifact Bar is a vivid addition to Hong Kong's nightlife. Intrigued by the unveiling of their seasonal cocktail menu, I embarked on a journey to explore this new(ish) bar.
The Design
Stepping into Artifact Bar is akin to entering a surreal dimension inspired by underground water reservoirs and evoking the ambiance of dystopian sci-fi classics like "Gattaca." The space is a testament to avant-garde design, adorned with surreal geometries that offer a sensory experience far beyond the ordinary cocktail lounge. Here, surreal meets spirits, and every corner is an adventure waiting to be discovered.


The Drinks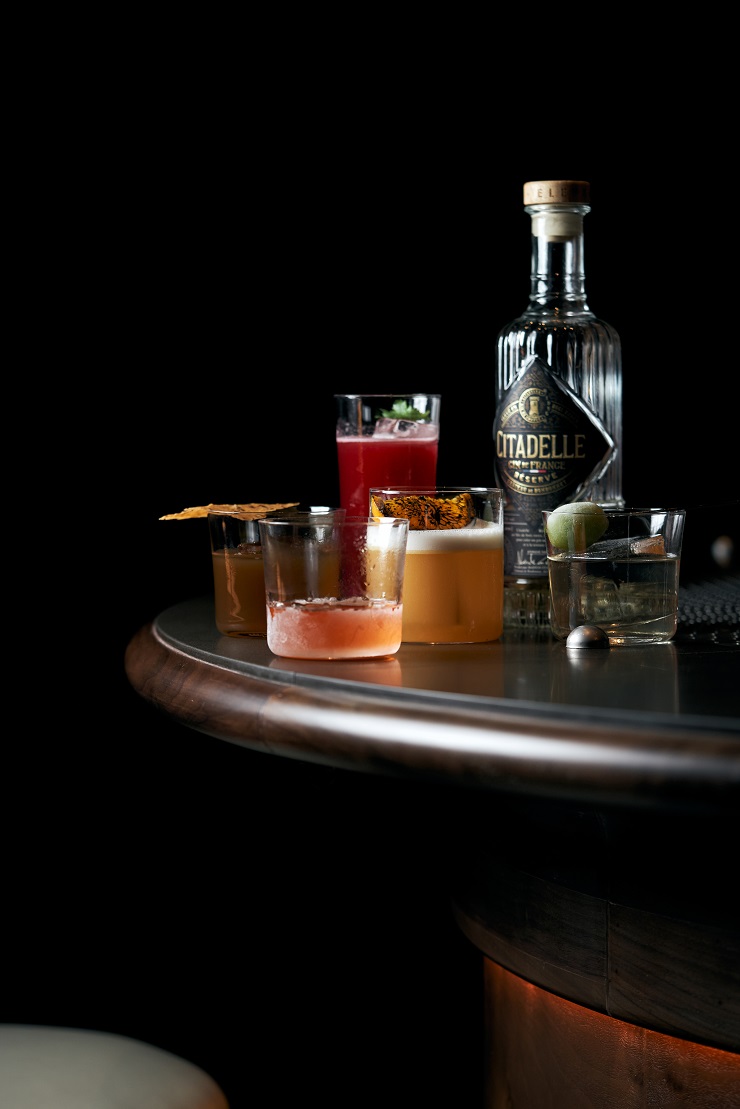 While the aesthetics of Artifact Bar are awe-inspiring, its true magic lies in the realm of spirits. The menu is a thrilling odyssey through the world of single-aged spirits, with each cocktail telling a vivid story about brandy, gin, rum, whiskey, and how these spirits evolve through aging, the influence of the sea, and the human touch.
This season, Artifact Bar has chosen the exquisite Citadelle gin from France as their muse. Established in 1996, its name was drawn from the Citadel of Dunkirk, the sole genievre distillery to receive a royal grant on September 5, 1775. What sets Citadelle gin apart is its use of the progressive infusion method. This distinctive approach involves the careful infusion of individual botanicals in spirits of varying strengths for precise durations, capturing the optimal aromas and flavors of each botanical. These elements are then masterfully blended together, resulting in a gin of unparalleled complexity and depth.
Seasonal creations to savour:
Rickey (HK$170)
A classic cocktail with a contemporary twist, this Citadelle Reserve concoction boasts zesty yuzu and luscious blueberry notes. Fresh and fruity, it surprises with a herbaceous touch from coriander and a subtle, intriguing saltiness.
Stirred Gimlet (HK$170)
A masterpiece that pays homage to Japanese influence with a single drop of toasted sesame, this cocktail combines Citadelle Reserve, white grape, shiso, and a surprising umami punch.
The Martinez (HK$170)
An homage to the rich flavours of the incoming autumn season, this cocktail is rich and robust, featuring charred rosemary, cherry, and cinnamon. It hearkens back to a time preceding the Martini, dating back as early as 1884.
White Lady (HK$170)
This creation highlights sustainability and no-waste practices. Citadelle Reserve is artfully mixed with white chocolate, orange in three delightful ways, and a touch of olive oil, yielding a velvety texture that's not to be missed.
Sazerac (HK$170)
A classic recipe, embellished with the addition of VSOP cognac, this cocktail places the spotlight firmly on the French aged gin, bringing out the oak-infused flavours. Expect delightful notes of raisin and dried fruit from the brandy, combined with the juniper berries and anise from Ricard, creating a complex twist on this timeless favourite.
Artifact Bar
https://artifactbar.com/
LG/F, Jardine House, 1 Connaught Place, Central, Hong Kong
This article is based on a complimentary media tasting hosted by Artifact Bar. Not money has been paid to post this write-up which is entirely based on the genuine opinion of its author.