by Aude Camus
Opening its doors this past August, at the peak of Hong Kong's dine-in restrictions, could have been bad luck for the newest bistro in town, jean may, but seeing how busy the room behind the cheerful pale green façade was on a Friday afternoon at 2.30 pm, it seems like chef Tiffany Lo's cuisine has already made its way to the hearts (or I should I stay the stomachs) of quite a few foodies.
Who's in for some neo-bistro dishes? Let's meet in Wan Chai, amidst the flower and fruit stalls where chef Tiff Lo has decided to open her first restaurant after years of training abroad with legendary chefs such as her mentor Pierre Koffmann and a local experience as sous-chef of LPM Restaurant & Bar (one of my fav restaurants in Hong Kong).
REDISCOVER OUR FULL REVIEW OF LPM, RESTAURANT & BAR
Being French myself, I tend to be picky with restaurants which call themselves bistros as I think they should meet quite a few criteria to qualify as such, and even more to qualify as good ones. By definition, a bistro is a small welcoming restaurant with modest setting, serving moderately priced meals and focusing on French home-style cooking paired with wine.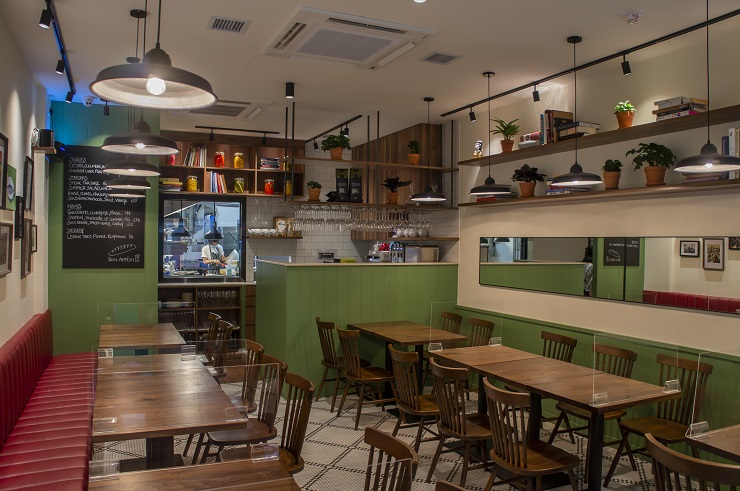 Small and welcoming with modest setting does perfectly apply to jean may. With 32 seats, the restaurant is a bit of a little cocoon with its simple interior design. A special shout-out to the staff who is friendly and warm but very professional.

Moderately priced also perfectly applies to the place with the most expensive dish on the menu (when I visited) – the Duck breast with spiced honey and carrots - being priced at HKD 312.

When I visited early September, jean may didn't have yet the alcohol license but I did have a look at the wine menu, meticulously created by La Cabane's (another French bistro I love) expert sommelier Florie Tap and with its focus on natural wines it does definitely tick all the cases of a good neo-bistro wine menu.

And now the most important part … is the food French, tasty and comforting? Yes it is! And that's coming from someone who has tasted the entire menu minus two dishes. But before you scream, wondering how one could eat that much food, let me just add that the menu is rather short (4 starters, 3 mains, 2 desserts and a few specials), true bistro style, with a strong emphasis on seasonal fresh products. There is not a single dish I tried I wouldn't order again but the ones that had me go "f***k that's good" were: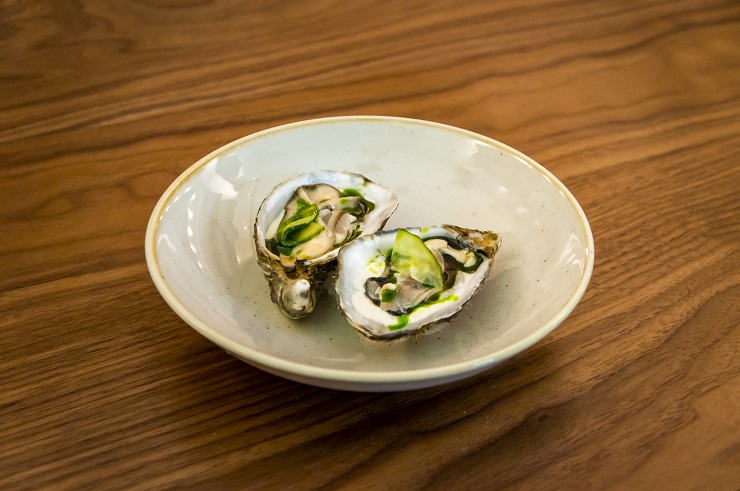 The oysters with pickled cucumber, dill and horseradish (HKD 64/piece), the freshest start to a great meal.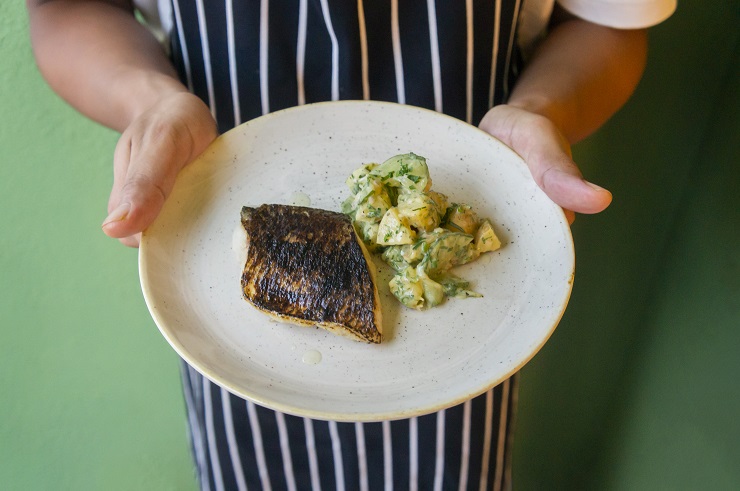 The charred threadfin with potato salad (HKD 138), a tasty modern revisit of a very traditional French bistro dish "harengs pommes à l'huile" consisting of smoked herring served with potatoes bathed in vinaigrette. The threadfin was cook to perfection with the distinctive taste of charred cooking perfectly balanced by the comforting texture and flavours of the potato salad.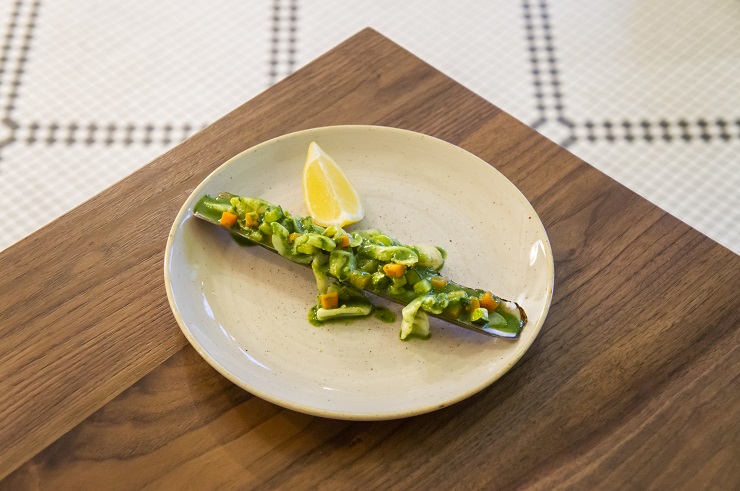 The razor clams with parsley and garlic
(
HKD 220
). The razors, from Scotland, are fleshy and very tasty and cooked with only a few ingredients in order not to compromise their unique taste.
And last but not least, the
seam bream carpaccio with sauce vierge
(
HKD 176
), a refreshing dish served with an intriguing tomato-water jelly.
Saying that at that point of the meal I was full and living on a happy tummy would be an understatement but how could one say no to
dark chocolate choux
(
HKD 98
) and
honey madeleines
(
HKD 15/piece
)?
When I love a restaurant, I always like to say that I will be back to try the dishes I couldn't try the first time. Well, when it comes to jean may, I'll guess I will be back to, happily, have the same dishes and do the exact same meal all over again (until the next seasonal updates of the menu).
jean may
Shop A, 14 Gresson Street, Wan Chai
This write-up is based on a complimentary tasting hosted by jean may. No money has been paid by the restaurant for publishing this review which is purely based on the genuine opinion of its author.