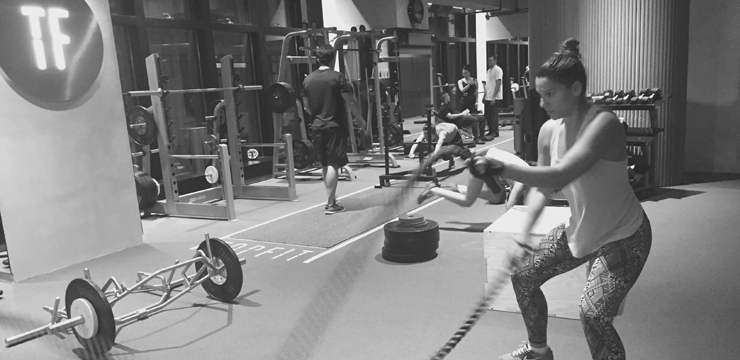 By Vanessa, our Fitness Editor
There are several gyms in Hong Kong, and they all offer a wide spectrum of services that target different markets and fitness priorities. Some favor the practical needs of a working professional, offering extended business hours for example, while others focus on the fitness performance and training needs of their clients, and some others choose to offer the latest technology in terms of equipment, or the widest range of activities…
What TOPFIT aims at is excellence, nothing less.
So how do you reach excellence? You set standards high and provide everything that can be found in an elite fitness experience: a luxurious and modern space, a great location, quality equipment, small custom group classes and a team of highly qualified fitness professionals.
TOPFIT is a Private Training (PT) gym, where you train after making an appointment with a trainer or in a group class capped at 6 people (lasting 45 minutes to an hour), to guarantee that all attendees get the best attention.
The "Curves Ahead" class is dedicated to female-focused movements and targets areas specific to the female anatomy.
"Make me an athlete" is a complete, whole body workout, leaving you in optimal shape for any sport.
"Quick H.I.I.T." – the only 45-minute class – is a high intensity interval training, to burn maximum calories and fat in a short space of time.
"Stretch & Flex" is an all levels yoga class focusing on increasing flexibility and strength.
"In the rotation" is a circuit training class.
I tried the "Curves Ahead" and "Make me an athlete" classes, as well as a PT session.
Without knowing my level of fitness before and even in a group of people with different levels and goals, my fitness instructor gave me a comprehensive workout. Challenged and supported during both classes, I didn't have the feeling that being in a group was creating any disadvantage or lack of attention.
The program of my PT session was defined with my trainer, taking into account my goals, adapted during the session to my abilities and willingness to be challenged. I would qualify the training I got during that session as optimal: in terms of exercises, load, tempo, coaching, technical advice and support.
From first time gym-goers to competitive athletes, no matter what your level of training is only or if you need advice and support on nutrition, the TOPFIT team can adapt to help you get the results you want.
So as they say… Aim high. Live fit.
Drop-in group class fee is HK$ 350, going down to HK$ 200 if you buy a package of 12 classes.
PT sessions: from $800 an hour, depending on the PT, the service and the package length.
TOPFIT is open 7 days a week and classes run 6 days a week. The schedule is available on the website, where you can also book a free consultation with one of the personal trainers.
TOPFIT, 3/F The Wellington, 198 Wellington Street, Central
www.top-fit.com