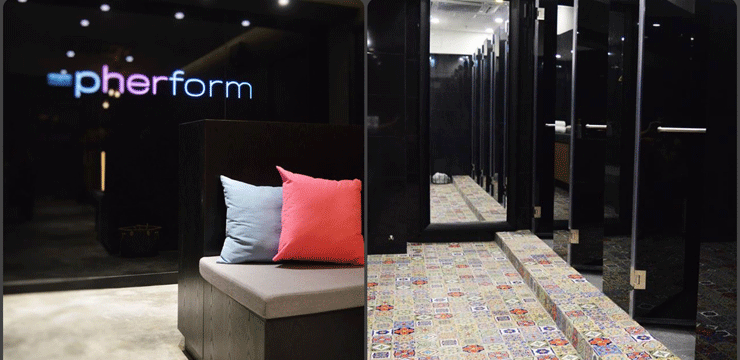 By Vanessa, our Fitness editor
Maybe going back to fitness was one of your 2016 resolutions, but you're not exactly there yet because – let's face it – it's not easy to push the door of a gym and be the newbie… Then, I have a solution for you!
1/ Chinese New Year is coming so that's a second chance to go for a "new year, new you". 2/ I found a place for you that can give you a high quality training and fitness services, in Central and dedicated to females. So, forget your apprehensions, there are only sisters there!
Asia's first women specific health and fitness studio, Pherform, was just launched by the founder of Bikini Fit, the famous women-only boot camp in Hong Kong (see our review
here
).
Entrusted to the new trendy designer in Hong Kong, Stephanie Vocong for
Atelier SV
, Pherform is a human size studio, designed in a modern-industrial style, dominantly black, smartly brightened up with some touches of color. A special warning though: you may fall in love with the amazing changing room/bathroom, and never want to shower anywhere else after that!
When it comes to training, if you think you'll find only treadmills and pink baby weights because you're in a female-only gym, then think again! Pherform's main goal is to empower women and make them the strongest version of themselves and this requires more than some cute girly equipment. You'll find there some of the most diverse range of functional and specialist pieces of equipment.
Regarding the classes, there are 9 different types that will allow you to focus on a specific muscle group to sculpt them, get a full body workout through a circuit, with more or less intensity, work with heavy weights or your body weight. But you'll also get to work on your mobility and stability, yoga and a pre and post-natal classes.
Class size is capped to ensure programs can be executed in the best way possible whilst comfortably fitting members & equipment.
If you want more personal advice on training, you can get some personal training with their very professional and qualified trainers. Thanks to their doctor, Pherform can supply a broad range of clinical testing too, to optimize health & performance.
Unlimited membership starts at HK$ 2,400 per month
Drop-in class is at HK$ 325, price decreasing when you buy packages
Personal training ranges from HK$ 700 to HK$ 1,100 per session
More details and class schedule on
www.pherform.com
Pherform
2/F Man Cheung Building
15-17 Wyndham Street
Central, Hong Kong
2798 8824