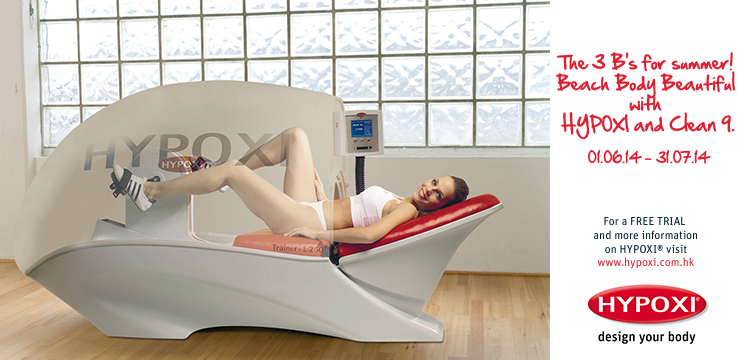 The Summer holidays are fast approaching. You know what that means? Ticking compulsory swimwear box. Not cool, if you don't have your ideal figure….But there's a solution after all. HYPOXI® and
Clean 9
, have developed a program to make your neighbors green with envy when you hit the beach! This is their "3 Bs for Summer" (Beach, Body, and Beautiful). It includes six HYPOXI® sessions and nine days of detox. With HYPOXI®, you can reshape your body naturally, by combining exercise and massage and cleansing with Clean 9. Farewell toxins and cellulite, and hello bikini body! Doctors and nutritionists have proven that both methods are safe for your health.
Victoria Beckham is certainly a fan, and uses HYPOXI® to maintain her well sculptured silhouette. Be sure to book before the promotion expires!
*THE 3 B'S FOR SUMMER : Beach Body Beautiful with Clean 9 and HYPOXI®
Promotion valid from 01.06.2014 to 31.07.2014
For just only HKD5,350 get 6 HYPOXI® Combination Sessions alongside 9 days of Detox! Clients who continue with HYPOXI® thereafter will receive an exclusive 15% off all training packages.
Book your free HYPOXI® trial by clicking
here
For more information on HYPOXI® :
www.hypoxi.com.hk