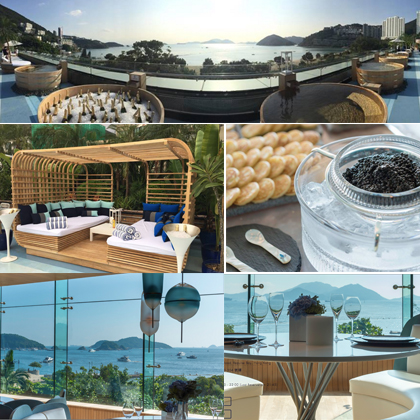 By Aude


If you are dying for a rooftop, sun bed, a view of the sea, jacuzzi, great music, and free-flowing champagne…? Come along with me!

I will take you to Cabana's magnificent rooftop, The Pulse, in Repulse Bay for the trendiest weekend ever.

Take note: Save Water, Drink Champagne.

Don't forget to above all, take a bathing suit, as it would be torturous to resist jumping into the Onsen bath (a Japanese bath) with a glass of champagne in one hand, enjoy the panoramic view of the sea and mountains. Psssst...It has been said that champagne showers are a tradition at The Pulse, so you really don't want to ruin your beautiful shirt (wear a bathing suit). Onsen baths, sun beds, and an array of gorgeous little cabins which fit 2, 4 or 8 guests, all on the roof. Everything screams luxury and bliss. The decor is absolutely amazing.

For a calmer atmosphere though, head back to Cabana, the vibe is perfect.

Sipping a glass of Mumm champagne, nibbling on fresh fruit off a sun bed, listening to the music being played by the resident DJs, and just chilling out at the jacuzzi… We've had tougher weekends.

A little tip: Don't ever leave early...the sunset is breathtaking.

To end on the high note, go to The Ocean located on the lower level to treat yourself to delicious dishes!


Cabana

4/F, The Pulse, 28 Beach Road, Repulse Bay, HK

Save Water, Drink Champagne - Every Sunday 3pm-7pm.

(852) 2889 5939

Facebook Page / http://www.cabana.hk/


The Ocean

Shop 303-304, 3/F, The Pulse, 28 Beach Road, Repulse Bay, HK

(852) 2889 5939

Wednesday - Sunday 12:30 - 14:30, 18:30 - 22:00 (Last Reservation: 21:45)
$$$