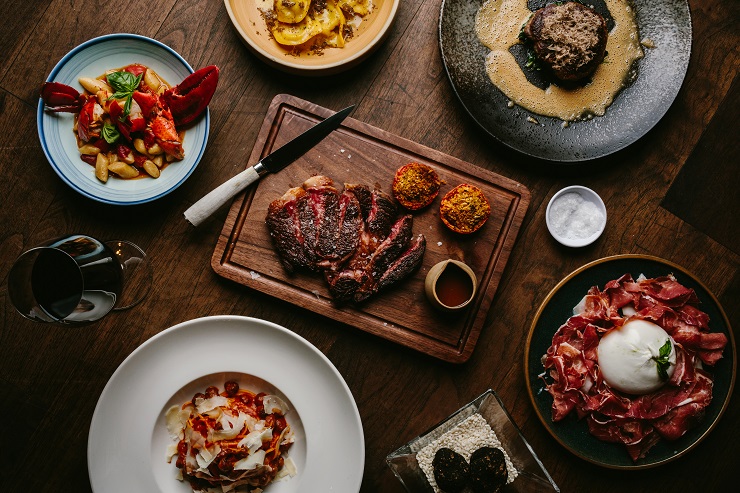 by Aude Camus
"Not just a pizza place". That's one of the very first thing Gianmarco Sai, the new General Manager at 208, told me to introduce the revamped menu.
Opened in 2011, the first restaurant by
JIA Group
, today one of Hong Kong most acclaimed hospitality group with restaurants including Michelin star awardee
Louise
(
REDISCOVER OUR REVIEW
), cool Thai eatery
Chachawan
(
CLICK HERE TO REDISCOVER OUR STORY ON THE RESTAURANT'S FRESH NEW LOOK AND MENU
) and gourmet tapas bar
22 Ships
(
REDISCOVER OUR REVIEW
), has long been associated with the Neapolitan pizza it was the first to introduce in Hong Kong. But wouldn't it be a bit cliché to limit Italian gastronomy to just pizza and pasta? Driven by an appetite for all things Italian, the team is now presenting us with a new and improved menu featuring the finest Italian ingredients.
But first thing first, you know I am not the kind of person to start a meal without a drink. And when it comes to drinks, 208 is taking things to the next level launching its
House of Aperitivo
and dedicating its entire ground floor to it. Overseen by the new bar/floor manager Matteo Stefani,
The House of Aperitivo
invites you to indulge in the traditions of Italian drinking with a focus on vermouth, those fortified wines flavoured with herbs and botanical use in some of the world's most classic and iconic cocktails such as The Negroni, The Martini or The Manhattan. And if you are just like, not such a fan of vermouth, trust Matteo to craft the perfect drink for you. It was freezing (I mean Hong Kong freezing) on the day I visited and all I wanted was something warm which was presented to me as the most delicious and surprising Mulled White Wine. If you are in the mood for a nibble or two, you can order finger food to pair with your Italian drink. But if you are in the mood for a real feast, let me invite you to join me upstairs for the true show.
The revamped menu is all about introducing more premium Italian ingredients ranging from mortadella and prosciutto from Modena and Parma to pecorino di Pienza or sweet friggitelli peppers. In order to do so the restaurant has partnered with Italian fine food importer New Food Group to bring authenticity back to its kitchen while cutting intermediaries and therefore maintaining the great value for money 208 has long been known for. To all the pizza lovers out there, fear not you will still find them on the menu for your fix of perfectly blistered crusts. But today, allow me to order and introduce some of the new highlights starting with the
Italian Red Prawn
(
HKD 258
) or "Summer in a plate' as described by Gianmarco.
A mouthwatering combination of Mazara deep-sea red prawns from Sicily and handmade burrata from Andria, this dish is the perfect fresh start to a tasty meal and I could order it again and again and again. But if you are looking for something more comforting, you definitely wanna get your hands on the
Carrozza
(
HKD 198
) a traditional deep-fried breaded artisanal buffalo milk mozzarella filled with truffle and anchovies.
In the age old debate Pasta or Pizza, I have made my choice a long time ago and can never say no to a good pasta dish.
Truffle Ravioli
Of the ones I tried at 208 (all of them being handmade), my absolute crush goes to the Boston Lobster spaghetti (HKD 288) with their tasty bisque. But it would be lying to say I wouldn't have another round of the thick and tasty Small Beef Meatball spaghetti (HKD 218) or the very pornfood Black Truffle ravioli (HKD 188) stuffed with mascarpone cheese and parmesan and featuring Italian truffles flown in weekly.
And you know how it is in Italy, pastas come between the starters and the mains which means 1. We still have a few dishes coming up 2. I hope you still have some space for food.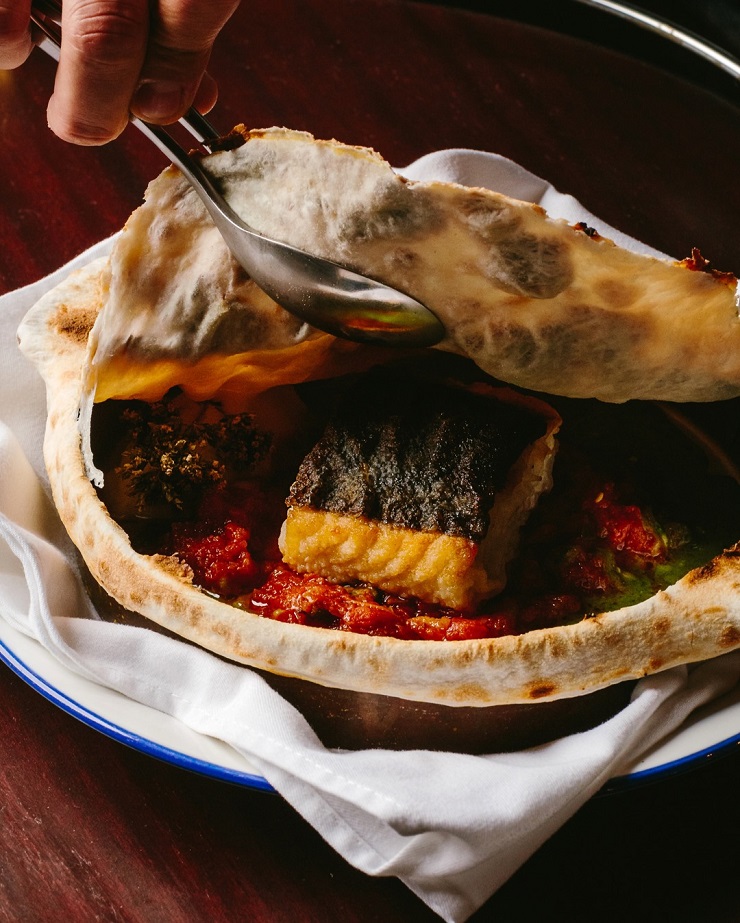 Not a white fish fan, I have been pleasantly surprised with the
Black Cod
(
HKD 288
) served with tomatoes, capers, garlic and a herb sauce and steamed to perfection under a thin layer of pizza crust. I only had a bite of the tagliata
Mayura Ribeye
(
HKD 368
) a crossbred between wagyu and Angus beef but feel safe to say it would please the tastebuds of the meat lovers.
I guess that's pretty much as far as my stomach, and my schedule, can take me today but hey feel free to stay a little longer and order a
208 Tiramisu
(
HKD 88
) maybe? And you know what, let's schedule a reunion with a Spritz at The House of Aperitivo very soon.
208 Duecento Otto
208 Hollywood Road – Sheung Wan
This article is based on a complimentary tasting hosted by 208 Duecento Otto. No money has been paid for publishing this review which is entirely based on the genuine opinion of its writer.