by Aude Camus

Over the past few months, Hong Kong has been buzzing with the news of the yummy collaboration between Michelin Star chef Julien Royer, recently awarded with the 1stposition in "Asia's 50 Best" with his Singapore restaurant Odette, and serial food entrepreneur, and founder of JIA Group, Yenn Wong. Louise recently opened its doors at PMQ and I had to give it a go, right?

Who's in the mood for a nostalgic culinary trip to France?

First, I have to say I'm completely obsessed with the design of the place.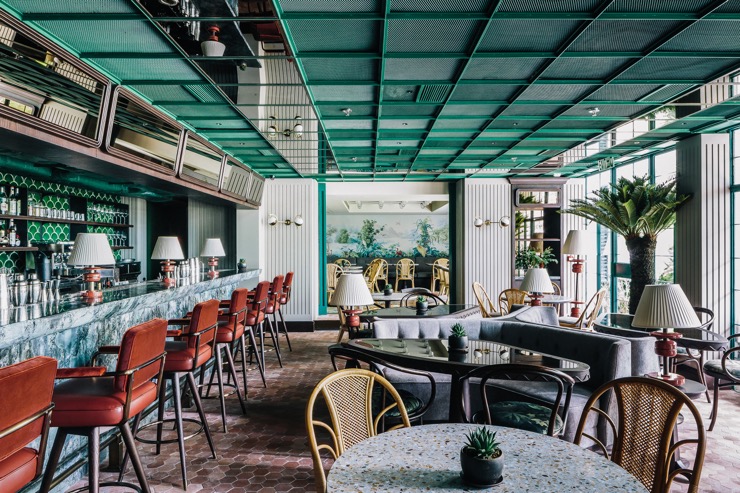 Photo credit: Mitch Geng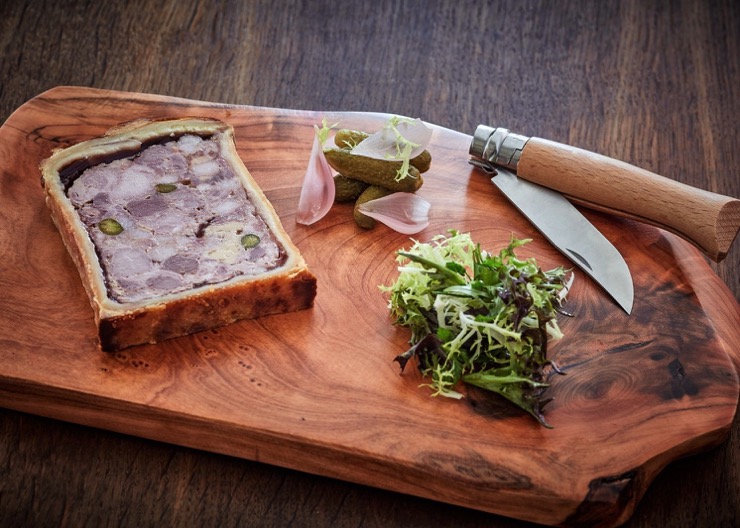 Could have easily stopped my visit here, just eating pâté en croûte but had to behave and carry-on with discovering the place.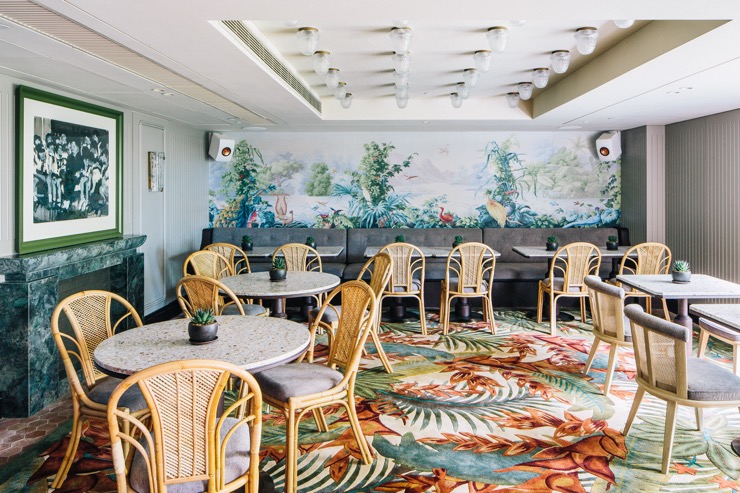 Photo credit: Mitch Geng
Be sure to have a quick look at the Drawing Room before heading upstairs, I'm loving the tropical/colonial chic vibes of this room which would be perfect for private functions. And now, let's meet upstairs in the main dining room as I cannot wait to give a go to Executive Chef Franckelie Laloum's cuisine.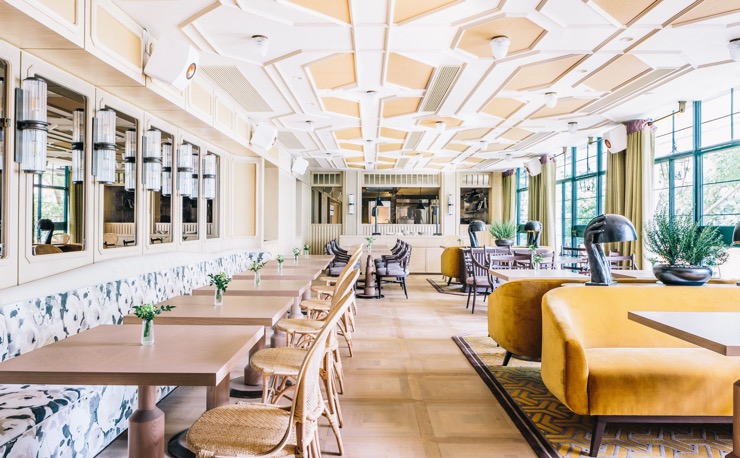 Photo credit: Mitch Geng
I am loving everything about this room: the incredible natural light gracing it, the chic colonial home atmosphere, the open kitchen, the elegant crowd … I do love a touch of old-school chic on a weekday lunch! Oh and here is chef Franckelie, stopping at some tables, welcoming its guests and making sure everything is going well. Hostess with the mostest!

The menu is seasonal, featuring ingredients sourced by chefs Julien and Franckelie, aiming at bringing the best of French cuisine to their guests but with a modern twist. Louise isn't about fine dining but it's not either a casual and cheap bistro, it's right in the middle: honest familial French cuisine which can be enjoyed every day but using the freshest ingredients and cooking techniques from fine dining restaurants. Isn't it mouthwatering? Let's have a look at this lunch menu.

Feedbacks I've heard about the restaurant before giving it a go are that it's pretty pricey. And it's true, it is. But I am one of those persons who would happily spend money on great food, great atmosphere, great service and friendly chef. And the set lunch menu we are checking out today is still affordable if you feel like treating yourself to an indulgent lunch: HKD 398 for 2 courses (starter + main OR main + dessert) and HKD 478 for 3 courses (starter + main + desert).

Something I love about this lunch menu is that all the dishes (3 starters, 3 mains, 3 desserts) are dishes from the à la carte menu. I hate it when a restaurant creates special set lunch dishes, it makes me feel like I'm being given lower quality. I like to think of a set lunch as a mise-en-bouche, a test for me to get an idea of what the chef is cooking and decide whether or not I want to come back for more and book myself in for dinner.

Speaking of mise-en-bouche, here comes a little something. A fresh nibble before our appetizers.

Of course, I had to go for the Oeuf fumé, inspired by Odette signature dish. I loved everything about this dish: its look, its mouthwatering smell and the combination of smoked organic egg with potato foam and chorizo making it very comforting yet quite airy at the same time.

My main dish was no less exciting than my starter: Line-caught cod with coco beans, chorizo, piquillos and mint.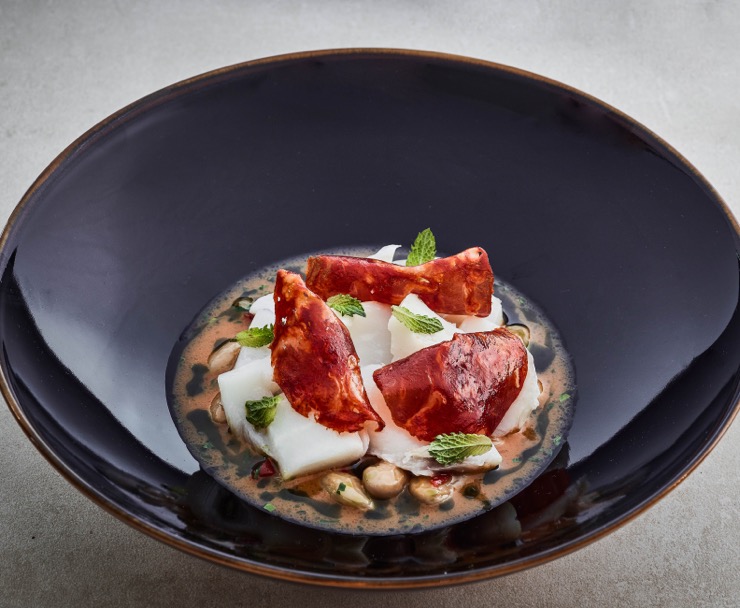 God this is tasty! Loved the melty texture of the fish with the super fresh and firm coco beans and the summery taste of the broth. I first started my lunch with the strong will that I would not touch the bread (1. Because I need to cut on carbs 2. Because I always end-up stuffing myself with beand and being too full to fully enjoy my meal till the end) but I had to surrender and take a piece of bread making sure to properly moping the sauce from my plate and not leaving a single bit of it.

Do I still have room for dessert? You bet I do! I've been eying at the "Mama Royer" yogurt cake and ice cream with confit lemon since it was served to my neighbors 15 min ago and I've been dying to give it a go. Seems like the ultimate regressive treat! I used to love yogurt cake when I was a kid. And it is indeed very regressive, so simple yet so yummy.

Well, that was an utterly yummy trip back to France!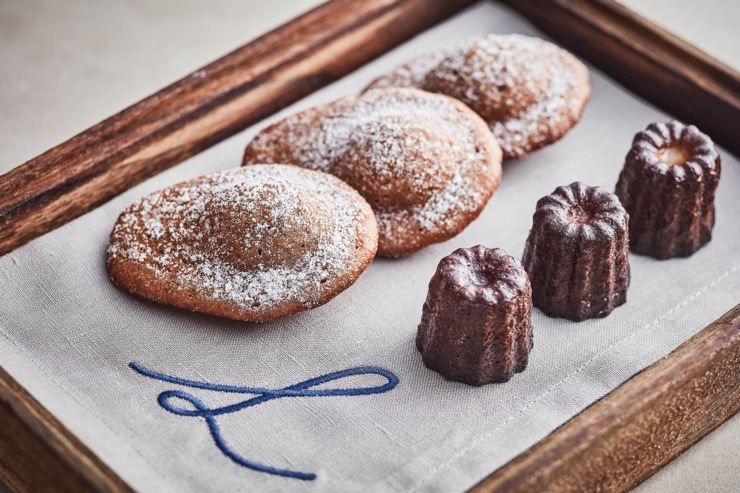 Thanks for that chef Franckelie! Do you mind if I just still a few minutes of your precious time, just to ask you a few yummy questions?



Correct me if I'm wrong but I believe you've been in Asia for quite a long time already. How did you first meet chef Julien and how did you get on board the exciting Louise adventure?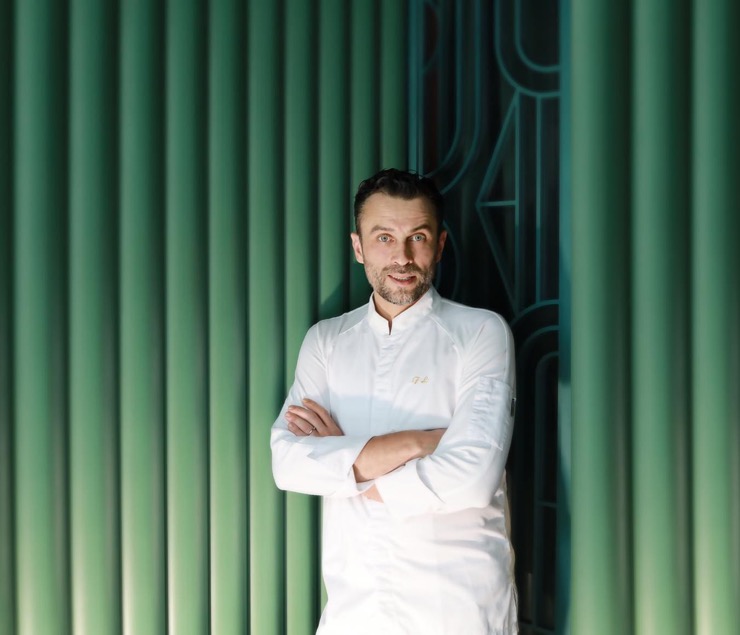 Correct! I've been here in Asia for nearly 10 years from Shanghai to Tokyo and now Hong Kong. I first met Julien, in 2013, in Singapore where we were both attending the first Asia's 50 Best ceremony. We've been getting along pretty well and we both worked together on an Asia's 50 Best promotion in Australia. We've been pretty good friends since them. I first arrived in Hong Kong few months ago, following my wife who got promoted here, and Julien reached out to me with this project.


You were previously in charge of all the Western dining outlets of the Ritz-Carlton Tokyo, including a Michelin Star restaurant. Odette in Singapore has two Michelin Stars and is, this year, number 1 Asia's 50 Best Restaurant. Does it put any pressure on Louise? Are you aiming for the stars here?
There's no pressure because we are not necessary going for Michelin Stars. What we are trying to do here is to redefine the codes of fine dining by welcoming people in our house and serving them authentic food. Today, people are less and less keen to spend hours at the table, so we are bringing them fine dining ingredients but in a more casual atmosphere.


The design of the restaurant, the plating of the dish … Louise is a very Instagram friendly place. You've been in this industry for many years now, has your job changed with the rise of social media?
Definitely. I do think that today, if you are a chef, you need to be on social media. You have to have an Instagram account. My job is now trendy, the FnB industry is now trendy, which I am really happy about, but it also means you have to master your image and your communication. It is also super important to connect with your customers, check what they are saying about your restaurants.


One dish that you are particularly happy to have on the menu?
I guess it would have to be the Roasted Hong Kong yellow chicken with niigata rice (editor's note: dish to share between 4 people).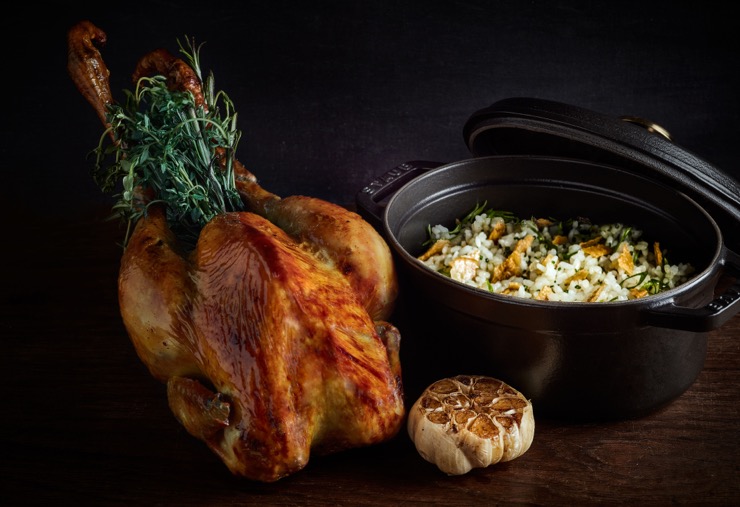 First because we were not expecting it to be such a hit. Then because roasted chicken is the ultimate French Sunday dish and we really wanted to bring French authenticity. Also, because this chicken is the perfect mix of my different experiences: it's a French traditional recipe made with a Hong Kong chicken and served, not with the traditional French potatoes but with, Japanese rice. This dish is so yummy yet so simple.
Louise
35 Aberdeen Street – Central

This write-up is based on a complementary lunch offered by Louise. No money has been paid by Louise for publishing this feature.