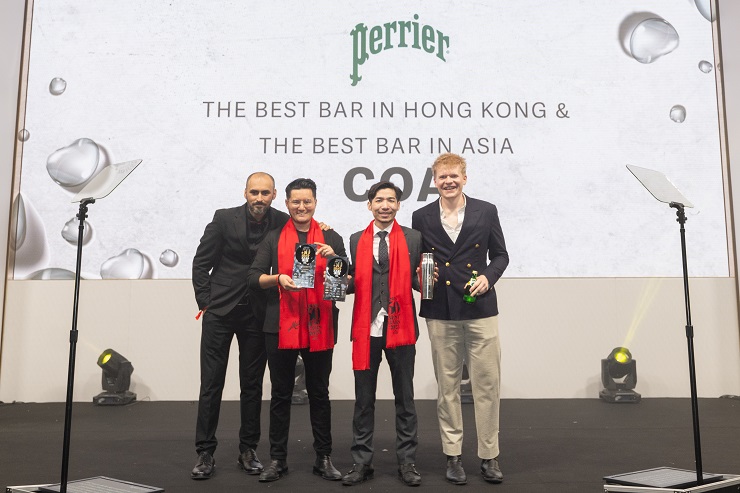 by Gayatri Bhaumik
Last night, Hong Kong's temple to tequila was crowned the best bar in Asia at a raucous awards ceremony for Asia's 50 Best Bars at the Rosewood Hong Kong hotel. The region's best bartenders descended on the city as the awards, which honours the top mixology talents across the region, was held in Hong Kong for the first time.
Taking the title for third straight year–as well as that for the best bar in Hong Kong–the Soho bar headed by Jay Khan as won over Asia's discerning drinkers with an impressive collection of more than 200 bottles of Mexican spirits that includes tequila, mezcal, raicilla, bacanora, sotol, and more. At the ceremony, chants of "Coa!" went up as Singapore's
Jigger & Pony
–another wildly popular drinking den–was named to second place.
Hong Kong's cocktail divans made a good showing during the course of the evening, with seven landing coveted spots on the top 50, including sustainably-minded
Penicillin
(No. 26), futuristic
Argo
(No. 8), whimsical
The Aubrey
(No. 17), stalwart
Quinary
(No. 31), and the Ernest Hemingway-inspired
The Old Man
(No. 47). Omakase cocktail bar
Mostly Harmless
debuted on the list at 33.
Beckaly Franks, the American-born bartender who heads up
The Pontiac
in her adopted hometown of Hong Kong, also picked up an individual award with the Altos Bartender's Bartender Award.
Rival city Singapore is clearly the place to go for a bar crawl involving Asia's best cocktails–the Lion City took out 11 spots on the list.
Jigger & Pony
won best bar in Singapore for a third consecutive night, alongside its number two ranking, while
Nutmeg & Clove
rocketed an impressive 29 spots to 7.
Sago House
(No. 10 and Michter's Art of Hospitality Award),
Analogue Initiative
(No. 15),
28HongKong Street
(No. 24),
Manhattan
(No. 21),
Atlas
(No. 27),
Employees Only
(No. 30),
Stay Gold Flamingo
(No. 32), and
Native
(No. 42) also ranked.
Speaking at the press conference after the big win,
Coa
founder Jay Khan reflected on how far the bar has come. "Six years ago, we opened Coa without any expectations. We didn't know where it would lead us. Today, we're here on this stage, and in our hometown," he beamed. "We'd going to keep everything the same and see what happens. One day, we're not going to be crowned number one, and that's okay." Ending with an homage to his city, Khan said "Hong Kong is everything to me."
Coa (Hong Kong)
Jigger & Pony (Singapore)
BKK Social Club (Bangkok)
Bar Benfiddich (Tokyo)
Zest (Seoul)
Tropic City (Bangkok)
Nutmeg & Clove (Singapore)
Argo (Hong Kong)
Darkside (Hong Kong)
Sago House (Singapore)
Indulge Experimental Bistro (Taipei)
Vesper (Bangkok)
Cham Bar (Seoul)
The SG Club (Tokyo)
Analogue Initiative (Singapore)
Republic (Singapore)
The Aubrey (Hong Kong)
Sidecar (New Delhi)
The Cocktail Club (Jakarta)
Virtù (Tokyo)
Manhattan (Singapore)
Mahaniyom Cocktail Bar (Bangkok)
Lamp Bar (Nara)
28 HongKong Street (Singapore)
Le Chamber (Seoul)
Penicillin (Hong Kong)
Atlas (Singapore)
Alice (Seoul)
Pantja (Jakarta)
Employees Only (Singapore)
Quinary (Hong Kong)
Stay Gold Flamingo (Singapore)
Mostly Harmless (Hong Kong)
The Curator (Manila)
The Bombay Canteen (Mumbai)
Bar Trigona (Kuala Lumpur)
Southside Parlor (Seoul)
Copitas (Bengaluru)
Hope & Sesame (Guangzhou)
Smoke & Bitters (Hiriketiya)
Vender (Taichung)
Native (Singapore)
The Public House (Taipei)
Bee's Knees (Kyoto)
High Five (Tokyo)
Soko (Seoul)
The Old Man (Hong Kong)
The Living Room (Mumbai)
The Bellwood (Tokyo)
Penrose (Kuala Lumpur)
Individual Awards
Rémy Martin Legend of the List Award – Jigger & Pony
London Essence Best New Opening Award – Mahaniyom Cocktail Bar
Disaronno Highest New Entry Award – Virtù
Roku Industry Icon Award – Hiroyasu Kayama (Bar Benfiddich)
Nikka Highest Climber Award – Zest
Campari One to Watch Award – Night Hawk
Siete Misterios Best Cocktail Menu Award – The Cocktail Club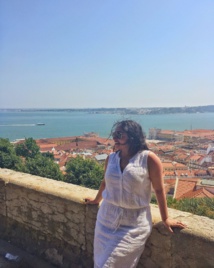 About Gayatri Bhaumik

Always ready for her next adventure, Gayatri Bhaumik took her first flight at 10 days old and hasn't looked back since. After long stints in Bangkok, Melbourne and London, she's now based in Hong Kong. She contributes travel and lifestyle content to titles like Travel + Leisure SEA, ECHELON, Elite Traveler, Forbes Travel Guide and Destination Deluxe. She also founded The Wordsmith's Ink, a corporate copywriting and social media agency, where she works with clients like Shangri-La Hotels and Shopify.