Interview by Stéphanie Stiernon
Few days ago, I spent a few hours at The Garage Society to meet
Isolde Andouard
, CEO Asia Pacific for French Fashion brand
ba&sh
. A super trendy working space full of fashionable people and the perfect spot for the ba&sh's new Asia headquarter.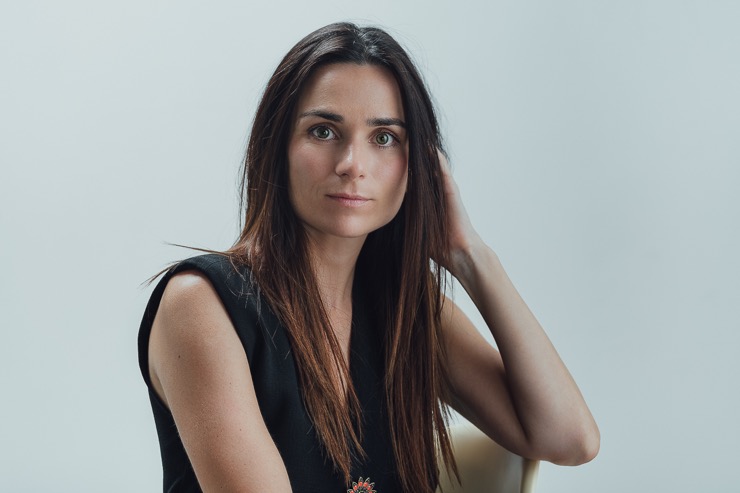 Serious but smiley face, Isolde was waiting for me. She closes her computer, take-off her very fashionable and so business woman like Moscot's glasses and she is all ready to answer my questions and share her tips. And she got something exciting just for you … read the article till the end to find out what it is.

Isolde, can you tell me a little bit about yourself? Who are you?
I'm a young active woman, aged 30+, married and with 2 little girls. My little one is only 4 months old.
I like to describe myself as a mum, a business woman but also a party girl.

How do you find the right balance between all of these?
Well, that's the big question. For the time being, I've put my social life slightly on hold so that I can focus on my two other roles. My work is very demanding and I travel a lot but I'm lucky that whenever I'm in Hong Kong my working hours are quite reasonable. I've chosen to live close to where I work so that I don't waste time commuting and can spend more time with my little ones.
The support of my husband, Benoit, is also super precious. He is very supportive and involved in our daily family life and the way we raised our children.
Yet, I still need to work on finding some time just for me. For being not only a mum, a wife and a business woman but also simply a woman.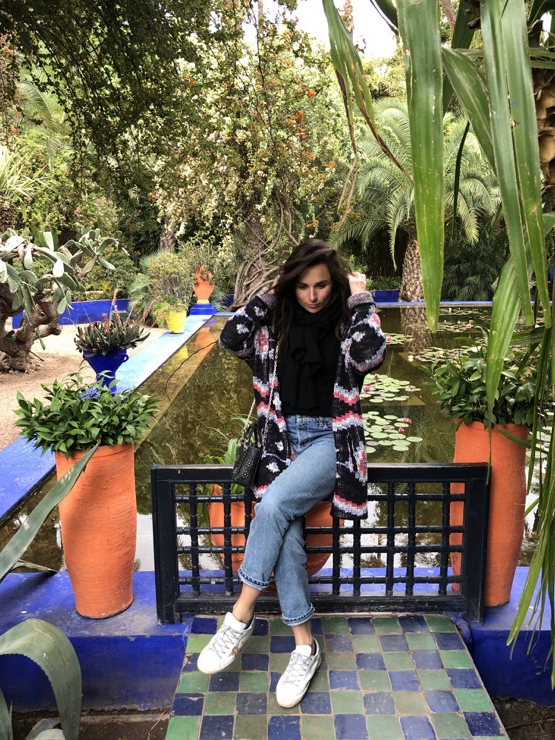 Would you call yourself workaholic?
Hum no. I don't really like this word.
I love challenges whether they have me succeed and grow in ma career or not. I need to meet new people, I need to discover new things and that's true in my professional life but also in my personal one.
I'm a challenge seeker yes but not a workaholic. Proof is, I've done a professional break of 6 month when moving from SMCP to ba&sh and I can tell you I've been enjoying myself very much at that time.

What's your job at ba&sh?
I'm the CEO for the Asia Pacific region so basically the one who launched the brand here in Asia, starting from scratch. Today, focus is on developing the brand in the region with a strong emphasis on the Chinese market. Also focusing on recruiting the team and working with them on our marketing strategy and our merchandising. And last but not least, deciding the distribution channels and the shops openings.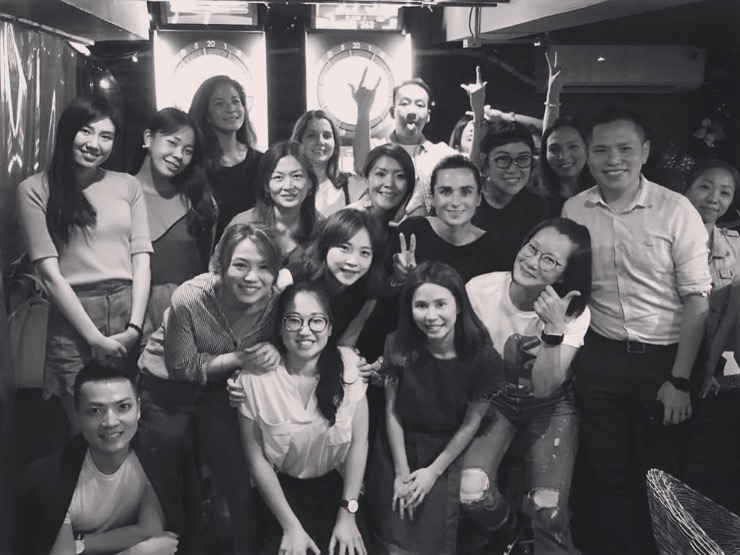 ba&sh Asia's team
Your team is quite young, mainly feminine and super fashionable. Is it on purpose?
I wouldn't say it's on purpose because being a woman or being fashionable or being young is not what's going to make join the team. But I think the brand and its mindset are very attractive to those particular kinds of profiles. Our two founders, Barbara and Sharon, have very strong personalities. They've known each other since there were kids, they are full of energy, casual but elegant and with a strong entrepreneurial mindset. We need profiles that are fitting this mindset and this is why we are mainly recruiting young, dynamic and smart people. In Hong Kong we are still growing the team by the way!

Editor note: they are currently looking for a digital and e-commerce manager.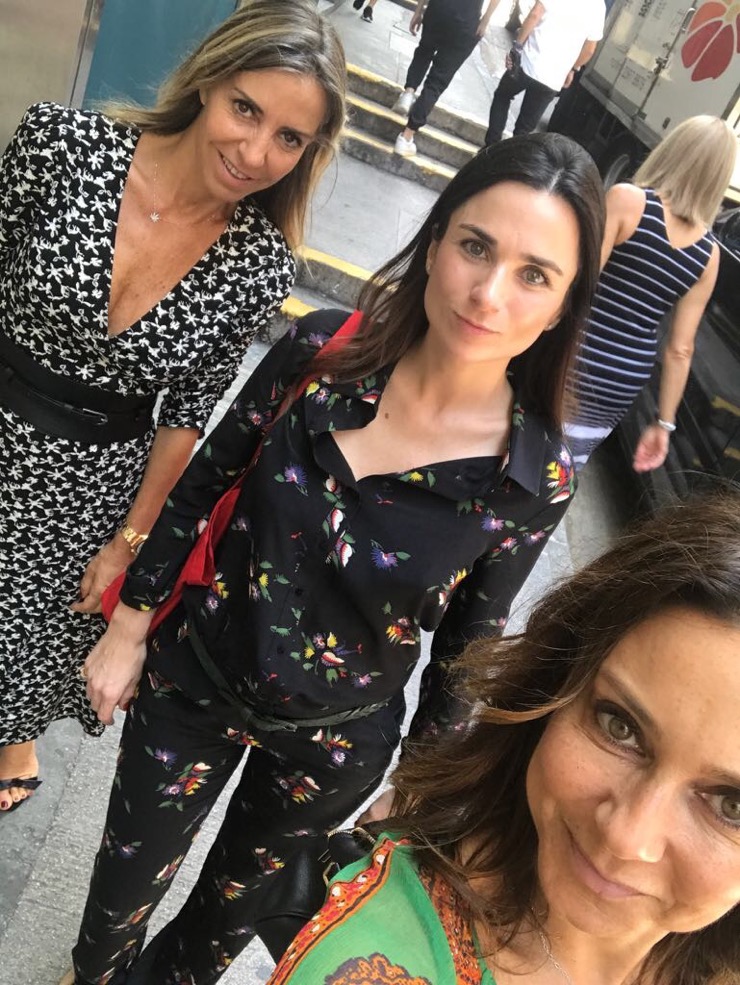 Isolde together with the two founders of ba&sh: Barbara and Sharon
Slow fashion, fast fashion … where does ba&sh stands in today's fashion industry?
I think we are kind of in between. We take the best of slow fashion by making sure to create qualitative piece with unique designs but also provide a qualitative in-store experience but also acting as a fast fashion brand by bringing new pieces in store every week thanks to a quick and agile creation process.
We have also managed to find a right balance between the best of the luxury industry, the retail industry and a direct to consumer strategy.
(Editor's note: their first direct to consumer shop will soon launched in New York, featuring the entire brand range of products and inspirations).
The ba&sh woman is bold and ambitious. The brand is just the same.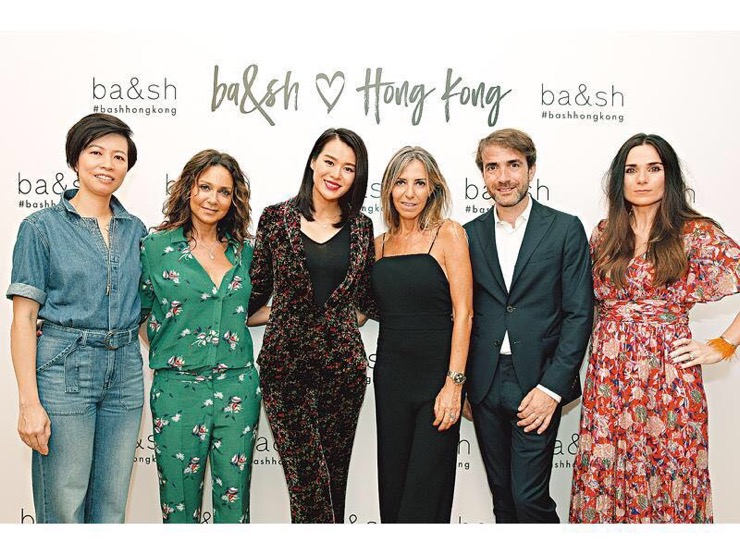 ba&sh's management team attending the launch of the brand in Hong Kong

Wondering what a day in Isolde's life looks like?
What's a typical day in your life like?
I don't really have a typical day. But one thing that I always do is spending time with my daughters both in the morning and in the evening.
I usually wake-up at 7 am in the morning and wake-up my daughters so that we can have time for cuddles. We have breakfast together and then it's time for me to get ready and head off to the office. But apart from that I have no specific routine. Especially because I'm traveling so much and always running from one meeting to another.
Your outfit for work?
It's not the same depending on what my day is going to look like. If I'm having some corporate meetings I would usually go for a trouser-suit with heels, very working girl, whereas if my meetings are more on the fashion part I would go for something trendier and even sometimes wear sneakers like today.
Editor's note: loving Isolde's outfit of the day! A very simple tee-shirt with a black leather skirt, both from ba&sh (of course) and a pair of Golden Goose sneakers.
Your outfit for a night out?
A part dress from ba&sh and a pair of heels.
"I believe that whatever the occasion is, you can find the right outfit for that at ba&sh. And I'm the perfect ba&sh cliente as I need different outfits and different styles for various occasions."
Your fav brands aside from ba&sh?
YSL & Chloé! I know those two brands are very different but they are just so me. I am an YSL's rock 'n' roll girl with a touch of romance and femininity, so Chloé.
And your fav places for:
- a lunch w/ friends: Grassroots Pantry
- a fancy dinner: Carbone,
TokyoLima
and my latest crush
Ecriture
- a night out: Salon 10, for sure. I'm not partying as much as I used to and whenever I'm going out I like to go somewhere quite fancy
- adding some pieces to your wardrobe: ba&sh for the clothes, of course. But I must confess a slight addiction to bags and shoes and love to check Valentino, Gianvanito Rossi and Azzedine Alaia
- shopping for your kids: Zara & Bonpoint
- spending the weekend w/ your family: at Tai Long Wan of course!
- family brunch: at home. We love having friends over on weekend, like we used to in France.
- holidays: Bali! I love this island so much and it's the perfect escape for a family break. I love both Ubud for its very nature fell and Seminyak more trendy and perfect for some fashion and home deco shopping.
- Coffee or Tea? Tea
- Paper book or Kindle? Hum, magazines! I love fashion, travel and interior design magazines
- Trousers or skirt? Trousers
- Heels or flat pumps? Heels
- Tattoos or piercing? Both! (Yes she has both)
- City or countryside? Hum I would call myself a city girl who needs some escapes in the countryside
- Social girl or lonely girl? Social girl
- Bonus? I need to take more time just for myself so that I can feel confident and beautiful
Summer Giveaway ba&sh x Hong Kong Madame


Wanna win a full Spring/Summer 2018 outfit from ba&sh?

Easy peasy:

1. Head off to one of their three Hong Kong shops
2. Have a look at the beautiful S/S18 collection and create your perfect look
3. Take a picture and post it on Instagram using hastags
#bashhongkong
#bashmuse
#hongkongmadame

Aude, our Managing Editor, will choose her fav look. If it's yours, you win the entire look*!

* total look can be 1 dress + 1 accessory + 1 jacket OR 1 bottom + 1 top + 1 jacket + 1 accessory

Giveaway is open until Monday July 2nd, 11.59 pm. Winner will be notified on Tuesday July 3rd. Quick quick quick … see you in store!