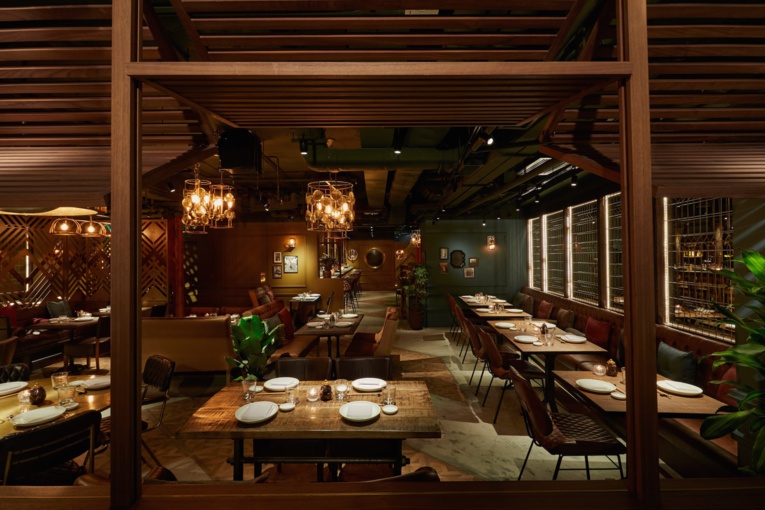 By Delphine
Tokyo and Lima are 15,000 kms apart. However, a huge Japanese community based in Peru invented the Nikkei cuisine. This is the one we want to try this evening in this new Isakaya. Izakaya, kézako? Bars where everybody can come drink, eat and relax under the same roof…
Let's start with the drinks
: amazing colorful cocktails, decorated with flowers, fruits or veggies. Enjoy them either at the bar, sitting on high chairs or laying in wooden sofa. « Saké Martini » or « Tokyo Affair » for the Japanese ones, « Inca sour » or « Lady Marmalade » if you feel more like Peru. Choice is endless.
Time to go eat now
: japanese recipes with peruvian flavors, ceviche in a japanese style. I have to admit, I was a bit sceptic when I first looked at the menu. Sushis with beetroot, rib-eye steaks with wasabi, yakitori with pickled cucumber… Sounds a bit weird, right? OK, well, we came to try and experience so let's be brave and trust Arturo, the peruvian chef who knows what he talks about. He recommends to order several dishes and share. We love that, time to start! Portobello sticks with miso mayo are delicious, the T3 salad is energizing, sushis beetroot/avocado/quinoa are amazing, tuna ceviche with watermelon is definitely a must, but please don't miss the Pollo à la Brasa, my favorite one. A Peruvian chicken marinated in orange and kimchi. To die for.
Conclusion
: a very nice evening between Japan and Peru, in a modern, design and cool atmosphere. Maybe a bit noisy if you're looking for romantic time and privacy, but perfect for a Friday evening with friends.
More info : http://tokyolima.hk/
Address
: G/F, 18-20 Lyndhurst Terrace, Central, Hong Kong
Phone
: +853 2811 1152
Opening hours
: Mardi-Dimanche à partir de 18h30 – Brunch le week-end
Bill for 2
: 930HKD
2 cocktails: 200HKD
1 salad T3 : 120HK$
1 sticks portobello: 80HK$
1 sticks octopus: 150HK$
1 pollo a la brasa: 230HK$
1 tuna ceviche: 150HK$