by Aude Camus
The hospitality industry in Hong Kong has been strongly impacted by the cumulated effects of the protests then the pandemic and it has probably discourage a handful of chefs to open their restaurants. But not chef Tiffany Lo. And god I am glad she did pursue her dream because jean may is everything we need in such a gloomy year! A place that feels like home and where you will find good food, good wine, friendly service. I just loved my meal there and thought the chef deserved a shoutout so here it is.
REDISCOVER OUR FULL REVIEW OF JEAN MAY
Thanks Chef for taking the time to answer those few questions. Could you start by introducing yourself and tell me a bit more about your background?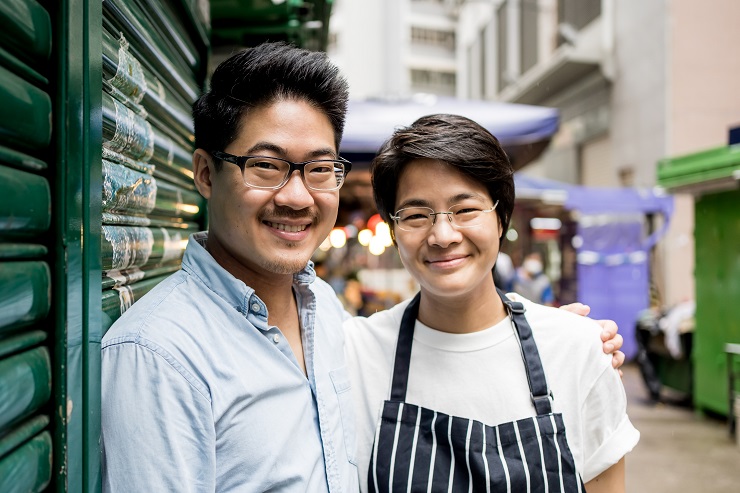 Born and raised in Hong Kong, I graduated from inoversity in the UK and started my career in Investment Banking. But it didn't take me long to realise that my passion was in cooking and that I wanted to make a career out of this passion. I quit my job and enrolled to attend
Le Cordon Bleu Culinary School
in order to gain basic knowledge in French cookiery and realise my dream of working for and alongside legendary chefs such as chef Pierre Koffmann, Phil Howard, Eric Chavot, etc.
Chef Pierre Koffmann whom you always mention as your mentor. How has the chef impacted your life and your cuisine?
Pierre Koffmann is a chef of chefs and godfather of French cuisine in the culinary world (
editor's note: chef Koffmann is known for being one of a handful of chefs in the United Kingdom to have been awarded three Michelin stars
). His cuisine is classic, timeless and based on flavours only. No fuss, just flavours. When he closed his three Michelin stars restaurant
La Tante Claire
back in 2003, a restaurant where so many great British chefs had trained (
editor's note: Tom Aikens, Gordon Ramsay, Jason Atherton, Raphael Duntoye, Eric Chavot to name a few
), I thought all hopes of ever working for him were lost. But after a break, chef Koffmann went back to the kitchen and when he opened
Koffmann's at The Berkeley
, my dream of joining his team finally came true. He is known to be one of the toughest chef (he is known as "the bear" and it is not for no reason), not a single detail can escape his watch from behind the stove, but he is also probably the most humble and generous person I have ever met. Him and his wife, Claire, are my French parents and till this day I still speak with them on a regular basis and still take guidance and inspiration from the chef. He taught me so many different skills from how to extract flavours to running a restaurant from behing the stove and I wouldn't be where I am today if it wasn't for him.
He has impacted my cuisine in many ways. The flavours in his dishes - such as his signature Stuffed Pig's Trotter, Scallops with Squid Ink Sauce or his Pistachio Souffle - are unforgettable and his attention to flavours and simplicity is still driving the way I cook today. But my cuisine is also inspired by many other great chefs I feel very fortunate to have worked with such as Eric Chavot, Michel Roux Jr, Phil Howard, Raphael Duntoye, Durga Misra, James Mitchell, Gregory Marchand, Jun Tanaka, etc.
What about the name of the restaurant jean may?
The place is affectionately named after my grandmother. I was very close to her and she inspired me, together with my mother, in the way she was showing love and affection to family and friends through her cooking. From a very young age, I understood that the dining table was a place where to bond and enjoy food.
How would you describe the atmosphere at jean may in just a few words?
Cosy, personal, welcoming, timeless. jean may is a place for simple and hearthy meals.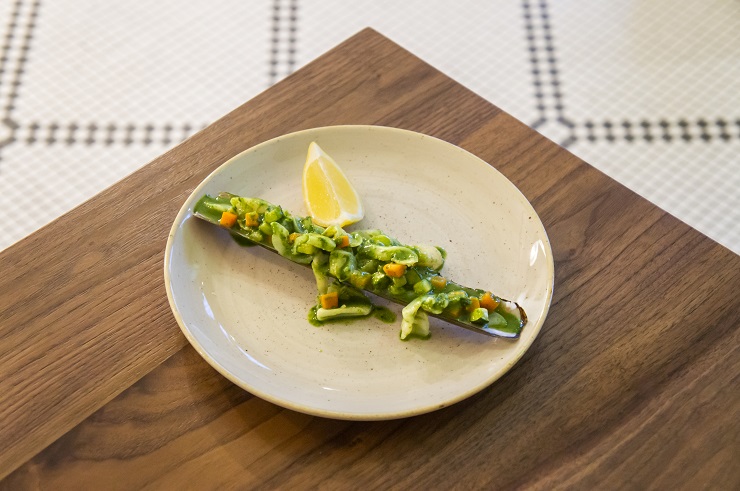 Classic cooking with beautiful natural wines in a relaxed environment.



What is your personal favourite dish on the current menu?
It might be the Chicken Liver Parfait, my nod to nose-to-tail eating and a flavourful dish made out of ingredients that are often overlooked.



Why choosing Wan Chai to open your bistro?
Gresson Street is a friendly casual little street away form the hustle and bustle of the main roads of Wan Chai and the atmosphere perfectly echoes the cosy ambiance we are aspiring to create at jean may. It also reminded me of the time when I was living in the UK and would seek out gem restaurants regardless of the commute or location. I personally love this street and that fact that it's hiding behing market stalls.



The menu at jean may is based on seasonality and fresh products. When it comes to cooking, do you have a favourite season?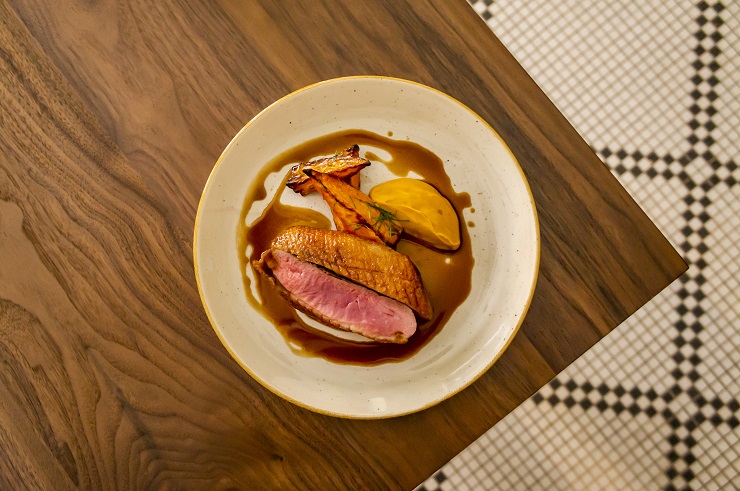 I don't really hve a favourite season. Each season has its beautiful products that I love cooking with. That being said, whenever winter drags on for a bit too long, I welcome colourful spring fruits and vegetables with a big smile.



For your wine menu you have decided to join hands with sommelier Florie Tap and the team from La Cabane, who have crafted a menu focusing on natural wines. Any specific reason for that?
Florie and I are both Koffmann's alumni. She was the Head Sommelier there. We both appreciate the work of small wine growers who dedicate their lives to the art and craft of producing natural wines with no or minimal additives/chemicals, allowing the unique characters of the grapes of the region and season to shine through and we wanted to share their hard work, beautiful craft and dedication with our guests.



How has it been opening a restaurant during a pandemic?
If opening a restaurant is always a challenge, opening jean may during a pandemic has been particularly worrying with extra stuffs to stress about such as: seating capacity, can we open or not for dine-in service, are our staffs and guests in good health, are we able to keep our staff on full payroll … The situation is never seen before. All we can do is try our best, be flexible, and leave the rest to luck.

The first days of opening have been quite discouraging I have to admit. Just one week following our soft opening, restaurants were banned from all dine-in services and we had to come up with takeout options. Then we switched back to dine-in lunch services until 6 pm at half capacity and so on. The current times are indeed hectic and unpredictable. But the entire city (and world) is in this together. All we can do now is try and take care of our team and keep the business alive. Because it's not only about me and my brother (editor's note: Ramon Lo with whom Tiffany opened jean may) but also about our team, we want them to have job security and the pay they deserve and this is a daily challenge. We have become an intimate and close knit team that supports each other. We have also been very blessed with having friends and family volunteering to give us a hand in the kitchen and in the front (a geart-warming reminder of how chef friends would help each other out back in London when they needed it).

I could have dropped my project of opening a restaurant but I genuinely thought to myself that should anything happen to my family or myself, it would be my greatest regret not to have given it a try. I decided to sign the lease despite the concerns of many. It was a stressful decision as I have placed all my savings into this but I have the full support of my family and friends and chefs in the UK and it's keeping me going.



Was it worth it? Do you find any rewards in this entrepreneurial journey so far?
I did not hold any expectations and feel very lucky to be able to fill the seats of the place during our opening hours.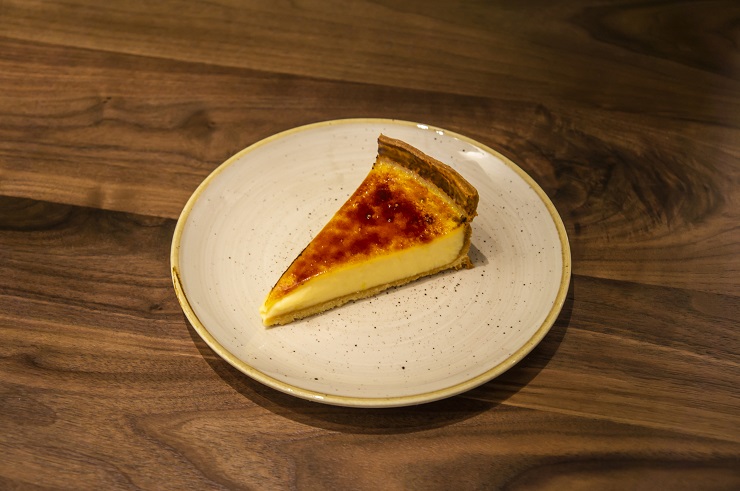 This is more than I had hoped for. I am most grateful to see guests returning to dine with us again, allowing us to get to know them personally.



Anything exciting we should be looking forward to in the next few weeks?
My brother Ramon and I, and the rest of the team, are still trying to find our feet but we do hope to bring specials more regularly. However, our first aim is to be consistent in serving good food, pouring good wines and providing warm service.


One last thing to end: when not at jean may, where do you like to eat in Hong Kong?
I haven't been able to eat out a lot recently but some of my favourite places in town (when not eating my mom's food) are La Petite Maison, Arcane, Neighborhood, Ning Bo (Shanghainese restaurant) and a bunch of local eateries. I am looking forward to eating out again on my days off!