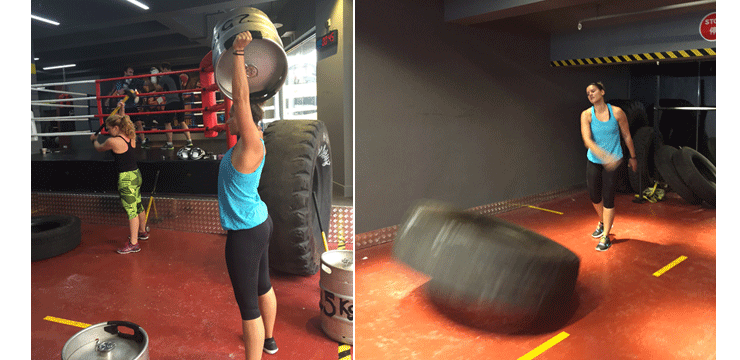 By Vanessa, our Fitness editor
Ursus derived from the Latin word for "bear", is also engraved as an image of a bear on the Ursus Fitness logo, a bit intimidating at first... But nothing stopped me from investigating! So on your befhalf, I pushed open the doors of the Ursus Fitness gym and tried for you the star class of the gym, the Bear Camp.
Conveniently located in Sai Ying Pun in a ground floor industrial-style space of 4000sq feet, you will find several unexpected equipment beside dumbbells, barbells, squat racks and a boxing ring.
The Bear Camp is a circuit class, designed for all, with a mix of both strength and cardio. It definitely gets the heart pumping and you get a very complete workout, but above all, it's so much fun!
Those guys really don't do it the conventional way, mixing regular equipment with things like tractor tires, sledgehammers, log bars, beer kegs or – my favorite – the "Conan wheel", a metallic structure that you partially take off the floor and spin. And this is exactly how you'll feel, like Conan the Barbarian, as strong and as badass!
Experienced and enthusiastic trainers are there to assist and challenge you the right way, allowing you to reach your maximum potential. Classes are designed for men, women and teens of all levels and all abilities. So why not try it with the whole family?
Ursus Fitness is a one of a kind gym in Hong Kong, offering a fun, friendly, community-based instruction to make sure you get the results you're looking for. Definitely a gym with character.
You can go for the Bear Camp but also Strongman, Powerlifting, HIIT/Conditioning, Muay Thai/Boxing, and Poweryoga classes. The place offers great diversity and an opportunity to develop peak athletic fitness. So those willing to go for their max performance won't be disappointed.
They also have "turbo" versions of their classes, a bit shorter (45 instead of 60 mins), ideal during lunch time, no more excuses!
The class drop-in is at HK$ 250, HK$ 200 for yoga, HK$ 180 for teens.
You can buy a package of 12 sessions for HK$ 1800 or unlimited 1 / 3 / 12 months for HK$ 2200 / 5900 / 21000.
Ursus Fitness
Unit 2-4, 64-68 Pok Fu Lam Rd, Sai Ying Pun, Hong Kong
Tel: +852 9689 5660
www.ursusfitness.com