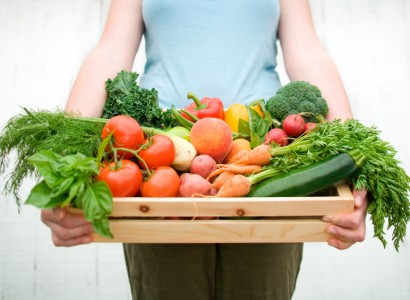 By Delphine
Pesticides, herbicides, GMO, coloring, hormone disrupters … Enough of all those toxins and other yucky things we swallow every day. Now the trend has moved to organic, and that's good! However, it's not always easy for us, busy Hong Kongers, to sort out all the places where we can find healthy products. I've done the homework for you, so you can just relax and stay in your sofa.
Eat Fresh : very local and large selection
Ultra fresh fruits and veggies directly picked from local farms certified 100% organic. Much better for your carbon footprint. You might not find mangos and pineapples but it's a good way to try new local produces. You can also order gluten free bread and brownies, eggs, tea, fresh milk and even Chardonnay wine. They also give ideas for recipes and activities which will make you (and the planet) feel better.
More info:
http://eatfresh.com.hk/index.php/
Green Little Frog : surprise baskets
Each order is a surprise depending on the season: pineapple, mangos, tomatoes, corn, pumpkin… you never know what will come but it's always tasty and healthy. Bags are filled with top quality and fresh produces coming from an organic farm in Thailand. No need to spend time online, just select the size of the bag and Olivier will do the job for you. You can trust him, he's an expert and will pick the best. Just let him know if you have allergies or don't want one specific product. And if one item is not good, he will replace it.
More info:
http://www.greenlittlefrog.com/
Kinoa Shop : the French little grocery store
Gazpacho, palmiers biscuits, ratatouille, duck rillettes... I have to admit you won't find fresh fruits and veggies with that one but the canned asparagus, eggplants à la provençale and other jars will give you all the vitamins you need. Everything comes straight from France and is certified organic. You can also find quinoa, coconut oil and lots other items which will make you feel better. And not only food, you can order babycare, household and beauty products as well. Time to surf on
Kinoa-shop.com
and start your healthy summer!
More info:
www.kinoa-shop.com/
The Fresh Grower : the cheapest
OK, now we cheat a little bit as they are not certified organic. BUT everything comes from a farm in New Zealand which uses natural farming techniques to minimize the pesticide residues. Far from the polluted areas, they use the artesian water free from heavy metals and other pollutants as well as compound fertilizers. Fruits and veggies are juicy and tasty. Select the ones you like online, depending on the season, the date of delivery (same day or 10 days later, everything is possible), and just wait. Prices are very reasonable and service is perfect.
More info :
http://www.freshgrower.com.hk/
Jousun : the largest
A one-stop big online grocery store where you can find a large choice of food. You can shop by aisle or store. Local farmers, organic veggies, USDA premium meat, artisanal biscuits or free-range eggs… the choice is huge, not organic only but each vendors is expertly curate for optimal quality and service. You will definitely find what will make you happy with very competitive prices.
More info :
https://www.jousun.com/