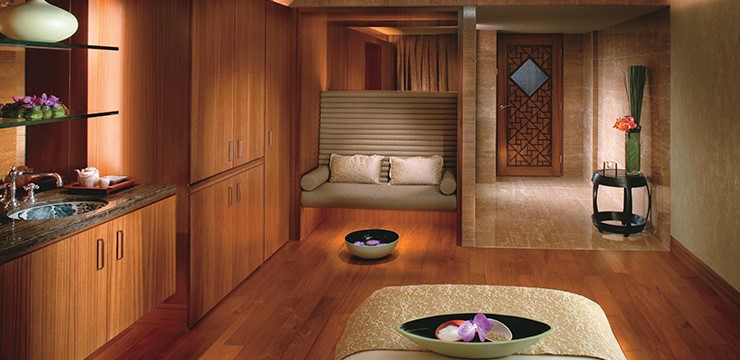 By Aude

Summer is here, lunch breaks are getting a little longer (come on, it is summer after all) but tensions is not getting away. Crazy hectic lives that we have in Hong Kong.

I got just the perfect plan for your summer lunch breaks. Forget the sandwich in front of your computer, keep the street food for later … Take your time, enjoy a real break and embrace summer! Where? The Mandarin Spa at Mandarin Oriental, Hong Kong, the most peaceful place you can find in the heart of busy Central.

I know, you are in a hurry and you need to rush back to work – I do too – but no worries, their new Spa N' Lunch package is just perfect for busy women like us. It will not make you late to work, I swear. So now, relax!

Let's fill in this Lifestyle Questionnaire so that they can tailor the massage to our needs. And now, time for this heavenly hands-on 45 min body massage. My back and necks are so thigh, it is almost painful but painful in a nice way, I can really feel my body relaxing and letting go the tensions. And that smell! The smell of Mandarin Oriental's signature Quintessence essential oil: frankincense to relieve stress, ginger and lemongrass to ease muscle ache, and mandarin to boost circulation.

Next time, I'll go for 90 min! It is so good!

But now, time to back to my busy life. If you have a little bit of extra time, try on their facilities – experience showers, Kneipp pool … Just make it last as long as you can. Or relax in the relaxation room while enjoying a nice cup of tea and some fruits. A perfect escape from the hustle and bustle. If you are in a hurry, just do what I did, grab your takeaway lunch included in the package: a fresh juice – you can choose from 4 recipes created by an iridologist, nutritionist and detox expert - some almonds to give you energy and a very fresh fruit salad.

And now, back to your crazy life. But you'll see the relaxing effect will last you the afternoon. Perfect summer quick escape! Hurry up, Spa N' Lunch package is available only until August 31st!

July 1st to August 31st

From Monday to Thursday – 11 am to 2 pm

24th Floor, Mandarin Oriental, Hong Kong

5 Connaught Road Central