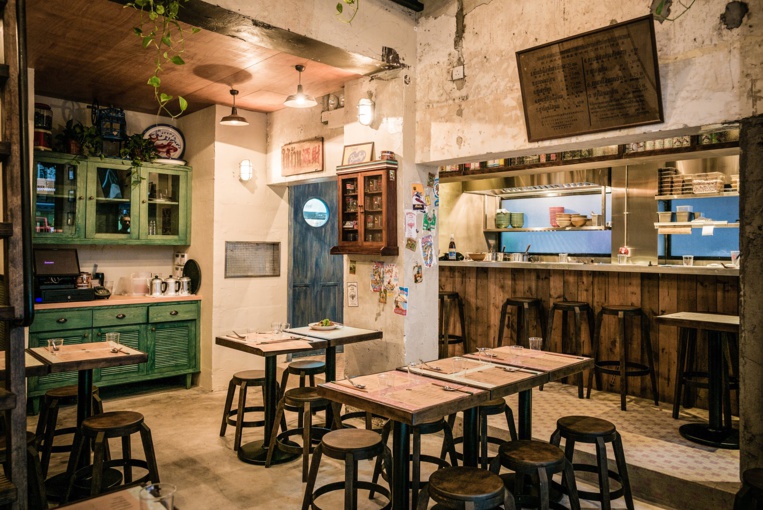 By Lily
Samsen is the coolest new place in Wan Chai's heritage district. Owners Adam Cliff and Bella Kong are serving up Thai street food with an emphasis on authentic Thai noodle dishes.
Feel like you are in Bangkok in the vintage-inspired shophouse located next to the iconic Blue House for a casual street side buzz.
So what do we eat? Start with the soft-boiled fried eggs with chili jam (HK$68) and the fried marinated pork collar (HK$68). Do not miss the Samsen signature Wagyu Beef Boat Noodle (HK$128) and the Pork Boat Noodle (HK$118). The surprising glass noodles stir fried with fermented tofu (HK$108) are super tasty for a veggie option. And please try the wok fried rice of crab meat: it is just amazing (HK$108).
End your dinner with a sweet mango & sticky rice (HK$52)– just like in Bangkok or try the delicious Thai "red rubies" served on shaved coconut ice with young coconut meat and pomegranate (HK$48).
Perfect place to bring your friends and family for a Thai evening!
Noted that Samsen is a NO reservations restaurant – you may have to wait but it's worth it!
Samsen
68 Stone Nullah Lane, Wan Chai
+852 2234 0001
Monday to Saturday 6-11pm
www.facebook.com/SamsenHK/
Intagram @SamsenHK