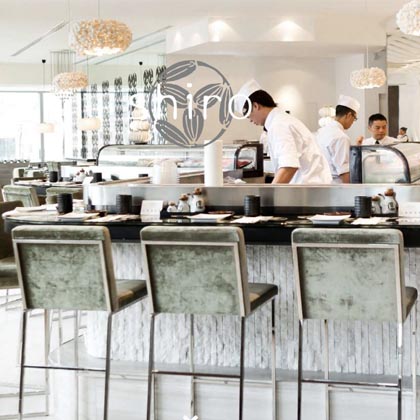 By Delphine
Perhaps you've already heard of Shiro? You know, the great Japanese
place just in front of the Great Food Hall at Pacific Place.
We already love going there for lunch during the week with friends,
either sitting at the counter in front of the sushi conveyor belt each
sushi fresher than the next. Our husbands willingly accompany us
during the weekend to choose a superb bento box. We are never
disappointed by any of the formulas that we've chosen so far. And
we've got to say that the grilled fish is super delicious as well. The
fried tempura, not to talk of the fried foie gras and yuzu sorbet
deserves a standing ovation.
Now for more good news! We can now take the entire gang with us. The
Junior Bento Box has just been launched! My daughter of three years
old tried it and approves three times over. She adored the vegetable
and prawn tempura and her first sushi experience was a huge success.
A perfect menu for mini epicureans, who can have fun after their meal by turning the menus into origamis.
One small suggestion for the manager: Provide baby chairs and allow
easy access for push chairs. But either way, you've got to try Shiro!
More info
:
http://shiro-sushi.com/
Hours
: Monday – Saturday: noon – 8.30pm
Address
: 88 Queensway, Pacific Place Two, LG1, Admiralty, HK
Phone
: +852 2117 9481
Menu for 2 adults and one child: 784HKD
1 Junior Chocho Bento: 98HKD
1 Shiro Seafood Bento: 278HKD
1 Shiro Premium Bento: 328HKD
2 coffees: 80HKD