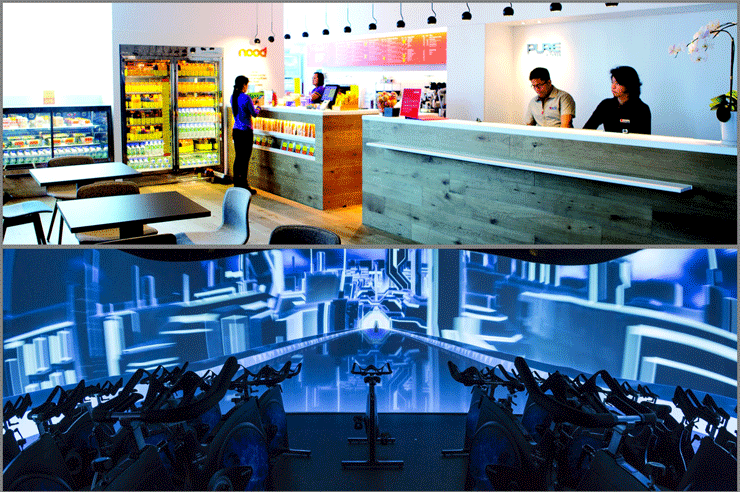 By Vanessa, our Fitness editor
You probably know Pure Fitness and their different gyms all around Hong Kong. Today, Pure Fitness opens a new centre in the heart of Hong Kong's nightlife, Lan Kwai Fong, in California Tower.
It's simply enormous: 25 000 square feet over 6 floors dedicated to fitness, immersed in daylight or with an amazing view on the city night lights, cutting edge equipment and 5 star changing rooms. As for the training, it will seriously be a challenge for you to not find a suitable workout amongst all the available options: strength area, kickboxing/boxing zone, high-tech cardio and resistance equipment, rotating climbing wall, athletic training accessories, gymnastics apparatus, stretching, flexibility and mobility training…
But what really got our attention is a very special workout experience, developed by Less Mills in collaboration with Reebok and launched by Pure Fitness: The Trip™…
It is the world's first 270° Immersive Fitness™ studio, featuring cinema-quality video on a full 270° floor-to-ceiling screen. You can cycle in a virtual city, go down an impossibly steep glacier and race between the stars of a colorful galaxy.
This obviously makes the experience completely different. Engaging all your senses, you think much less about the duration of the workout and push yourself further without even noticing. It's hard to say if it's the future of fitness but it's definitely a new way to exercise and really fun!
Cherry on the cake: The Trip™ is only the first in a series of Immersive Fitness™ programs, so there are more innovative fitness experiences to come!
As they have done it at Kinwick Centre in Soho, Pure Fitness California Tower welcomes you with a Nood Food juice bar, by the reception. Superfood smoothies, organic cold-pressed juices, raw food and juice cleanses are in store for you. On top of being good for you, it's as delicious as nutritious.
So like me if you believe "you are what you eat", you're in for a treat. There is no better feeling than refueling after a workout with something delicious that is also good for you!
Immersive Fitness classes:
HK$50/session for Pure Fitness cardholders with access to California Tower location
HK$200/session for Pure Fitness cardholders without access to California Tower location
HK$350/session for members of the public
Daily visit rate for Pure Fitness California Tower: HK$300.
Pure contracts:
HK$1499/month + joining fee of HK$2999 to access to all fitness and yoga locations in Asia
HK$1199/month + joining fee of HK$1999 to access to Pure Fitness California Tower only
www.pure-fitness.com
www.allnood.com