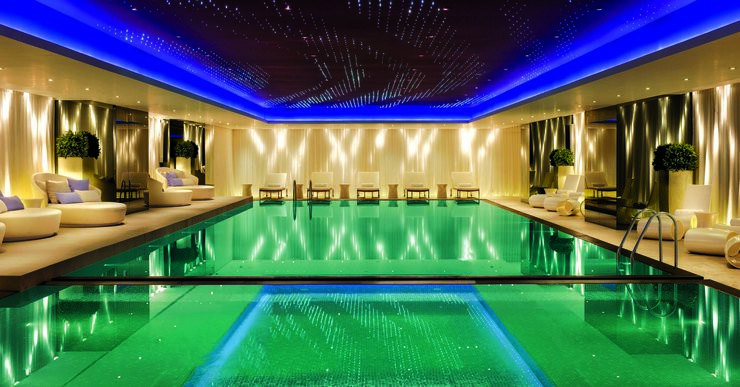 What about treating yourself to a full afternoon of massage, nap by the pool and floatation in a relaxation room?

But you know, spa can be exhausting (yes it can) and a all you can eat buffet is just the best way to plunge in an afternoon of massage and relaxation.

SPLUNCH at the MiraSpa & Yamm might be the best deal of this autumn!

It all starts with a buffet lunch at Yamm. Why not indulging yourself with fresh sushis, fresh bread, hot dishes and yummy sugary treats? You'd better be prepared for this long afternoon coming up, right?

My tip? Book your massage late enough in the afternoon so that you have time after your lunch to enjoy the crazy beautiful pool, the heat facilities (nothing like a short break in the sauna to sweat out all those calories from lunch), the Jacuzzi and the lovely floating room. I must admit I may have fallen asleep in this room – something like 1h oups! But who could blame me? I mean floating bed, quiet, darkness, fresh breeze … This little room is heaven!

2h just for myself and now I am heading to the massage room. 60 min of Mira Massage based on Chinese Elemental philosophies. A balancing and restorative massage that just left me with no more tensions in the back and the feeling of floating, again! Followed by a 60 min facial. Deep cleansing, a little painful but hey you gotta deserve this healthy glow!

This afternoon was just heavenly! Want your share of heaven too? Hurry up, SPLUNCH special offer* is only available until November 30th.

* HKD 1,388 – original price us HKD 2,483

From Monday to Friday (except on Public Holidays) – 9 am – 6 pm

SPLUNCH at the MiraSpa & Yamm includes:

•         60 mins Rose Aromatic Facial by Aromatherapy Associates

•         60 mins Mira Massage

•         Complimentary access to Pool, Fitness & Heat Zone

•         Lunch Buffet at Yamm (valued at HK$328 + 10% svc)