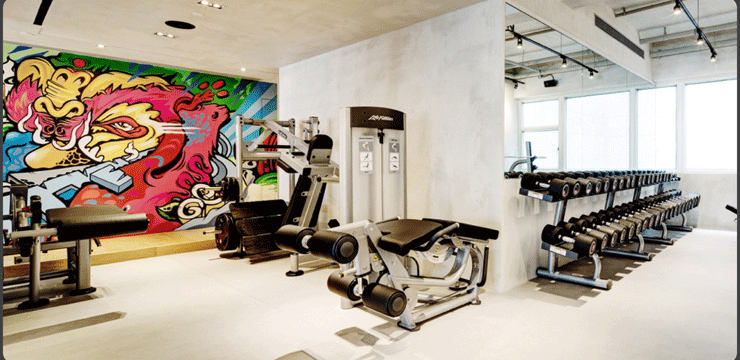 By Vanessa, our Fitness Editor
Odinson is located at the Pemberton Building, multi-floor wellness hub in Sheung Wan. Their motto: a perfect balance for mind and body. To reach it, a lovely and peaceful boutique fitness studio on two floors, where they mix yoga, personal training and wellness with a juice and salad bar.
So why such a mix? For the crossed benefits.
Personal training and yoga are often perceived as very different activities and not for the same kind of exercisers. But in fact they totally benefit to each other. While personal training builds strength and achieves physical results, yoga simultaneously conditions the body and mind for overall personal wellness. Then regarding nutrition, I don't think I have to explain why and how it helps your overall wellness anyway…
That being said, don't panic, if you prefer yoga over personal training or the contrary, of course you have the choice!
So what can you do there?
Experienced yoga teachers lead intimate 90 min group classes including Acrovinyasa, Ashtanga, Fly (hammock) yoga, Forrest Inspired Yoga, Prenatal Yoga and more. They also offer meditation sessions and workshops outside of their practice.
Dedicated trainers lead small group high-intensity classes including the female only Wonder Woman class and Total Body Conditioning class (mix of weight training, circuit and strongman training).
I tried for you the "Happy hips and hamstrings" yoga by Charlotte Johnson. Charlotte being an experienced and patient yoga teacher, no surprise, the class was great. It really helped my sore lower body and we've been given many options during the class to adapt the poses to our own flexibility and stretching needs. The studio is very Zen and bright thanks to big windows, so you can enjoy the daylight or beautiful view during your practice.
I couldn't write about Odinson without telling you about their amazing yoga mats… The grip and cushioning is just perfect, giving you comfort and the best conditions, no matter what's your level. But above all, some lines and designs, harmoniously decorating it are a precious guide. It's sometimes hard to be sure your feet, hands are in the right position, both sides at the same level. You can now forget that problem with those Liforme mats. Addicted? Don't worry, you can get one at Odinson, the exclusive retailer in Hong Kong.
I moved then to the floor above to discover a bright open training space complemented by colorful murals designed by a graffiti artist. I enjoyed there a juice after my class at Mr. Green Juice organic juicery and eatery. Cold-pressed juices, nut milks, soups and salads (raw and vegan friendly), but also some protein shakes exclusive to Odinson: in a word everything you need after your workout!
Private sessions
Monthly subscription of 4 / 8 / 12 or unlimited private 60 min training or yoga sessions: HK$ 3,600 / HK$ 6,800 / HK$ 9,600 / HK$ 12,000 (all packages include unlimited group yoga and fitness classes)
Drop-in 60 min private sessions: HK$ 1,000
Group sessions
Group classes packs of 10 / 20 / 30 sessions: HK$ 2,750 / 5,000 / 6,750.
Special price for a limited time and new clients, unlimited group classes: HK$ 2,000 per month
Drop-in single session group classes: HK$ 300
Odinson,
11F The Pemberton, 22 Bonham Strand, Sheung Wan
odinson.asia