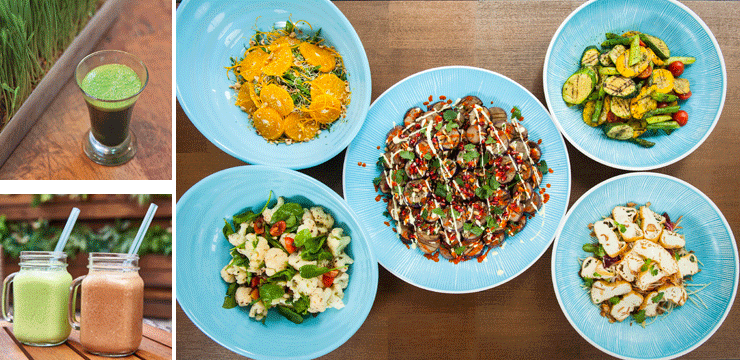 By Delphine
Summer is (almost) here! It's time to get back in shape and eat healthy food without those nasty colourings and preservatives. Here is a short list of our favourite restaurants to help you stick to your Summer resolutions while still enjoying your meals.Healthy eating has never been so fun and delicious!
Mana Fast Slow Food: great vegetarian and eco-friendly salads to take away or eat on the spot
On the menu: freshly pressed juices, wraps and salad boxes made from fresh local produce packed with vitamins, grains and crunchy veggies. You can create your own salad mix and relax while they toss and serve the whole thing up for you in recyclable packaging. They also offer organic and gluten free options for an extra healthy kick. You can take away, but we suggest sitting outside on the charming small terrace at a big sharing table. Mana Fast Slow Food is delicious, refreshing, guilt-free, and great for lunch to catch up with your friend.
Prices: wraps 85HK$, salads between 75 and 100HK$, juices between 50 and 65 HK$
Address: 92 Wellington street, Central
More information:
www.mana.hk
Silver medal: NOOD ! A similar concept a few steps away.
www.allnood.com
The Kinnet café: large portioned toasties or salads, real meals for everyone
This hidden café restaurant in the heart of Sheung Wan is an organic and eco-friendly gem. You won't come across it by chance because there are no signs and it's hidden on the 3rd floor. Nevertheless, the tables are always full because of the delicious food! Friends, colleagues, clients and parents enjoy the airy space, its green plant wall, large terrace, the peace and quiet, the modern interior, and of course its generous plates of food at very fair prices. The menu changes every day depending on the season, so you will always have the freshest meats, lasagnas, salads and toasties. The smoothies are to die for and are packed with vitamins. Perfect to unwind while staying healthy. Better head there now before the whole town finds out…
Prices: mains between 75 and 140HK$, smoothies between 58 and 68HK$
Address: 33 Hillier street, Sheung Wan
More information:
http://www.thekinnet.com/en/
or
https://www.facebook.com/TheKinnetCafe?fref=ts
Silver medalist: Locofama, 9-13 Fuk Sau Lane, Sai Ying Pun:
www.locofama.com
Bronze medalist : Wagyu Lounge for its Bikini Fit menu, Hollywood Commercial House, 3-5 Old Bailey Street -
http://www.casteloconcepts.com/our-venues/wagyu-lounge
Colette's: A fresh vegetarian buffet
Open only for lunch, this place offers a daily selection of entrees and hot mains, bread, cheeses and free flow fruit salad. Everything is fresh and vegetarian - vegetables are the stars. You can read the newspaper in a large sofa chair or share a table on the terrace with your neighbors. On Wednesdays, they serve a scrumptious Thai buffet. The only downside is that they don't take reservations and you have to be patient sometimes, but it's worth the wait!
Prices: 118HK$ for the buffet with coffee or tea.
Address: 2/F, 2 Lower Albert Road, Central
More information:
http://www.hkfringeclub.com/en/venues/5-Colette%27s.html
Another option : Jojo for a vegetarian buffet Indian style :
http://www.jojofood.com/profile.htm
Munchbox: For healthy and delicious snacking (yes that's possible!)
When you're stuck at the office or laying on your couch watching your favorite TV series and you don't feel like going out or cooking because all you want is something to munch on like chips or chocolate biscuits. But that would go against your new health resolutions! Thankfully, Munchbox is your solution to guilt-free snacking. They deliver straight to your doorstep and tailor fun comforting boxes stuffed with yummy and diet friendly chips, cookies and organic drinks. These treats have no colorants, no GMOs, gluten free, and no added sugar.
Online orders and information:
http://www.munchbox.hk/
Facebook:
https://www.facebook.com/MunchBoxHK
The juice detox with Genie Juicery: the most extreme, but equally delicious
Liquids and only liquids! If you're really motivated and want to flush out the excess from your body, head straight to Genie Juicery. Their goal: cleanse your body of all accumulated toxins (pollution, stress, alcohol, caffeine, tobacco, saturated fats…). The idea: a complete program of 8 juices spread throughout the day that are selected based on your personal objectives. Loaded with anti-oxidants, energizing, hydrating, and a diuretic - these juices have everything you need. Depending on your experience with detoxes, the 2 founders will give you advice on how to best go about doing your cleanse. Up for the challenge? Let there be juice!
Prices: 600HK$ for 1 day (8 juices), 3200HK$ for one week (48 juices)
Orders: online or at the IFC mall shop 2096B, Podium Level 2
More information :
http://www.geniejuicery.com/
Other option: Mr Green Juice
http://mrgreenjuice.com/