by Aude Camus

Kindergarten … something that I have on my mind at the moment. My baby girl just started unaccompanied pre-school and it's now time for me to think about what to do next year. Should I register her in the same school because she knows the place and the people already plus it's convenient for us because it's close to our place? Should I apply for a spot at French International School? Should I look at other alternatives? God, I wish I had a clue … Also, should I be proud that my baby is excited to go to school by herself or should I cry because she isn't a baby anymore? It's not easy to be a parent. It feels so much responsibility having to make choices for my little one and making sure she gets the best education she can. These questions that I'm asking myself, we're all going through them at some point. But as a new mum, Marion de Sousa went a little further and decided that not only she was gonna make the right choice for her boy but she was also gonna change her career to support the education and development of many more children. She is now the director of Les Ateliers de Maya, a French kindergarten in Sai Ying Pun.



Hey Marion. Thanks so much for taking the time to answer these few questions. I'd first like to know more about you. What brought you to Hong Kong and how did you become a school director here in this city?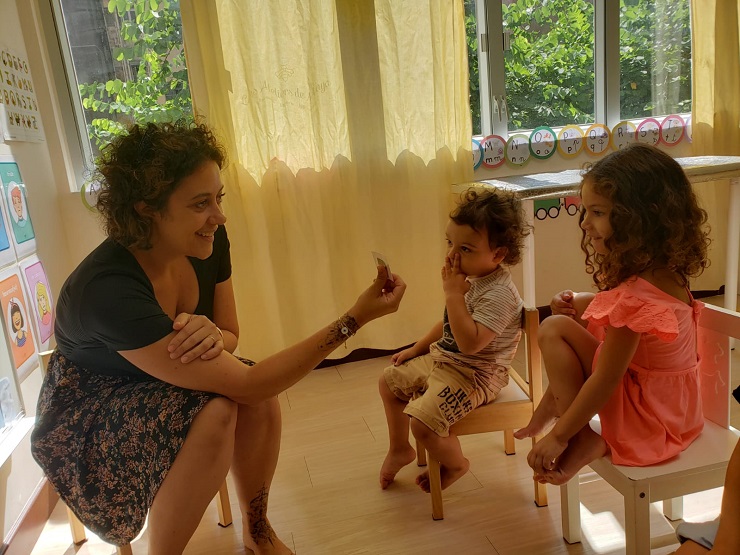 I'm French, I'm 33 and I have what you can call a pretty classic academic background for a French person. I went to business school back in France and did a semester abroad in China. I loved it. And I loved the Asian continent. So when came the opportunity to start my career in Hong Kong, I took it. My first job was in marketing. I spent seven years in a marketing role but I cannot say it was a fulfilling one. While pregnant with my first kid, three years ago, I realised that I was not happy with my professional life and that I needed something more. I developed an interest in early childhood education and child's development and I felt like this was a path I'd love to explore not just personally but also professionally.

I was lucky to quickly find a job in a kindergarten here in Hong Kong, a proper real-life test. You cannot lie to children, you cannot cheat. Young kids are not like adults, there's no pretending, there's no unsaid things, they'll just say whatever they think and don't care if you like it or not. Guess what? I loved it! I needed this test to confirm my career change. I finally felt like I was doing something that was making sense to me.

Then, a friend of mine was relocating and looking for someone to take over the French kindergarten she had founded in Hong Kong – Les Ateliers de Maya. At first, I wasn't palling to take it over myself. I just wanted to help her find the right person. I introduced her to someone but it didn't work out. She also found someone whom I met because this person was thinking about hiring me for the school. This one didn't work out either. So I thought, what if I was the one? Fast forward to today and I'm now a full-time entrepreneur and school director. Time is precious, days are too short and my life is so different from what it was before but I love every minute of it.



Can you tell me a bit more about Les Ateliers de Maya? What sets the school apart from other pre-primary schools in Hong Kong?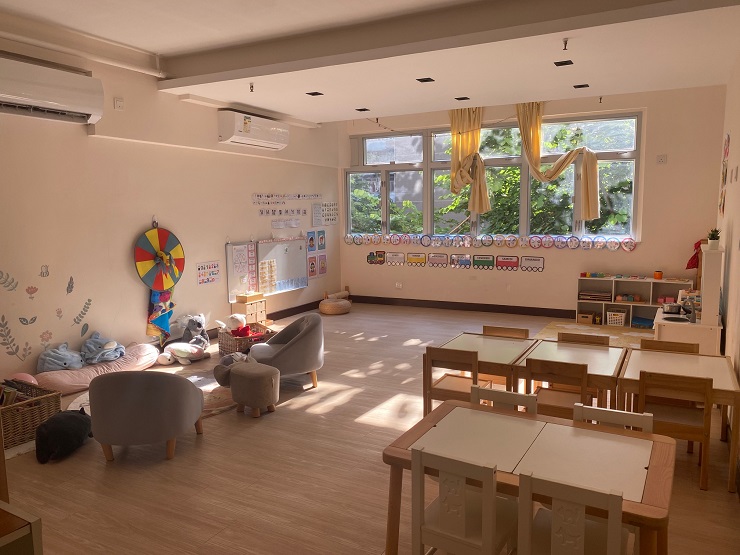 We are a very small structure. It something that expat families actually love. We are a French school so we follow the French national program set and accredited by the French Ministry of Education. But we also enrich the program with alternative learning techniques such as Montessori, as well as English classes. The school welcomes child from two to seven and we also have pre-school activities for toddlers starting from 10-month old.

Proximity with the kids' families is something that really sets us apart. We speak directly to the parents. After each class they receive our detailed feedbacks and this is something they value a lot.



You've just mentioned that you follow the French national program. What are your learning and schooling principles?
First and foremost, we believe each child has his/her own development path. Our objective is that each kid should have acquired the key competences and skills as set up by the French Ministry of Education by the end of kindergarten with us but we don't wanna rush them.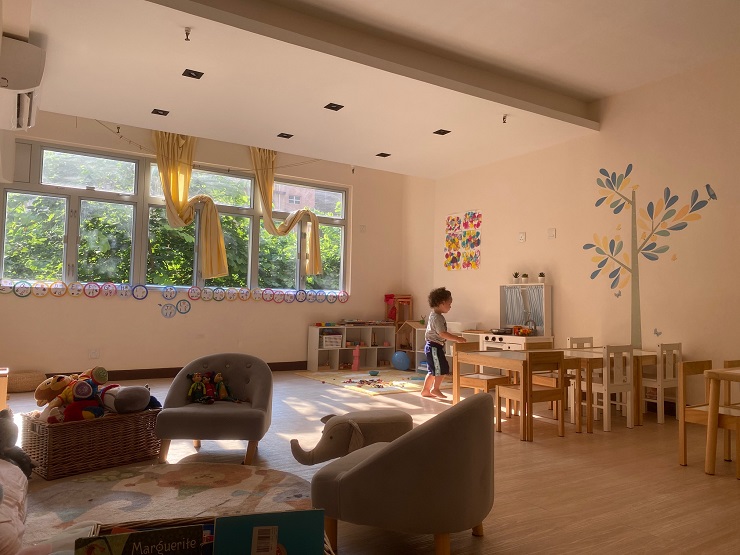 We encourage the kids to develop these competences and skills by themselves and at their own pace. The worst thing for us would be for a kid to be reluctant to go to school because he/she feels it's not a safe and understanding environment for him/her.



So from a kid's point of view, what does a day look like at your school?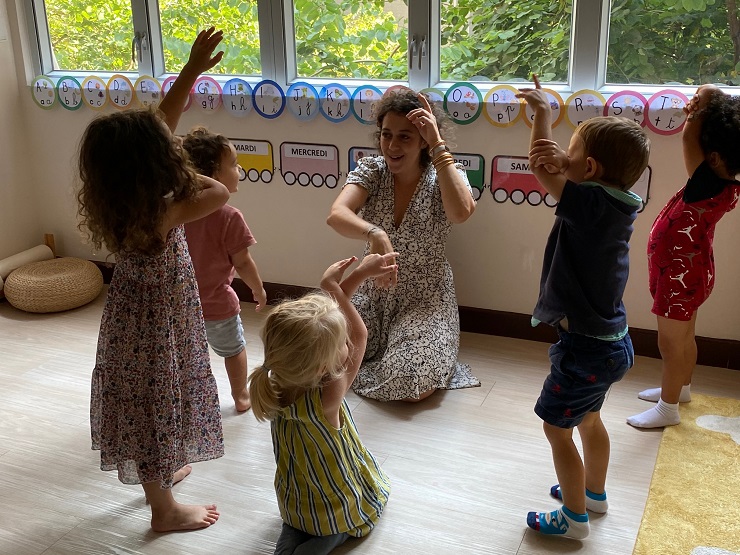 No day is like the previous one. On one day we're gonna work on our language skills and motor skills and the next one will be all about logics and mathematics. We also do sport, some cooking and we have quite a lot of Montessori-inspired workshops. We also have some routines in place because it's reassuring for the kids. On mornings we share snacks and we have a time for free-play, we also always read a story before getting ready to go back home. Singalongs and dances are an important part of our days. We're also lucky to have a parc located opposite the street and we sometimes take the kids there so that they can explore and play.



As the mum of a two-year-old boy, I imagine you can also personally recommend activities to keep the little ones busy. What are the places you like to take your son to, things you love to do with him, shops where you like to shop for him …?
Keeping him busy does indeed require a bit of imagination. There's plenty of stuffs you can do at home that won't cost you a thing. Believe it or not but young kids love chores. They think it's a game but it also make them feel like they're part of the family. Giving some responsibilities to your children is very important.

I also love taking him to Disneyland and Ocean Park. And I totally recommended Jurassic Garage which is a great organisation that brings exotic animals to your place. It's really exciting for kids to get to see these animals up close. This is an activity we also love doing at the school.

We have a dog so we also love, and need, outdoor activities. The walk between Repulse Bay and the Country Club is a favourite of mine because it's by the sea and 100% car-free aka totally safe.

And my go to shop is Petit Bazaar because their curated-selection is of high quality.
Les Ateliers de Maya
8 Mui Fong Street – Sai Ying Pun
https://www.facebook.com/lesateliersdemaya