by Aude
First
Japanese feast
at Festival Walk in Kowloon Tong, then Italian dinner in Lai Chi Kok (stay tuned, we got a super pornfood Italian food in Hong Kong round up coming up), and now dinner in Wong Chuk Hang, keeping it up with my 2018 "getting out of my hood and discovering new places" resolution pretty strongly so far!
Wong Chuk Hang is not a totally new area for me and I am quite used to go to meetings there (this is also the hood where you can find
Hula
super cool permanent showroom … definitely worth checking) but would have never thought about this place for dinner. Well, after trying out
Komune
, I am seriously considering going there every week!
Opened mid-December in the Ovolo Southside hotel, Komune is a colourful place, full of energy. Loving the vibrant vibes over there! The weather wasn't nice enough to seat on the garden terrace but I got a feeling it's going to be a hotspot in the next couple of months.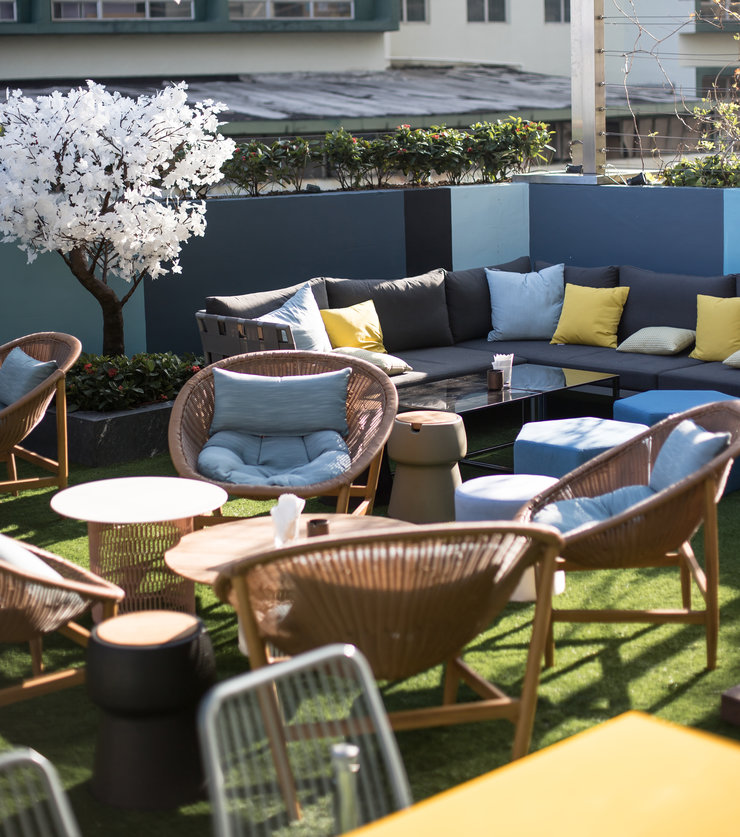 Kicking off the night with a cocktail. Cocktail on a Wednesday night are so my thing! Especially when they are not just any cocktails but rather one-of-a-kind drinks imagined by international cocktail consultancy
Cocktail Professor
.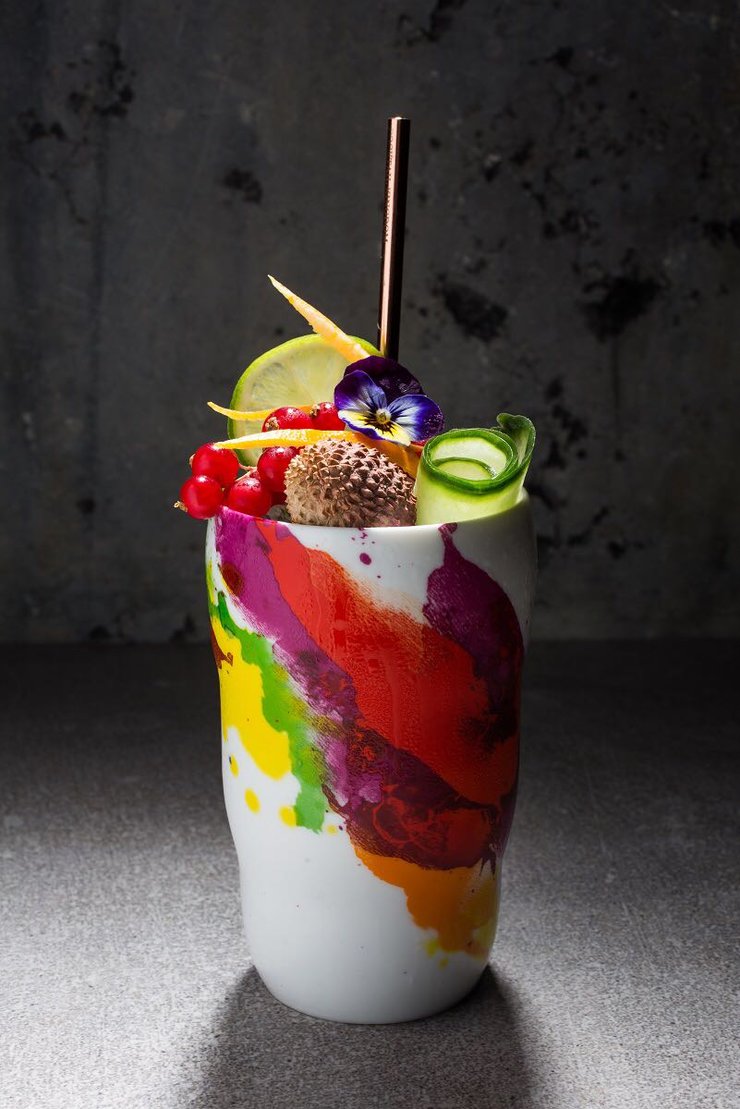 Hong Kong Madame pick
: the
Chinese Ink
, a flamboyant representation of Hong Kong Southside's art scene brought to life through colourful flavours of local lychee, tangerine, lemongrass combined with a rustic rye whisky
And ordering food before getting tipsy! Again not just any food since Komune has decided to teamed up with award-winning Michelin-experienced chef
El Palanca
. You know how you sometimes feel that those kinds of partnerships are just about bringing a big name but without any proper concept behind? Well, it's nothing like that here. First of all because chef El Palanca is in the kitchen, he is not just bringing his name but also his creative cuisine through a selection of mouth-watering South-American with an Asian twist sharing-style dishes. Then because it feels like everything is just going perfectly well together: a cool place, a super yummy cuisine perfectly complimented with no less yummy cocktails. I couldn't say which dish was my fav among the 4 starters, 2 mains and 2 desserts that I have tried (some may call it gluttony or food overload, I call it commitment to my work):
the super fresh but with a nice acid twist Hamachi served in a Peruvian tiradito style (HKD 68)
the very pornfood sexy creamy croquettes filled with oxtail & truffle (HKD 80)
the surprising and very comforting clams, chorizo and sake (HKD 88), the sauce of this one was actually that good that I finished it all with a spoon
the "Classic Russian salad" crab and salmon rolls (HKD 98)
the killer grilled octopus surfing on bone marrow (HKD 118)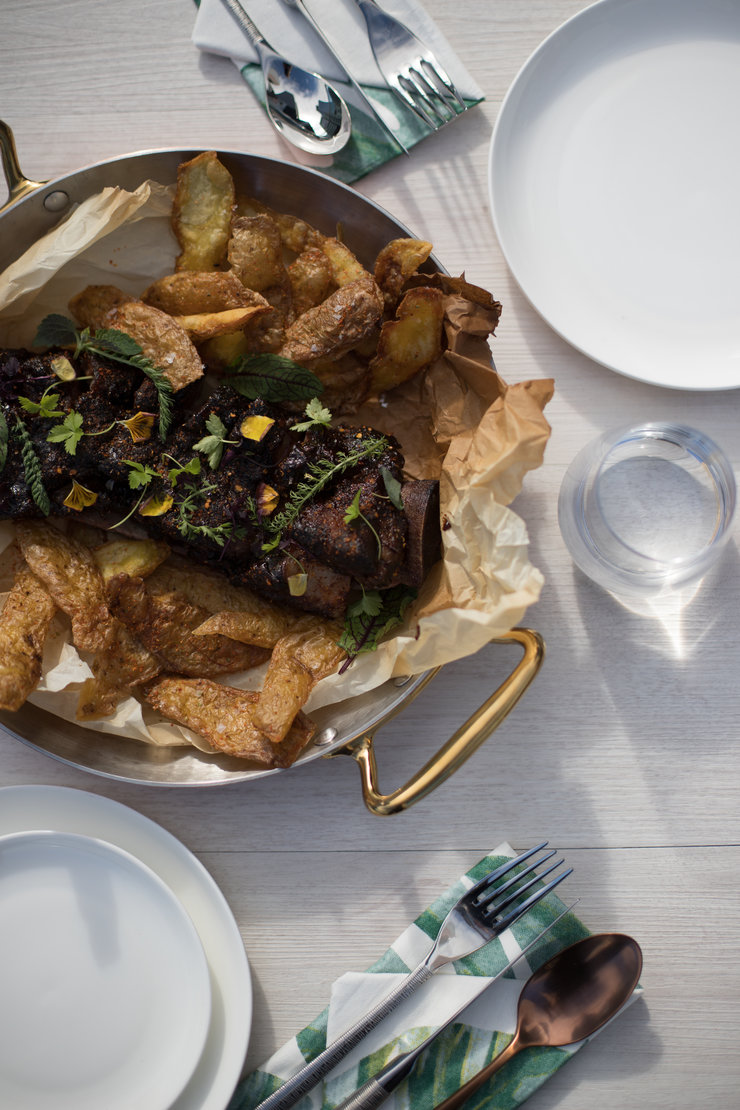 the perfectly spicy but maybe a little too fatty for me but highly appreciated by my boyfriend "Sichuan style" slow-cooked short ribs (HKD 368)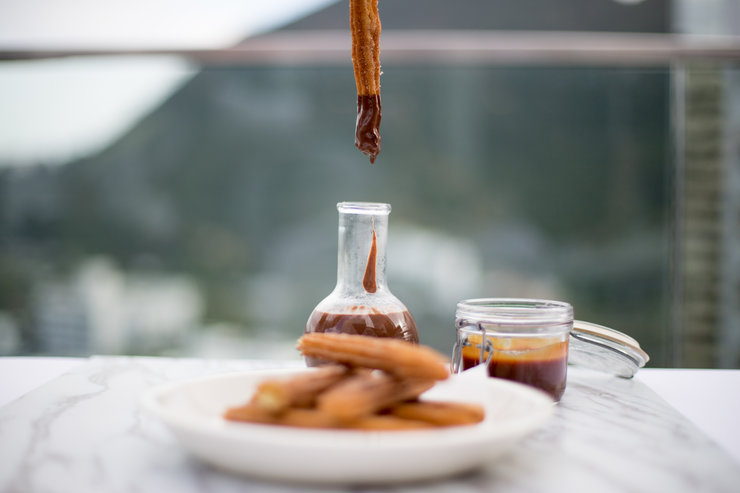 the "not light at all but who cares when it is that good" churros (HKD 65) served with hot chocolate and salted caramel
But I can definitely tell you which one was the most surprising: the
liquid cheesecake
(HKD 65). I don't want to spoil the all surprise for you but this dish is amazing and a perfect combination between blue cheese, Camembert and shortbread cake (wouldn't have even thought that such a combination could work!).
Will I be back? For sur! And I definitely invite you to be part of the Komunity too!
Komune
Ovolo Southside, 64 Wong Chuk Hang Road
Monday to Sunday: 6.30 am – 11 pm