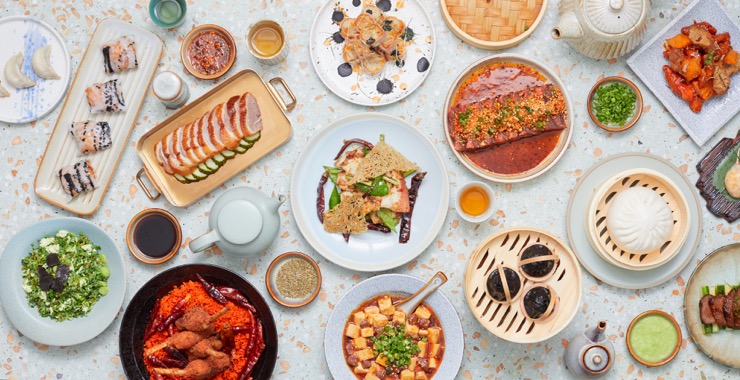 May 2020 update: John Anthony has now unfortunately closed its doors

by Aude Camus

Once upon a time, during the Qing Dynasty (1636-1912), there was a man stationed at Limehouse, the docks of London's first Chinatown. Chinese native but speaking a perfect English, this man acted as a trading interpreter and caretaker for Chinese and Southeast Asian trade sailors, helping trade to flourish between East and West and encouraging the spreading of Asian goods across the globe. Name of this man? John Anthony.

Opened few months ago, in Lee Garden Three, John Anthony by Maximal Concepts is an homage to this era of voyages and cultural diversity: a Cantonese grill and dim-sum restaurant featuring bold influences from regions from all around the Spices Routes and unique cooking techniques and flavors.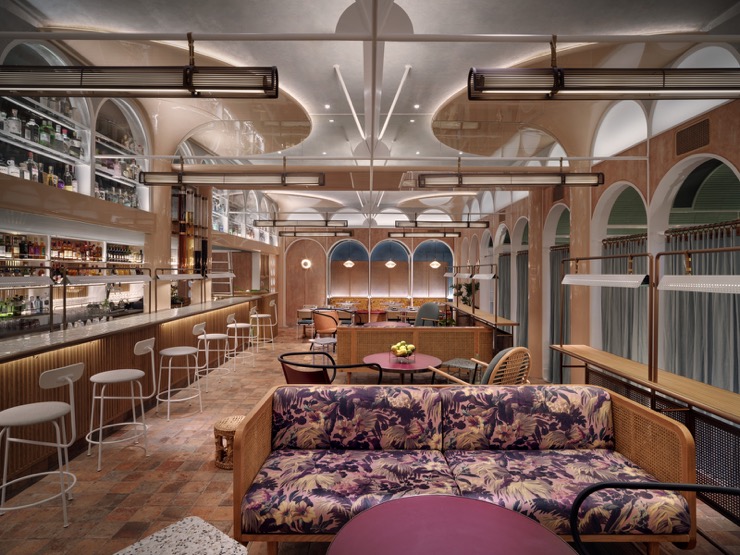 Photo Credit: Jonathan Leijonhufvud
Cantonese grill and design are usually not things I would put together in a sentence. And if you are just like me, you are going to be surprised: design is definitely part of the dining experience at John Anthony. An instragamer haven! Not to mention the venue's strong commitment to sustainability: sustainable rattan, natural hand-dyed fabrics, eco-paints, floors made of terracotta from old Chinese village houses … Who knew sustainability could be that sexy!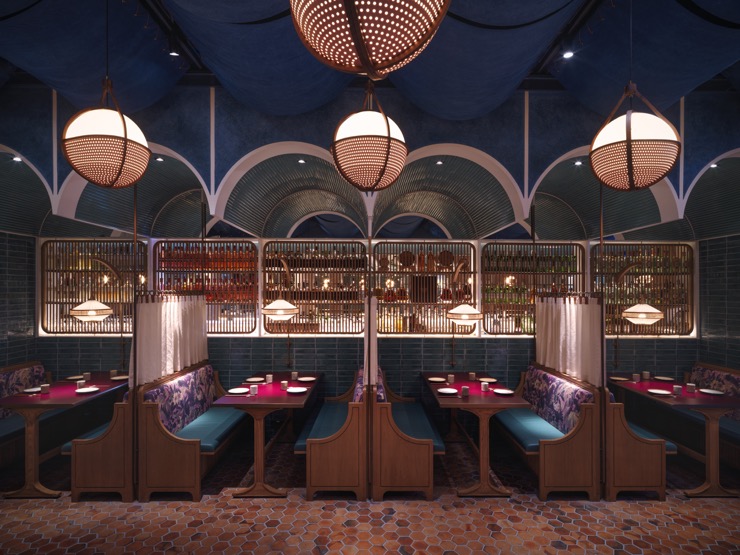 Photo Credit: Jonathan Leijonhufvud
Seating in my cosy booth, I can't stop starring at the huge and beautiful bar featuring Hong Kong's largest Gin Collection. Oh, and now the staff is telling me that they also have 4 signature gin & tonic featuring their own botanicals infused gin. Well, that's it, I have to order a Gin & Tonic!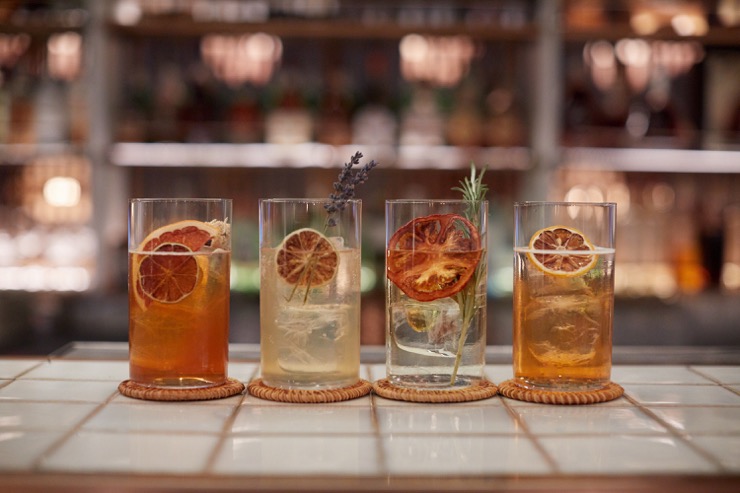 Hum, should I go for the Tanqueray Gin with Lavender and Fevertree Elderflower Tonic (HKD 85) or for the Plymouth Gin with sundried tomato, Rosemary and 1724 Tonic (HKD 115)? You know what, let's order them both, we will share (which in my words means I'll let you have a sip at mine but will drink half of yours).

Well, let's hope the food is as exciting as the design of the place. Menu sounds pretty appealing … but what to order?
If you are in the mood for Dim Sum am sorry but you will have to come back for lunch, they don't serve them at dinner. But I heard they are pretty dope (let me know when you are going, I might wanna come along).
The menu is split into various sections ranging from Small, Cold, BBQ, Soup, Abalone (hope you won't mind, I'll pass on this one), Seafood, Meat, Vegetables, Rice, Noodles, Dim Sum and Dim Sum Dessert and the dishes are designed to be shared (which I love, it means I get to try more things … yihaaa).
As much as I'd love to try a bit of everything, there are only two of us tonight and we can't cover all sections of the menu so hope you won't mind but we will focus on some classics and see how's the place twisting them.

Shall we order a few small plates to share?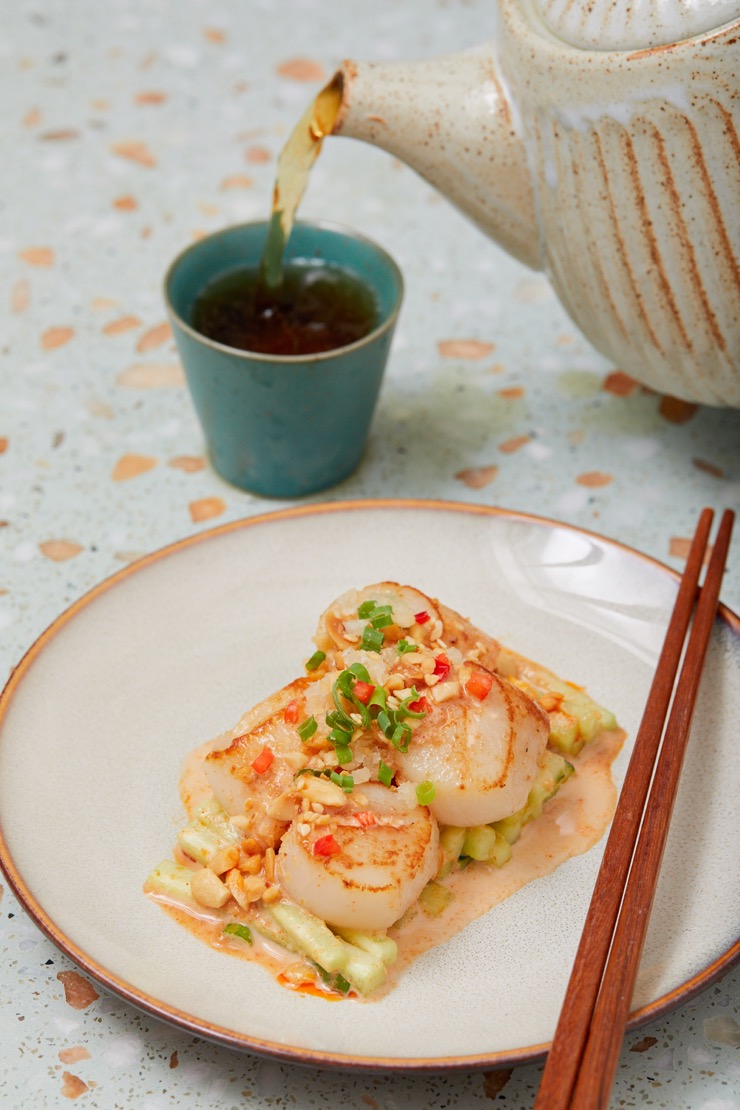 The Szechuan Pan-Seared Australian Scallops (HKD 155) are cooked to perfection and spicy just the way I like. The Crispy Iberico Pork Belly (HKD 155) is a very pornfood thing of slow cooked pork belly, I had few bites of it when I usually don't eat pork belly.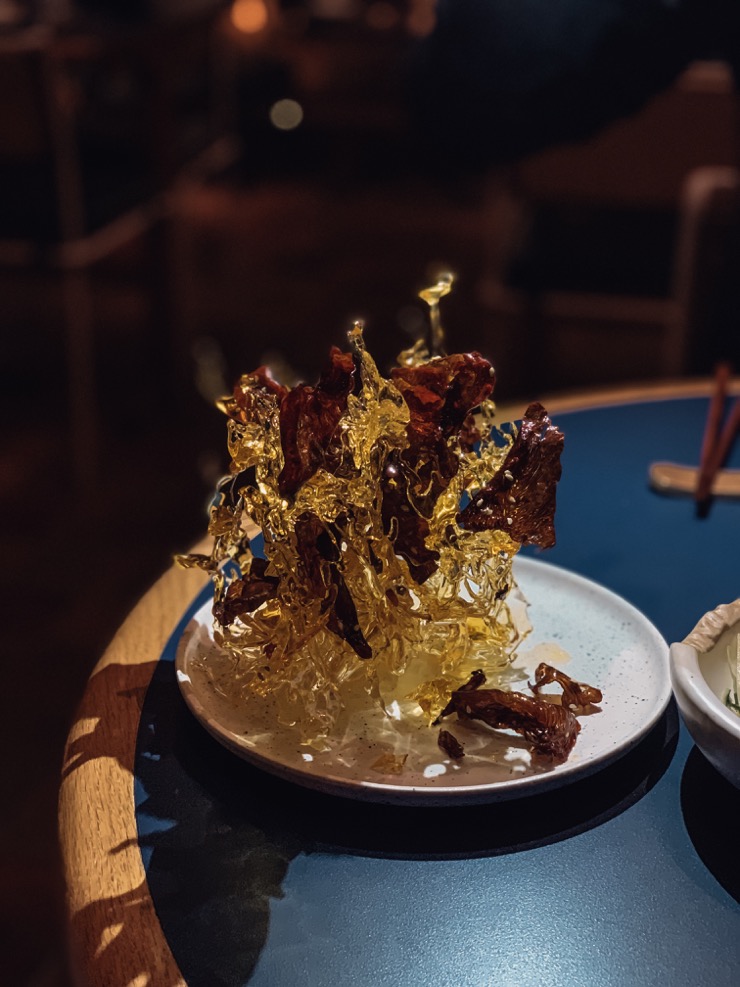 Photo credit: Aude Camus
Hong Kong Madame's fav: the Air-Dried duck, ginger, yellow mountain honey (HKD 130). Imagine, super thin layers of duck skin displayed on a small mountain of honey. Not only is this dish beautiful, it's also completely addictive. You first have the very sweet taste of the honey and then comes the fragrant taste of the duck. I've never had something like this before and would have it again tonight if I could.

Then onto the mains. Shall we do a BBQ item, a bit of seafood and one noodle? Love it, you always say yes to everything I want. That's actually why I keep on taking you for dinner with me …

The Dan Dan Noodles are perfectly creamy, spicy just like needed … such a regressive treat.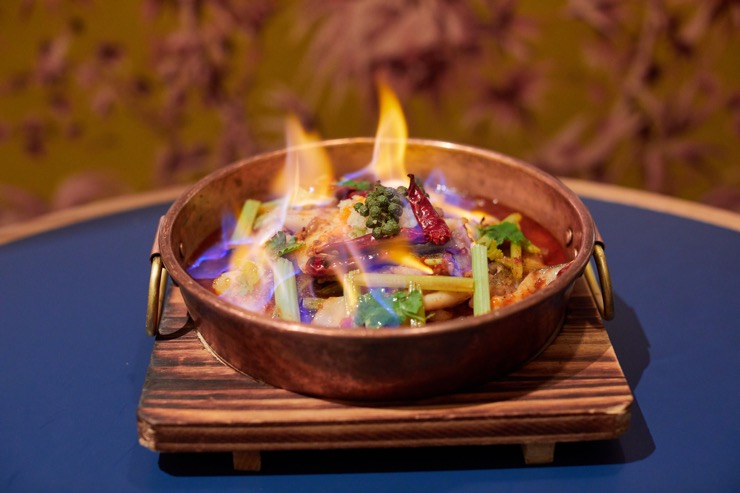 Oh, and here comes the Poached Chinese Perch Filet in Szechuan Pepper Broth (HKD 360). The fish is cooked to perfection but god that thing is spicy. I mean, Szechuan Pepper Broth, what was I expecting. I have that thing with Szechuan spices, I love them and can't help digging-in even though I know it's a level of spice I can't really take. If you are going for this baby, you might wanna consider ordering rice on side.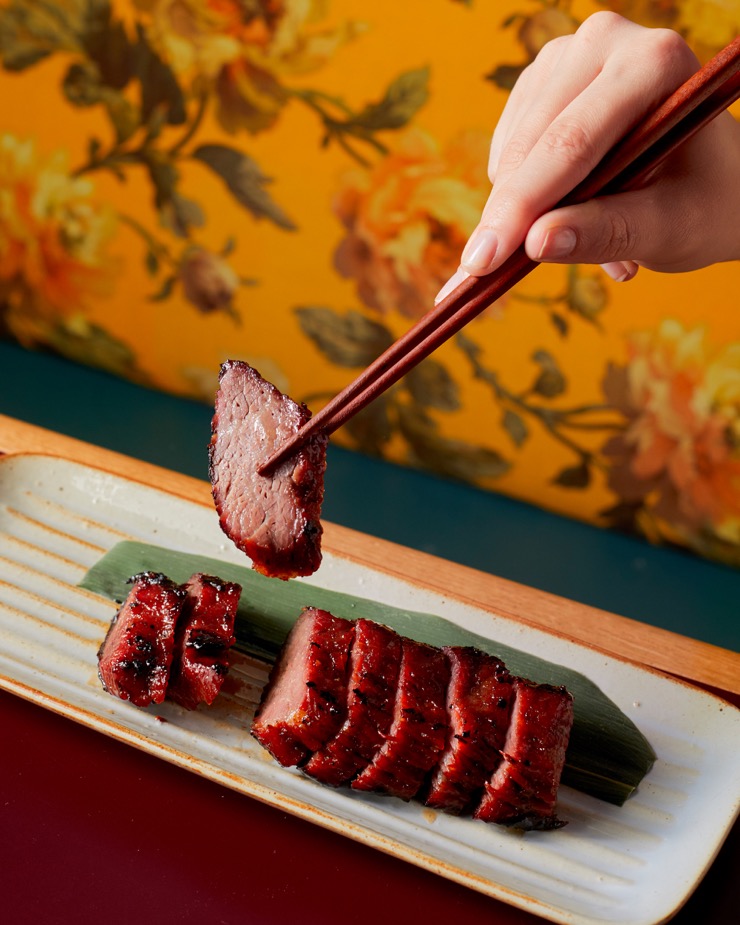 Hong Kong Madame's fav
: the
Australian Waggyu Beef Char Siu
with shredded scallion sauce (
HKD 290
), cooked to perfection, melting like butter and full or rich flavors. God, do I really have to share this one with you guys?
Well, I know they say there is always room for dessert but at this point there is really no room for anything else in my belly. Well, I don't really care, everything was so good that I don't feel frustrated at all not ending on a sweet note. Plus, it gives me a perfect excuse to be back because yes, I'll to be back!
John Anthony
Basement Level, Lee Garden Three, 1 Sunning Road – Causeway Bay
This write-up is based on a complementary dinner offered by John Anthony (no monetary compensation).