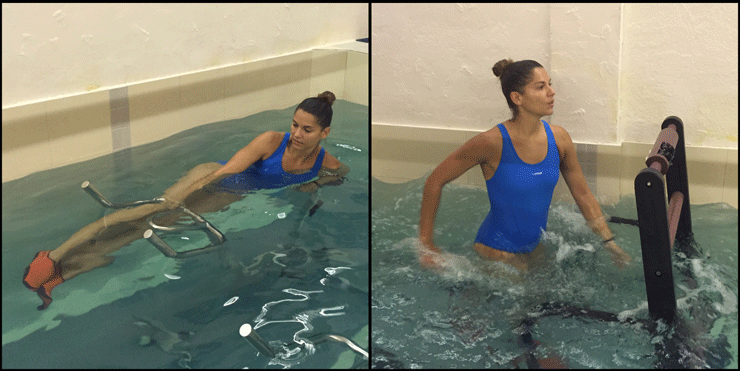 By Vanessa, our Fitness Editor
Finally some aqua spinning in Hong Kong!
Located in the heart of Kennedy Town, Hydro 1.0 offers integrated hydro training and aquatic fitness programs under one roof.
So what can you do there? Aqua fitness, underwater spinning or running, paddling training, swimming lessons and stroke analysis, underwater photo shoots.
Exercising in water has a lot of benefits. It takes advantage of the physical properties of water to offer a high resistance but yet low impact environment to enhance physical training. Water increases the movement resistance, making your workout harder in water as compared to on land. But unlike most traditional land based training, it's much easier on joints, while continuously soliciting core muscles to maintain the body's stability in water.
It is also said that the massage operated by water on the skin during exercise has some significant draining properties (in other words, it helps cellulite's reduction!).
I've personally been looking for some group aqua spinning classes in Hong Kong for a while now, so I ran there as soon as I've heard about them, to try a class…
The coach, Simon, knows his business and caps the classes to 4 people max, to be sure to give the best attention to all of them. The class begins at a slower pace, getting then more intense. Wearing specific webbed gloves, you'll make your arms work too, with different movements and different ways to pedal. You'll also make some exercises on the side of your bike, making your whole body work during an hour, on the sound of "Funky Town" or the Bee Gees amongst other lively songs (don't tell him but I suspect Simon to be a fan of disco hits).
To sum up, it's a lot of fun, feeling so light in the water. But don't be fooled, the workout is real and the soreness you'll get in the morning after will remind it to you.
I also had the occasion to try underwater running, thanks to a treadmill specifically designed for this. It doesn't make the thing easier of course, but it makes it much more enjoyable, you can believe the "running hater" that I am!
Thanks to a very specific set up, with a removable wooden floor, the place also offers the possibility to make some indoor paddling. So no need to train in the cold water anymore when the weather is not on your side!
Prices:
Single class HK$450
10 classes pack HK$3,300
20 classes pack HK$5,000
Hong Kong Madame Privilege Card holders get a special discount of 10% showing their Privilege Card at the reception when they subscribe. More info here.
The place is open 7 days a week (only closed on Monday mornings for pool cleaning). You can find the full schedule on the website:
www.hydro1hk.com
But aqua spinning classes are on:
Monday, Tuesday at 7pm
Tuesday, Wednesday, Thursday at 10:30am
Saturday at 12pm
Sunday at 10am and 12pm
So grab your swimsuits and head to the west of the island ladies!
Hydro 1.0
Shop no. 6 Brilliant Court
No. 28 Praya, Kennedy Town, Hong Kong
+852 9475 0737
www.hydro1hk.com