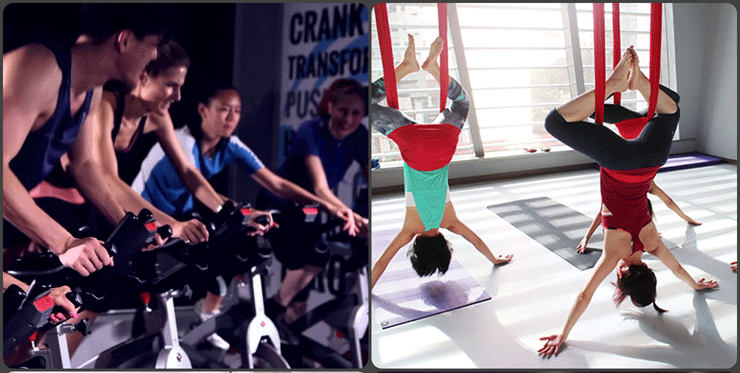 We all want the freedom of choice, even with fitness options. That's how multi-gym class passes were born and are now becoming a phenomenon in Hong Kong. So our team embarked on a mission to try out the two biggest players in the Hong Kong market: ClassCruiser and GuavaPass.
Two week trial and six classes after, did they pass the test?
ClassCruiser tried by Vanessa, our fitness editor
Being pretty active and always keen to try something new, I went for variety. I began with a Silks class at Pole Paradise (Sheung Wan), amazed by the positions in which you can suspend yourself even as a beginner! The day after, I tried CrossFit Typhoon's outdoor bootcamp in Sai Ying Pun: early and intense, it's certainly not for the faint hearted. After a few years in Asia, I thought it was about time that I tried some ancient traditional art: Qi Gong at Balance Health (Central), which is part of traditional Chinese medicine, focusing on energy flow of the body and mind with energetic and rhythmic movements. I will no longer view Tai Chi addicts in the parks the same way now! The Sparta class at Jab MMA (Central) kept its promise to challenge my whole body through an intensive workout using kettlebells, ropes and all things heavy and dynamic. The Hot Flow yoga class at Amico Studio (Wan Chai) after that helped stretch out my sore muscles. I completed my test with a serious core muscles workout at Barre 2 Barre, where in a small group class, I learned the fundamentals of BarreAmped.
GuavaPass tried by Aude
Day 1. I feel like I can conquer the world, let's go for Boxing and Fitness Conditioning… I am a total beginner but this outside boxing class with Equilibrium totally rocks, I feel like Rocky!
Day 2. I am sore all over, even laughing is too painful so I opted to take Hatha Yoga classes at Flex Studio. Studio is so zen and beautiful, but Hatha Yoga is way more sporty than I thought!
Day 5. What about some cycling at TORQ? I love the studio and the class but I am way too stiff to fully enjoy it… I would definitely give it a proper trial though so I'm booking another class the week after!
Day 8. I hurt myself while running this weekend and have to slow things down a little but TORQ, I'm back! This studio is definitely a big crush and spinning might be my new passion.
Day 10. Last but not least, I go for Impakt's 7am boot camp. Time to give it my all! Well, not my favorite to be honest… A bit too much testosterone for me and a coach that doesn't really care that I'm an absolute beginner.
==> What we loved:
Both booking systems are user-friendly and most of the studios really rock!
==> What we liked a little less:
Some classes have their regulars, so not easy for the instructor to make the special effort to adapt to your level.
The plus!
Not only fitness platforms… they're lifestyle communities!
ClassCruiser is launching its incentives page soon, granting its members discounts at health and wellness vendors around town, such as Sohofama, Spice Box Organics, The Store and many more.
GuavaPass members can access events with wellness experts and a whole bunch of benefits from healthy living providers such as Jax Coco or Genie Juicery.
==> Let's compare…
- Offer:
So wide! More than 80 studios for ClassCruiser and 80 studios for GuavaPass all over Hong Kong so far.
- Conditions:
3 classes max in the same studio per month for both
- Cancelling policy:
Free 12h before / HK$ 149 within 12h / HK$ 199 if no show for ClassCruiser
Free 12h before / HK$ 75 within 12h / HK$ 100 if no show for GuavaPass
- Price:
Starter month for HK$ 699 then HK$ 899 per month for ClassCruiser
HK$ 899 per month for GuavaPass
- Bonus
Same pass works in all cities where GuavaPass exists (So far, Shanghai, Melbourne, Singapore, Bangkok, Dubai and Sydney, Taipei, Manila in progress!)… No excuse for getting lazy while traveling!
==> Especially for you…
Get the special price of HK$ 599 a month for the first 12 months without commitment, using the coupon code « CRUISER599 » on
www.classcruiser.com
(valid until 31st December 2015) or the coupon code « madameguava » on
www.guavapass.com
(valid until 30th November 2015)