by Aude Camus
Last week, I was lucky enough to visit Fivelements Habitat, Fivelement's latest concept aiming at bringing yoga, sacred arts and plants-based cuisine to city centers. I loved everything about
the few hours I spent in this urban wellness sanctuary
located right in the heart of Causeway Bay and wanted to better understand why its founders – Chicco and Lahra Tatriele - decided to bring Balinese holistic wellness to Hong Kong so I asked to take a few minutes of their very busy time and seat with them to discuss wellness and business.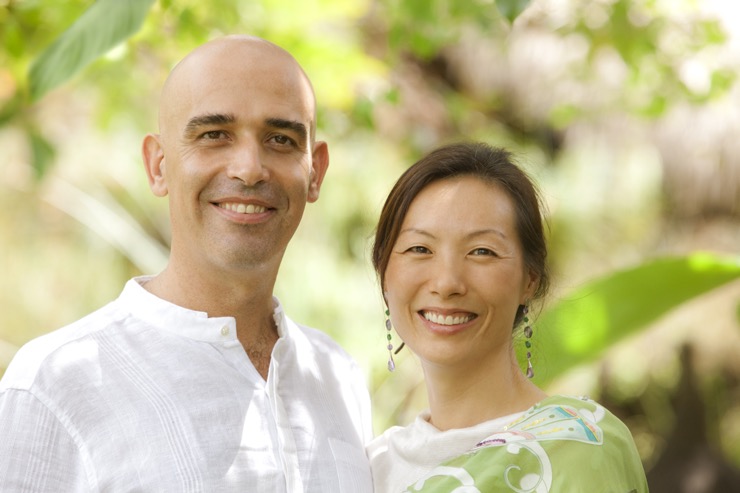 Lahra you are American, Chicco you are Italian, you met in Bali and established together Fivelements Bali in 2010. Can you tell me a bit more about how you met and decided to launch this first of its kind ancient-Balinese-wisdom-based retreat?
Chicco: Our story is very much a love story. We both met in Bali, coming from totally different countries but with quite similar corporate backgrounds. Lahra was a strategic marketing planner and brand developer while I had my own company in Italy implementing brand strategies. And we were both looking at breathing new life into our careers. Lahra was dreaming of opening a Balinese spa in New-York while my dream was to open an eco-resort in Bali. We just created the perfect mix of our two dreams and opened Fivelements Bali together: an eco-friendly retreat which combines traditional healing with sacred arts (editor's note: yoga, meditation …) and plant-based cuisine.

Thanks to our background on branding and promoting brands, we've been able to efficiently communicate on our own brand and we became famous quickly even receiving many awards.


How would you describe the identity of the brand? Is it a Balinese brand?
Chicco: the DNA of Fivelements is traditional healing & holistic wellness. The brand was born in Bali and Balinese culture its part of our identity but it's not only that. I would say that Bali is our mother temple.


And now, you are opening an urban retreat in Hong Kong, quite a different environment. Why bringing your concept to the heart of such a busy city?
Chicco: this is something we had in mind from the very beginnings of our brand. Welcoming people at our resort in Bali is amazing because people are with us for a week and they experience deep transformation. But then they go back to where they are from. So, for us, it was important to find ways of maintaining an on-going relationship with our guests and also offer them the possibility to keep on enjoying the benefits of holistic wellness. And it is also working the other way round. We also want people to come through us first here, in this urban sanctuary, discover our philosophy and be inspired to maybe join us later in Bali for a more in-depth retreat.

We also believe that our unique concept is very much needed in cities like Hong Kong. We've designed this new concept so that it resonates with different generations, different communities aiming at bringing space (much needed here) and authenticity to people. It's a business with intention.

Last but not least, the wellness industry is now worth 4.2 trillion and being driven by business, Hong Kong is today leading the wellness revolution, so the city was definitely calling at us.


Speaking of wellness revolution, what do you foresee as the next biggest trends in the industry?
Lahra: I definitely think that Mental Wellness is set to become a central focus, the foundation of wellbeing. Chicco and I serve on the Mental Wellness Initiative of the Global Wellness Institute whose purpose is to research and share evidence-based pathways to physical and mental wellbeing. Fivelements Habitat has been inspired by various pathways of healing through the arts and the 'sacred art of living,' of which many of us today, struggle to achieve. Today, we have the possibility to take on and 'own our health and happiness' – not from medication and treatment of ailments but rather from embracing and embodying holistic practices and ways of living which have scientifically been proven to improve brain health, physical and emotional wellness and spiritual fulfillment. When all of these are in alignment, we feel better and are likely to be 'living well'.


Are you already planning on opening more urban sanctuaries?
Chicco: yes, we will open a few more in Hong Kong and we have also already been approached for opening in other countries.


Habitat …
Chicco: using this word was Lahra's idea. Habitat means home and our concept is about creating a home. We don't want people to just come in and out, we want them to feel comfortable, to engage, to talk.


What has been the biggest challenge you faced setting-up your brand here in Hong Kong?
Lahra: Fortunately, Hong Kong is a business-friendly environment with excellent systems in
place to support international investment and setup. Surprisingly, Hong Kong also hosts
an excellent professional holistic wellness pool from which to select very good talents. We
have experienced a pretty smooth pre-planning through opening of our business and
brand thus far here. As for our biggest challenge as we grow, it's finding the right physical spaces in the right locations to host our Fivelements Habitats. We look for good buildings with good landlords with 15-20,000 sqft with sufficient ceiling heights and ideally inspiring views, which is not easy to find in Hong Kong at 'reasonable prices.' As our model is a leasing
or leasing/hybrid with management combination model, it's challenging to find good
spaces that don't cost the world. We hope that the rich experiences we offer for greater wellbeing – which also aim to support Hong Kong's 'driven-to-succeed' mentality – will become a higher priority for landlords and companies alike. After all, what is wealth without health and loved ones to share success with?


And the greatest reward?
Lahra: The greatest reward has always been the same for us – achieving our mission of 'creating the space for life transformation and love in action.' We design and curate harmonious spaces aimed at healing and transformation, attract top talent who are equally devoted to our shared mission and whom serve with 'love in action,' our service philosophy. When we do this successfully, people of all walks of life feel it and our mission is then activated. Just in the first days of opening we have witnessed growing smiles and genuine gratitude for creating such a beautiful inspiring healing space. When our Fivelements guests, partners and family are happy, we have begun making our little difference in the world!!