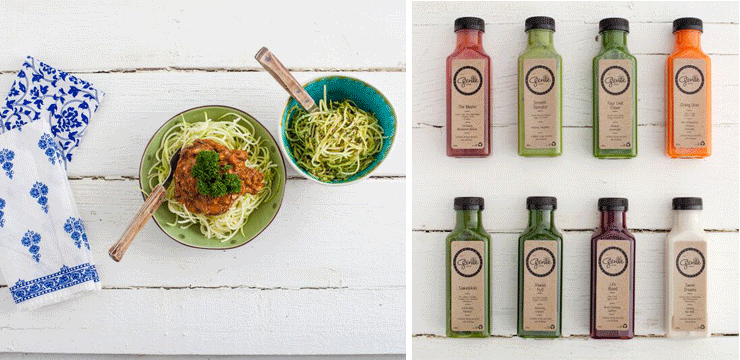 By Lily
Hong Kong certainly doesn't fall short when it comes to Juice detoxes or "juicing" options. As I'm always keen to try out new detoxes, I went for the 3-day "Raw and organic Food" one by Genie Juicery.
Raw food, what is that? Raw means unprocessed, unrefined, and all-worshipping of fresh fruits & vegetables, grains & oleaginous seeds. OK then, why not! If Gwyneth Paltrow can swear by it, so can I.
And, so, I received the daily meals and snacks elaborated by the Genie Juicery team inside a very handy Cooler bag that has never left my side since! All I needed was to follow instructions.
Every day I got 4 juices, 2 snacks and 2 meals. All of it "Raw" and fresh. And everything is explained in the genie bible for better understanding.
So I came to discover chia pudding (really good!), I loved the "pesto zoodles", zucchini pasta which was incredibly delicious (the Bolognese version is as good) and I was happily surprised by the "nori snax" made from pumpkin seeds to snack on during the day.
More importantly, the results after the 3 days:
Well it's a great wakeup call! Certainly gives your system a boost. The difference with a juice detox is the variety and the fact that you're not obliged/ tortured to only drink liquids for 3 days. No frustrations with this one, lots of curiosity for what's to come each day and even more great surprises. Actually, it has indeed made me want to add raw food to my daily routine. Gwyneth get out of my body!
Special thanks to the "chocolate macaroons", for their 70 calories only a pop and no sugar, it's the perfect snack for your afternoon break!
Should you want to try the raw food detox, Genie Juicery is giving 10% off to all Hong Kong Madame card holders. Go for it – it's worth it! All info
here
.
Genie Juicery
2096B, Podium Level 2, IFC Mall
Open Monday to Friday from 7am to 8pm and Saturday and Sunday from 10am to 8pm
www.geniejuicery.com