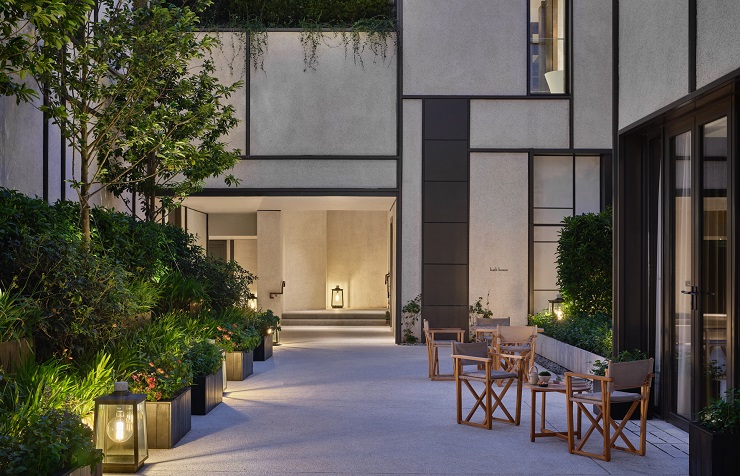 But don't think Asaya is just a hotel spa, it is more of a wellness sanctuary offering wellness and holistic experiences but also retreats and workshops across a wide range of disciplines. Sort of a remote resort inside the hotel.

Enough talking … should we give it a go? I'm checking in today for both a 60min Singing Bowl meditation and a 60min Super Seed Nutrient Facial by plant-powered skincare brand Votary. But first allow me to change in a fluffy bathrobe. There definitely is something soothing about Asaya indoor-outdoor space. I'm loving it that you have to go through a little zen courtyard to navigate between the changing rooms, the Tranquility Lounge, the Urban Sanctuary Suites and the Bath Houses.

But here I am, talking and talking again and haven't yet put on my bathrobe. But hey, how beautiful are those changing rooms seriously?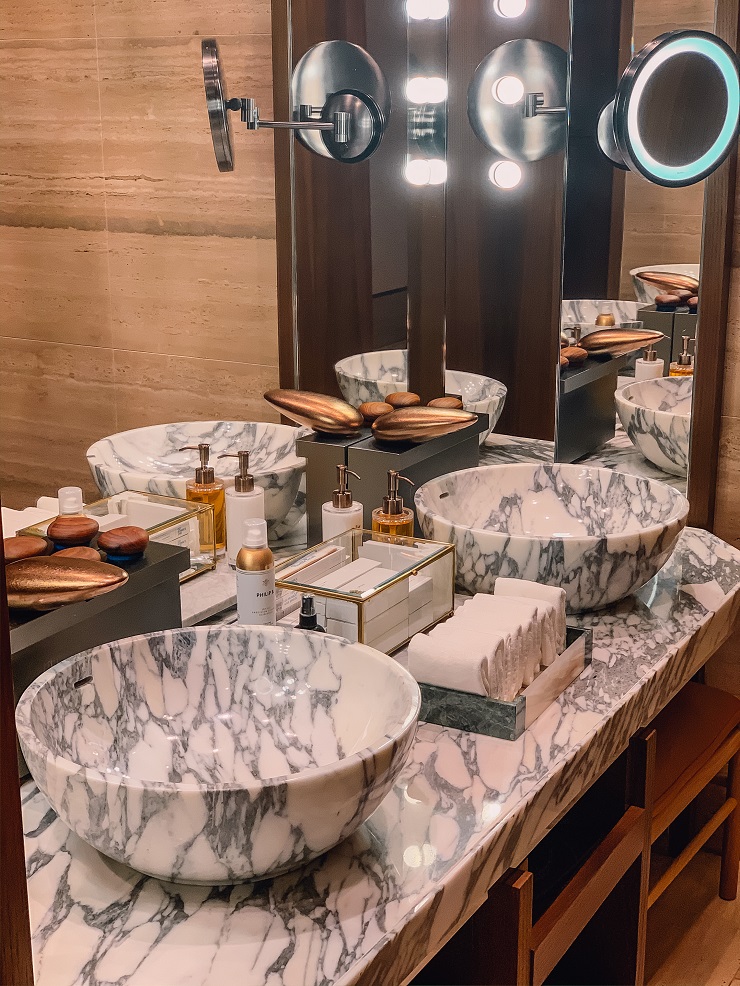 Photo by Aude Camus
And those amenities: Maison Caulieres shampoo and shower gel, Philip B. hair products, the chicest beauty tools including bamboo toothbrushes and wooden hair brushes … I seriously had to refrain myself from stealing a few things here and there!

I unfortunately cannot enjoy the sumptuous Ancient Rome inspired bath houses today as they are not suitable for pregnant women. No soaking and no sensory rain shower for me today. Well, that do give me a good excuse for coming back once baby girl is born. Babymoon at Asaya … definitely something I will consider!

It's time for me to check in my treatment suite and meet Kit, the wellness practionner who is going to guide me through the singing bowl meditation.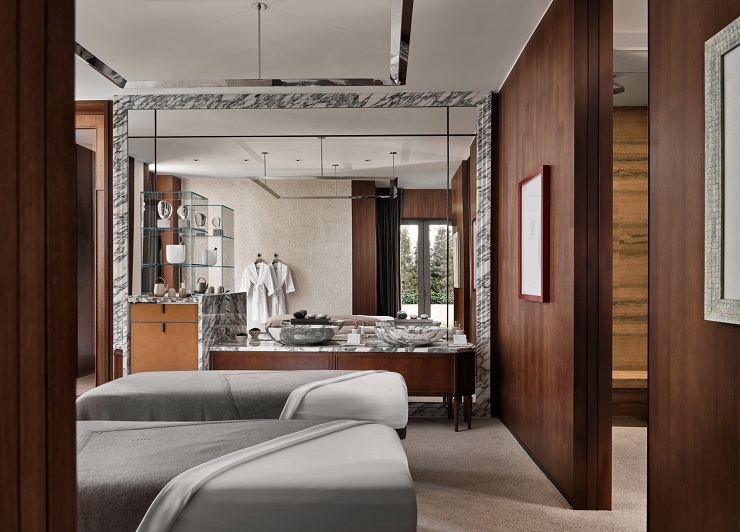 I'm happily slipping into the bed cover (always happy when I get to jump in bed!) so that Kit can place a bowl next to my head and another one between my feet. All I have to do is let her chime the bowls and relax as sound waves travel through my body allowing both my heart rate and breathing to slow down. And it' working pretty well … I actually immediately felt a deep sense of tranquility and slept through most of the 60 min! A good thing I don't have to change treatment room for my facial. I was definitely not ready to leave the warming comfort of this bed after such a soothing experience.

And now, it's glow time! My facial starts with a gentle cleanse to remove all traces of make-up and pollution. The sweeping motions and light pressures are actually quite relaxing, I could easily fall asleep again! But the pores extraction is here to keep me awake, never the most enjoyable time of a facial but a necessary step if you are looking for a perfectly clean and healthy skin. And those few minutes of slight pain are quickly forgotten once ice rose quartz wands are gently rolled onto your face to lift and massage the skin along the cheekbones and jawline. A perfect way to boost circulation. And here comes the Matcha mask lightly painted over your face and neck to feed the skin with natural nutrients and restore softness and glow. Just when I though I couldn't feel more cosseted, the therapist starts to gently massage my scalp before moving to my hands. God, why can't I have this every day? Time to remove that nourishing mask and apply a finishing touch of Super Seed Facial Oil and here I am, ready to hit the streets of Hong Kong with my glow.

Well, not 100% ready. I do need a bit more of quiet time so making my way to the Tranquility Lounge.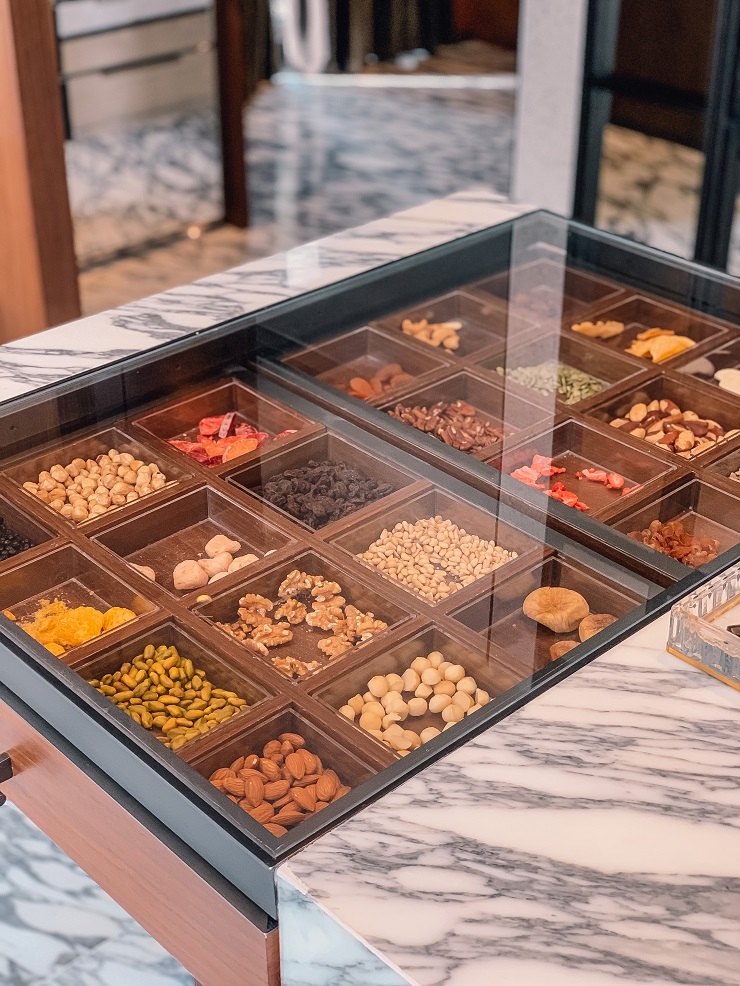 Photo by Aude Camus
It's a bit chilly today and I'm gonna seat inside to enjoy my herbal tea from the herbal tea bar and some light snacks from this so chic snack drawer but outdoor seats in the Asaya courtyard will surely encourage quiet contemplation when the weather is warm again. I am so not ready to leave this haven of peace!
More info about Asaya's wellness programs and retreats
Asaya Hong Kong
6/F, Rosewood Hong Kong
Victoria Dockside, 18 Salisbury Road – TST
This write-up is based on a complementary wellness journey inclusive of Singing Bowl and Facial treatments offered by Rosewood Hong Kong. No money has been paid by Rosewood Hong Kong for publishing this article.