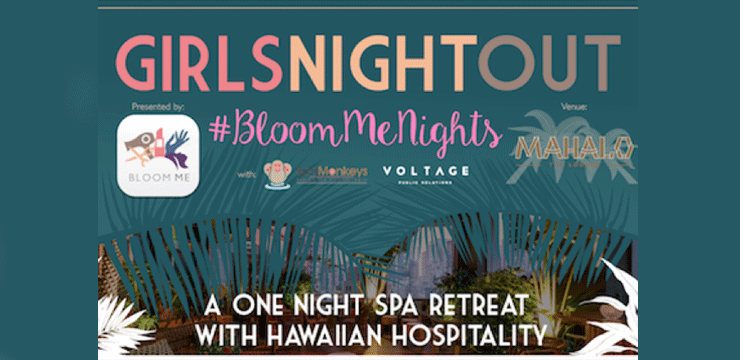 Tempting isn't it? Grab your girlfriends and make your way to Mahalo Tiki Lounge on Tuesday, April 19th for the first of many, Girls' Night Out Sparty series hosted by Voltage PR and BloomMe – a last minute beauty & grooming bookings app with discounted prices in Hong Kong's top spa and salons! Don't miss the chance to try the complimentary onsite spa treatments!
The Girls' Night Out Sparty will take place from 7pm to 10pm with advanced tickets at HK$200 and HK$280 at the door. Tickets are inclusive of a complimentary BloomMe cocktail, HK$150 BloomMe cash voucher, on-site spa treatments and a swag bag filled with goodies sponsored by Spa Monkeys, NAVEEN and Calm-a-Mama.
Four participating spas, namely Pavillon Medspa, 10/10 Space, Suavis and Indulgence, will offer complimentary treatments throughout the evening on a first-come, first-served basis. The indulgent treatments are specifically tailored for the ladies to enjoy including manicures, hand massages, temporary lash extensions and hair blow-outs.
Cap off the night by entering the lucky draw for a chance to win prizes including a One-Night Spa Retreat with Hawaiian Hospitality, Carat* London Jewellery, a Mahalo Ladies Cocktail Class for up to 5 persons… and more!
Enjoy ladies!
#BloomMeNights Girls' Night Out
Tuesday, April 19th, 7pm to 10pm
Mahalo Tiki Lounge, 29/F QRE Plaza, Queen's Road East, Wan Chai
Buy your tickets from
https://pelago.events/event/#!/1360/1360-7b3f2184a325135bd53e72dd8f205e0649025015/