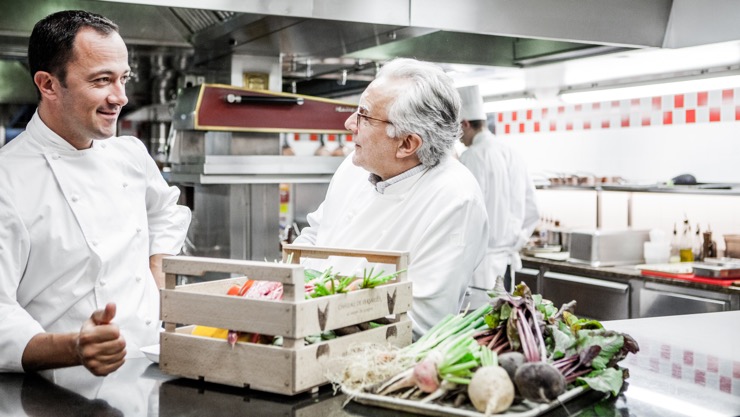 (c)pmonetta
by Aude Camus
Last march, I was lucky enough to meet and
interview iconic chef Alain Ducasse
in Hong Kong. In June, I was meeting the world's most decorated Michelin Star chef alive for the second time, in Macau. This time not to interview him but spend the day by his side and be his interpreter. What a fascinating day it was. I did listen to every single of his words, translating for the journalists but also making sure to take notes for myself (I did write down the name of the Chef's favorite bakery in Paris but unfortunately couldn't make the time to visit when in France last week so will tell you more about this one another time) and soaking up the chef's philosophy: "
To eat more healthily and naturally is today both an expectation and a necessity that must be translated into the field of haute cuisine. Exceptional produce expressing their simplicity, a technique which has the elegance to take a step back to their benefit. This is the cuisine I sincerely love. Cuisine of Naturalness, released, freed. This very personal interpretation is indeed, here, in my restaurant at the Plaza Athénée
" Speaking of
Alain Ducasse au Plaza Athénée
, I had the great privilege of pushing the doors of this very unique place just a few days ago. I'm taking you with me for lunch at this 3 Michelin Star restaurant, number 16 on the World's 50 Best Restaurants ranking and lead by Chef de Cuisine
Romain Meder
.
Denis Courtiade
, Manager of the Restaurant, gives you a warm yet elegant welcome in the hotel lobby before inviting you to follow him. He pushes the doors for you and here you are, in a futuristic and luxurious dining-room dominated by grey, white and gold tones.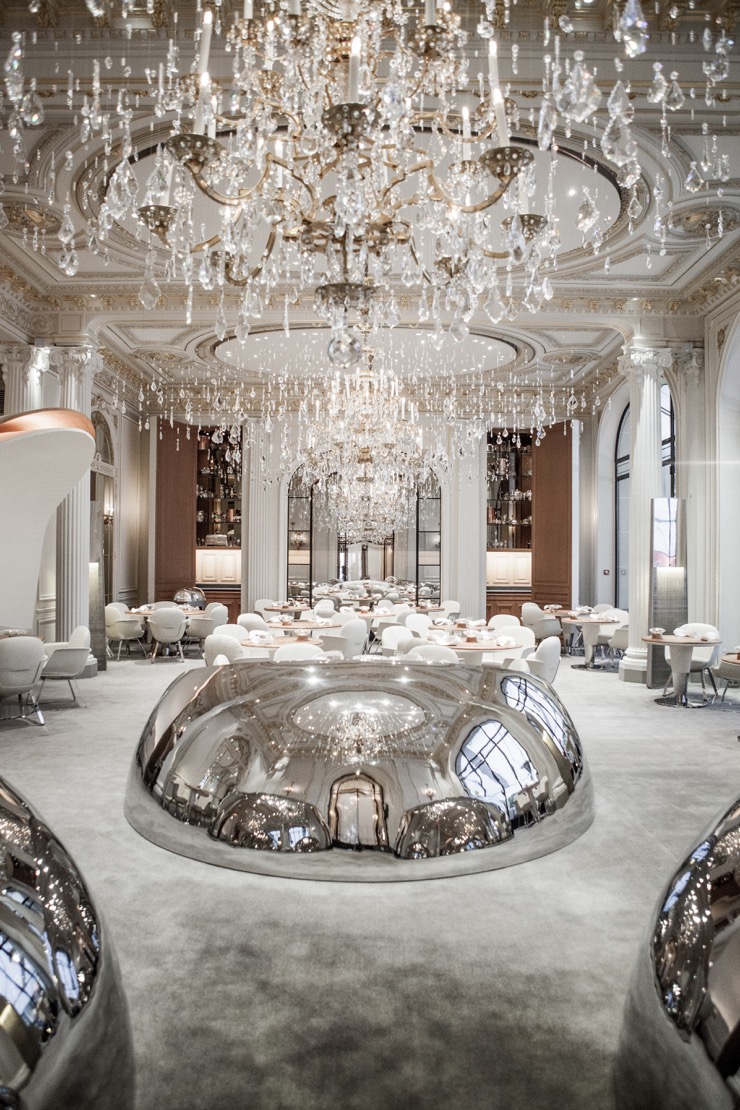 (c)pmonetta
How can a place be so grandiose yet intimate? And look at those inox shell … how modern? Don't they remind you of the cloche bells used for service in fine dining restaurants?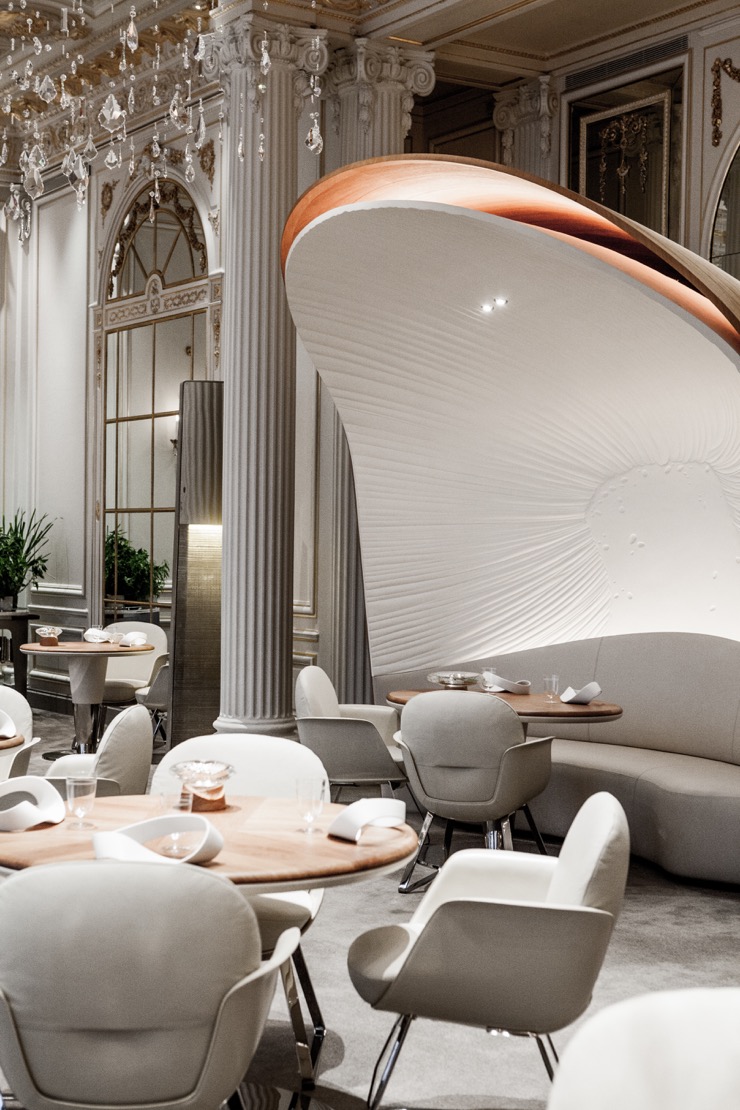 (c)pmonetta
Seating at my table almost feels like joining my own private little alcove. And here comes the Maitre d'Hôtel, welcoming us with a fresh tomato water. I've only been here for a couple of minutes but busy Paris and the heat (I've visited during a heatwave) already seem so far away. I just can't wait to unveil the mysteries of "Cuisine of Naturalness", a cuisine "natural, simple, healthy and good for you" and designed around the fish-vegetable-cereal trilogy to create a diet more in tune with nature and better for your health.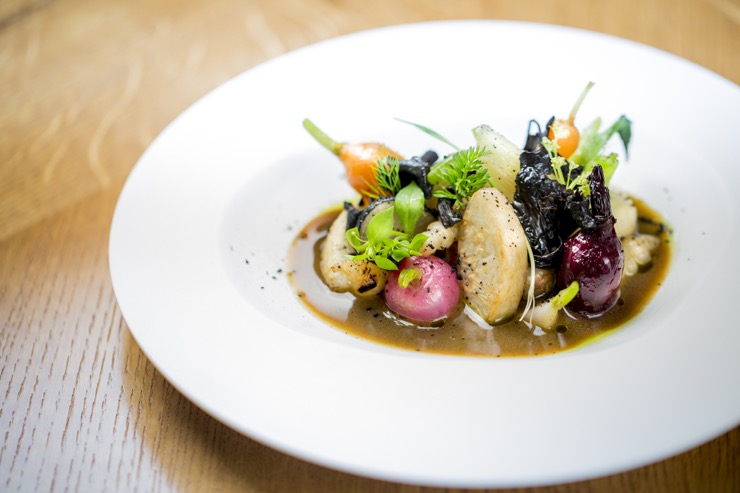 (c)pmonetta
All fishes are sustainably sourced, cereals come from small committed producers living close to their lands and vegetables are coming straight from the Jardin de la Reine in Versailles. I don't think I've ever seen so much attention to details anywhere else.

I could keep going like this for hours, but shouldn't we have a look at the menu while enjoying the amuse-bouches? Menu is short and seasonal, but one wouldn't expect anything else.

I am kicking-off this lunch with Volcanic hills green lentils and caviar, flavoured delicate jelly (EUR 190).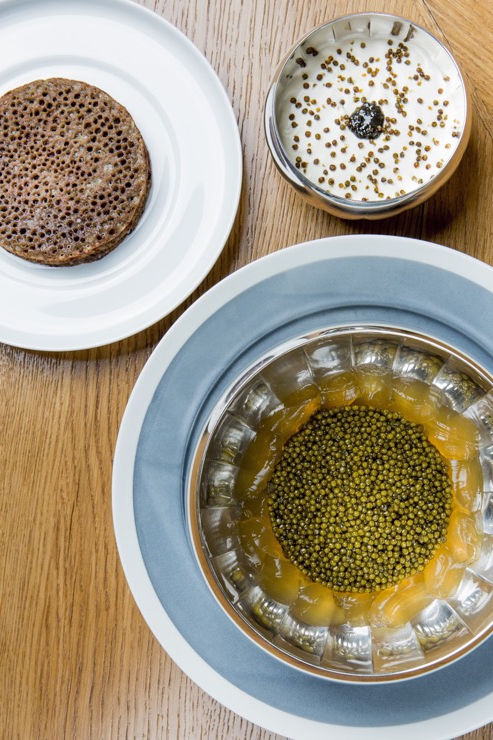 (c)pmonetta
A starter which actually comes in three different plates: small hot buckwheat pancakes in a plate, thick crème fraiche with caviar in the second plate, and an explosive combination of lentils on a delicate flavorful eel jelly topped with an outrageously delicious amount of caviar. This dish really is something! The combination between the smoky strong taste of the eel, the quite earthy taste of the lentils and the iodine from the caviar is fresh, surprising and highly addictive. I am also loving that you eat this dish kind of like a wrap, putting a spoon of everything on the buckwheat pancakes and eating them with your fingers. Licking your fingers in a 3 Michelin Star restaurant … shocking? Not here! There is nothing pretentious about the place, and I am loving it: marks of attention accompany you throughout the meal making you feel that you are very welcome here. Elegant simplicity is to be found everywhere, not only in the dishes.
I was lucky to also try another starter, one to share this time. Again, sharing dishes isn't really something you would expect to see in a 3 Michelin Star restaurant and I'm loving it that this place is breaking those codes and rules, making sure to always put the product first. Are you ready to dip-in those
Taglioni Pasta made with stale bread flour, yogurt and golden caviar condiment
(
EUR 140
)? Surprising cold pasta which flour is made reusing the remaining bread of the day before … what a great approach.
Another glass of wine while waiting for our main maybe? You should definitely have one. This
Clos Stegasta
from T-Onios vineyards in Greece, recommended by Head Sommelier
Laurent Roucayrol
, is definitely a treat! And I loved hearing the story of this small independent vineyard, located on Tinos Island and where grapes grow organically. A wine which, again, perfectly goes along with the whole philosophy of the place.
For my main dish, I've decided to take a trip down to the South of France with the
Sanary-sur-Mer octopus, barbecued grilled zucchini, green fig
(
EUR 105
). What stroke me first was how fresh this dish was despite being a hot one with barbecued grilled ingredients. Then, I loved the different textures of it. Last but not least, I totally felt for the sour twist of the fig absolutely perfect with the grilled zucchinis.
Would it be a proper French gastronomic meal without a cheese platter? If you ask me, that's an absolute no. But here, it's even better than a cheese platter, it's a cheese trolley. God, I do love a good old French cheese trolley!
There was no way I would have left the place without dessert. First of all because I was just enjoying myself way too much not to want and make it last a little longer. Then because
Jessica Préalpato
, the Head Pastry Chef, was very recently awarded as World's Best Pastry Chef 2019. The
Lemon from Nice, kombu seaweeds with tarragon
(
EUR 45
) is such an explosive treat with its acidic and iodine flavors while the
Saint-Ricquier rhubarb preserved and melted, frozen kefir
(
EUR 45
) is a sweet and slightly acidic combination of crusty and soft textures. Both desserts were surprisingly very natural, not sweet at all and offering a strong emphasis on the natural product. A perfect ending to the experience of Naturalness.
Well, after 4h in this haven of elegance, simplicity and gastronomy, I guess it is now time to leave. But not without one last mark of attention from the team: a chocolate bar from the
Manufacture du Chocolat Alain Ducasse
.
The "Jardin-Marin" menu (three dishes as halves, cheese and dessert): EUR 395
Lunch menu on Thursdays and Fridays (starter, main, dessert, 2 glasses of wine selected by the Chef Sommelier): EUR 210
Alain Ducasse au Plaza Athénée
26 Avenue Montaigne, 75008 PARIS
This write-up is based on a lunch hosted hosted by Alain Ducasse au Plaza Athénée (no monetary compensation).