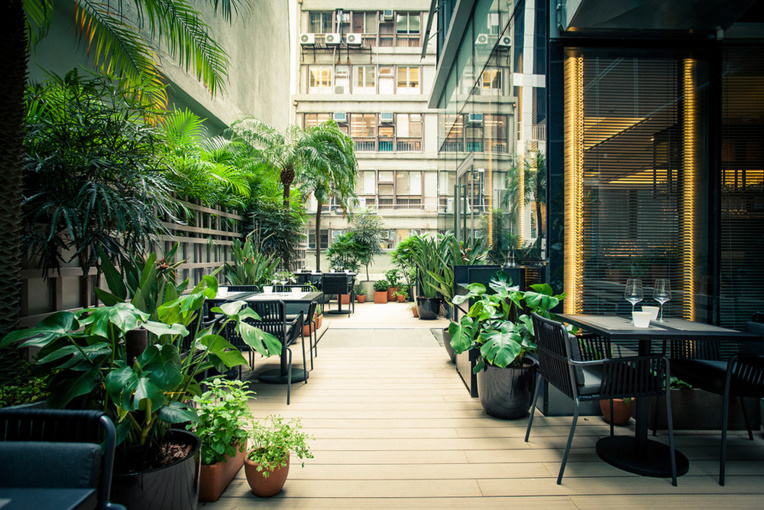 By Delphine
When an Australian chef, 2 Michelin-starred for a French restaurant opened in London (Pied à Terre), decides to reinvent Fine-dining in the heart of LKF, we could wonder…
Shane Osborn explains. This means very refined dishes but A la Carte only. No 8-10 dishes Special Menu here but generous portions served in pretty tablecloths. No huge rooms with 80 guests but a discreet and secret venture (Arcane means mysterious). If the weather is nice, try to book a table on the terrace. Peaceful, quiet, designed as an English tropical garden, it's also where the chef grows a selection of 30 different varieties of herbs, fruits and vegetables that will feature on the menu.
The menu, let's talk about it. Dishes are seasonally lead, utilizing the finest produce from Japan, France and the UK. A mixture of flavors and aromas perfectly blended which makes us travel from Asia to Europe. The Japanese tomatoes are served with goat curds. Scallops are marinated in a delicious apple and lime sauce. The John Dory with bouillabaisse makes me plunge in the Mediterranean right away. My winning Oscar going to the Wagyu beef, so tender it melts in your mouth as you never experienced it before. Amazing!
Don't leave before you try the dessert. No stress, light and vaporous, they are enjoyed even with no hunger.
Address
: 3/F, 18 On Lan Street, Central
Phone: +
852 2728 0178
More: http://www.arcane.hk/
Opening hours:
Monday-Friday: 12:30-2:30pm / Mon-Sat: 6:30pm-10:30pm
Bill for 2 : 2,003 HK$
1 Hokkaido scallops: 248HK$
1 Japanese tomato with goat curds: 238HK$
1 John Dory sauce bouillabaisse : 398HK$
1 Wagyu beef: 458HK$
1 fruit salad with lemongrass: 206HK$
1 lemon and yuzu posset with yogurt ice-cream: 135HK$
2 glasses of wine: 320HK$