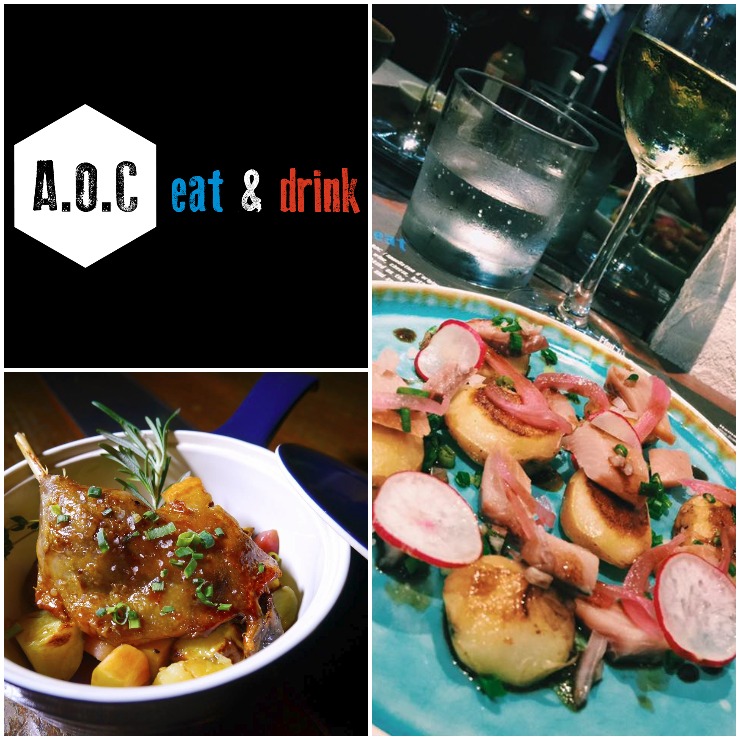 By Aude
Ok, by now you must already know how much I love Le Bistro Winebeast. Previously located on McGregor Street,
Le Bistro Winebeast
then moved to a bigger space just a few streets from there on Thompson Road giving birth to
Le Café Winebeast
on McGregor. I have enjoyed more than my share of lunches and dinners at Le Bistro but, for no specific reason, never took the time to check out Le Café. Until they revamped it lately: new name – A.O.C* eat & drink, new menu and new Breton Chef … I had no more excuses not to try it.
The place is small, widely open on a pedestrian street and super welcoming with an extensive list of wines at retail price, the much appreciated Winebeast signature. The menu is seasonal, long enough for you to hesitate and wanna try different things but short enough so that you can be sure everything is homemade. Lunch menu changes every day but I am not in the mood for that today, I am definitely going for A La Carte. Let's order different dishes and share, what do you think?
From the nibbles and small bites, I definitely recommend Pig's Head Salad with gribiche sauce. No don't run away, I know how "pig's head" sounds but trust me, it is divine! Surprisingly fresh and super yummy and I swear I am not telling you that because I am French (although I am quite aware I am reinforcing this common idea that French people love eating disgusting things …). Still not feeling it? Well, go for the pork rillettes then. Nothing says pornfood better than a bowl of homemade rillettes. Speaking of rillettes, I also loved the smocked mackerel ones from the sea section of the menu, they are addictive. And so is the marinated herring platter with potato salad, a fresh and tasty twist of a very French classic.
Shall we try one or two hot dishes? The veal Blanquette is a must. This very vintage dish tastes just like the one from my grand-mother … Love at first bite!
But my absolute crush of the day goes to the homemade pâté en croûte … The ultimate winter dish! Imagine: a super yummy gold puff pastry wrapped around homemade pâté, with a piece of foie gras in between, moist with sweet glaze sauce. I know it sounds super heavy but it is surprisingly not that much!
Good job Chef Stephane, I love being surprised with dishes I already know pretty well and this meal was a 100% success! I am definitely making A.O.C eat & drink my go to place for wine and French dishes to share!
A.O.C eat & drink
15 McGregor Street
Wan Chai
* A.O.C (appellation d'origine controlee) is the French designation of certain geographical indications for cheeses, wines, butter and other agricultural products. It is based on a combination of geographical environment, traditional/historical practices and artisanal craftsmanship.
Pig's Head salad, gribiche sauce: HKD 68
Homemade farmhouse pork rillettes, toasted bread: HKD 68
Homemade smocked mackerel rillettes, toasted bread: HKD 68
Marinated herring platter, potato salad: HKD 78
Veal Blanquette, white rice: HKD 188
Homemade pâté en croute from Alsace, pork, foie gras, frisee lettuce: HKD 138