by Gayatri Bhaumik

"Are you the girl Daisy's setting me up with tonight?" Catching on pretty quickly, I snap back that it's a possibility, but I couldn't say for sure until he introduced himself. Turns out, this guy, dressed in a smart grey suit and so eager for a date, is Nick Carraway and this is my personal introduction to the dinner theatre show that is The Great Gatsby Immersive Dining Experience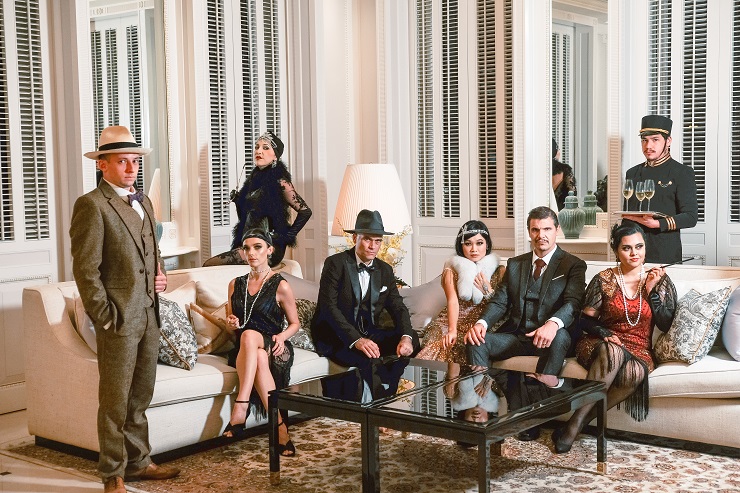 Masterminded by Secret Theatre, who previously delighted Hongkongers with a murder trial drama at Tai Kwun, The Great Gatsby Experience brings F. Scott Fitzgerald's classic novel of infatuation, messy relationships, jealousy—and yes, opulence—to life in high style. The setting is Felix, the European restaurant at The Peninsula, which has been turned into Jay Gatsby's infamous mansion.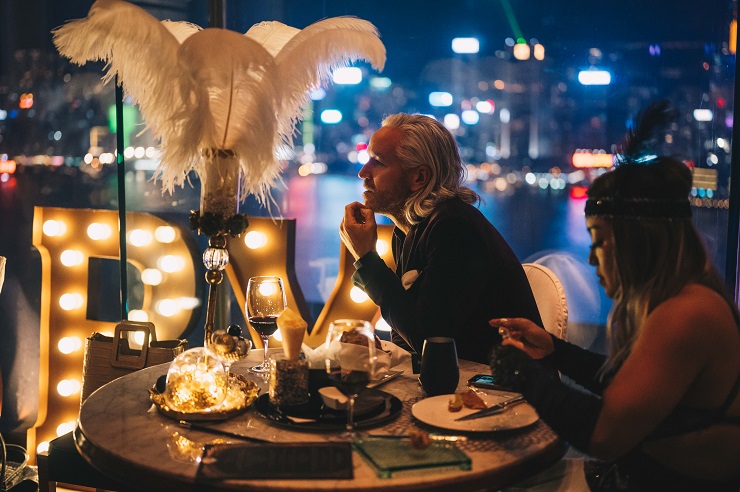 Towers of champagne glasses, lavish table settings, abundant feathers, and a soundtrack of tunes by the likes of Cole Porter transport guests to the unfettered extravagance of the 1920s. Which, if you remember your history, you'll know was a period of unrestrained enthusiasm after the harsh realities of the Spanish Flu pandemic.

I step through the hallway decked out in beaded and feathered curtains and am immediately handed a glass of Champagne to begin the festivities. Everyone is dolled up in true 1920s style with men in sharp suits and women in flapper-style dresses and pearls and for good reason. Every night, Jay Gatsby himself will pick the best-dressed audience member to win an all-expenses-paid staycation at The Peninsula.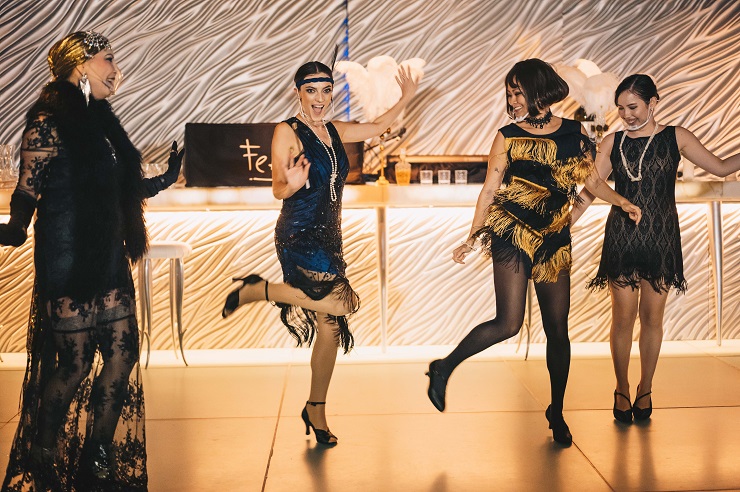 On the "stage," in front of Felix's main bar, some of the actors are already putting on quite a performance as they teach the early arrivals how to do the Charleston, perhaps the most popular dance to come out of the Jazz Age

Over the course of the evening, dinner is served during breaks in the performance. The Swiss—or Germans, take your pick—would be proud of the timing, which is so incredibly precise that I'm forced to shovel the remainder of my starters in two seconds flat as a waiter waits impatiently to take my plate. For The Great Gatsby Immersive Dining Experience, Felix chef Juan Gomez has constructed a four-course menu inspired by the food of the 1920s. The result is somewhat hit or miss.

The sharing starters include a moreish Gatsby Fried Chicken, lush Lobster and Truffle Toast, Devilled Eggs, and Oysters Rockefeller, but the inclusion of Truffle Popcorn and Crispy Chicharron is somewhat mystifying. The Obsiblue Prawn and King Crab Cocktail is delicious and certainly, spot on for the 1920s—though there's probably far more sauce than necessary. For mains, guests have a choice of Challans Duck Magret, Salmon en Papillote, or Tournedos "Rossini" (read: steak with foie gras and black truffle).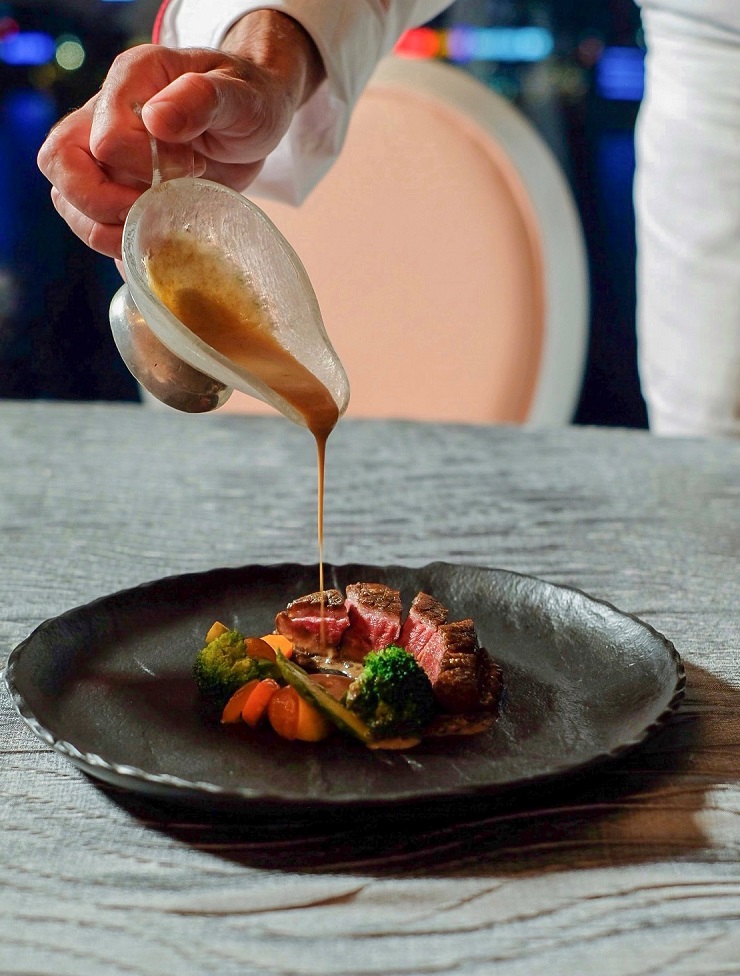 I try the duck, which is perfectly adequate; the Upside Down Pineapple Cake—another '20s classic—was unfortunately dry and lacklustre.

Luckily, the performance was far better. The actors were in top form, adopting the proper American accents of the time and staying in character as they mingled with guests when they weren't performing. The storyline stayed pretty close to the novel, so Gatsby purists should be well satisfied. From Carroway's pining after Jordan Baker to Tom Buchanan's dismissive treatment of his wife, Daisy, and the carousing night in New York, the full Gatsby plot is here. For the grand finale, guests are whisked—in groups—to The Peninsula's Helipad for a sweeping view of Hong Kong, a little lighting magic—and plenty of photos, of course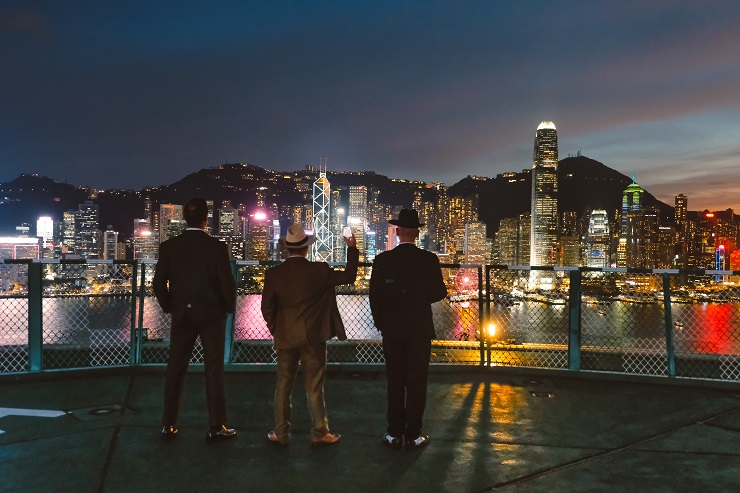 With borders still firmly shut, all of us in Hong Kong are seeking new adventures within the city. The Great Gatsby Immersive Dining Experience offers thoroughly escapist fun where guests can travel back in time to the Jazz Age and engage in a night of sumptuous revelry.
Until 27 November
Every Thursday and Saturday at 7 pm
HKD 2,00 per ticket / HKD 2,500 per VIP ticket
Tickets are now available at
https://www.peninsula.com/en/hong-kong/special-offers/dining/the-great-gatsby-at-felix
This write-up is based on a complimentary invitation. No money has been paid for publishing this piece which is entirely based on the genuine opinion of its author.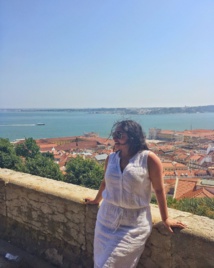 About Gayatri Bhaumik
Always ready for her next adventure, Gayatri Bhaumik took her first flight at 10 days old and hasn't looked back since. After long stints in Bangkok, Melbourne and London, she's now based in Hong Kong. She contributes travel and lifestyle content to titles like Travel + Leisure SEA, ECHELON, Elite Traveler, Forbes Travel Guide and Destination Deluxe. She also founded The Wordsmith's Ink, a corporate copywriting and social media agency, where she works with clients like Shangri-La Hotels and Shopify.