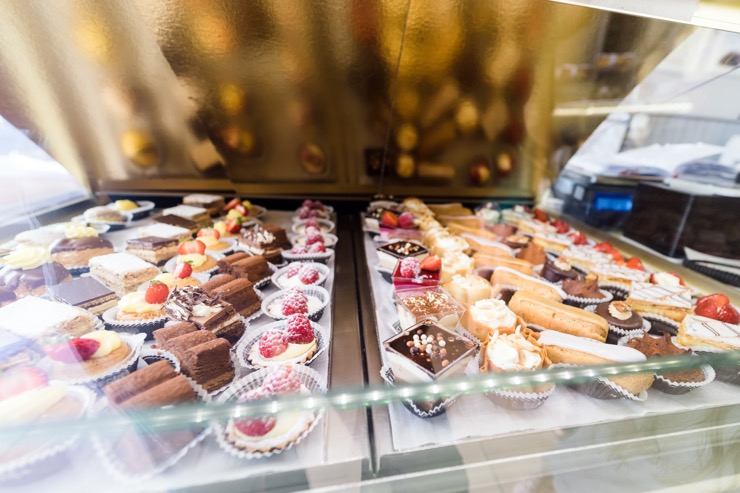 by Aude Camus
I just came back from Paris and it is very fair to say I have more than my share of French food over the past 10 days. God, I love my French food! I am usually more of savory lover than a sweet tooth and yet something I always find myself doing when back in France for a few days is snacking on French pastries and sweet delicacies. Here are 10 places where I love heading to for fixing my French sweets craves:
(shops ranked by alphabetical order
)
1.
Angelina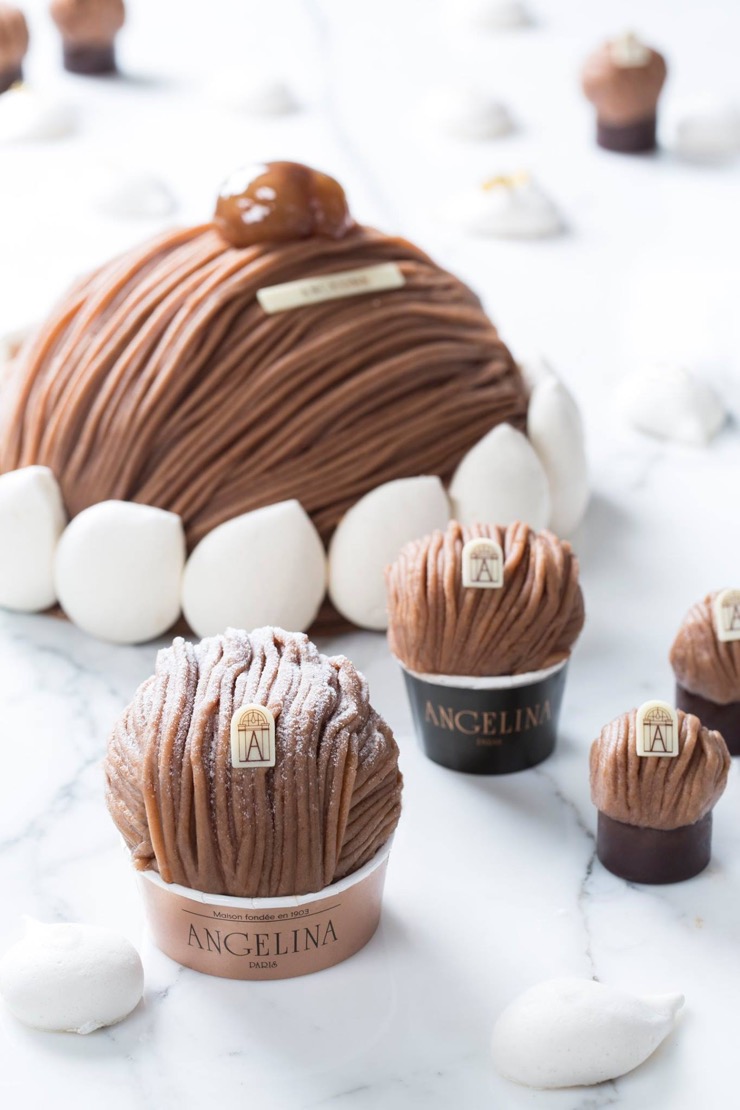 Madame orders
: a
Mont-Blanc
, the signature pastry of the house (since 1903) and an addictive mix of meringue topped with whipped cream and chestnut cream vermicelli
Madame's tips
:
1. If you are eating in, make sure to also order
L'Africain
, their signature hot chocolate. It comes with a side of whipped cream and there's nothing more pornfood than dipping a spoon of Mont-Blanc in this divine hot delish.
2. If you visit the flagship on Rue de Rivoli, there might be quite a long queue to get a table in an even though enjoying your Mont-Blanc in their 1900's atmosphere is lovely, you might as well decide to skip the queue an order take-away, If the weather allows, enjoy your sneaky snack in the Tuileries garden right across the street. The view on the Louvre isn't too bad I must say!
226 rue de Rivoli – 75001 PARIS
108 Rue du Bac – 75008 PARIS
Musée du Louvre, Aile Richelieu – 75001 PARIS
Musée du Luxembourg, 19 Rue de Vaugirard – 75006 PARIS
Palais des congrès, Place de la Porte Maillot – 75017 PARIS
1/F, Galeries Lafayette Mode Femme, 40 Boulevard Haussmann – 75009 PARIS
2.
Berthillon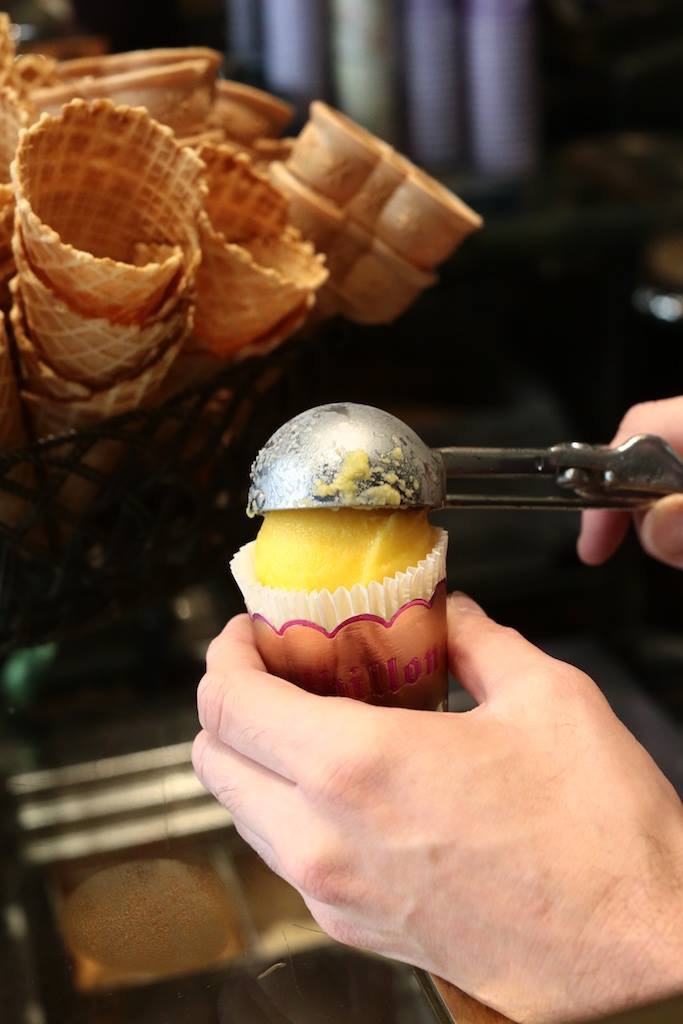 If you had to have only one ice-cream in Paris, I would very strongly advise that you make sure it comes from Berthillon!
Madame orders
: to be fair all their flavors are to die for, but I must confess an high addiction to
Framboise à la rose
(Raspberry & Rose) and
Chocolat du Mendiant
(Chocolate w/ almond flakes). Not all flavors are available every day as they are still homemade, but I've never had a Berthillon ice-cream I didn't like before!
Madame's tips
: they only have one shop in Paris but many French bistros in Paris do offer their ice-creams either eat-in or take-away
29-31 Rue Saint-Louis en l'île – 75004 PARIS
3.
Bob's Bake Shop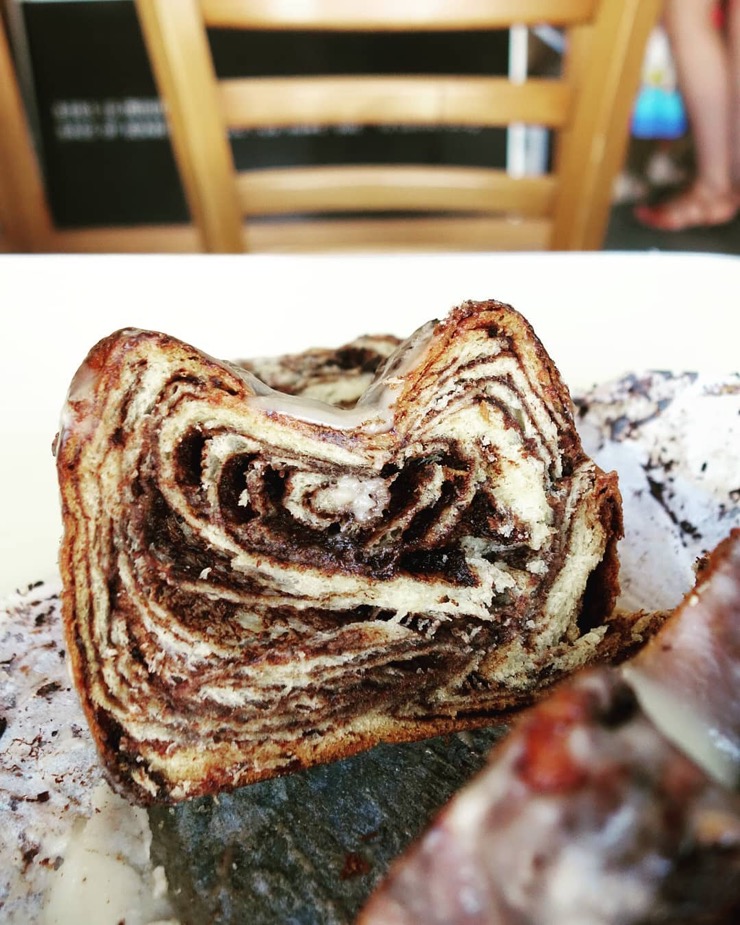 An American bakery in Paris … shocking? Well, not at all given how good all their sweet treats are!
Madame orders
: the
Chocolate-Swirled Babka
, a mouth-watering chocolate marble brioche originated from Eastern Europe. Babka meaning Grand-Mother, it gives you an idea of how regressive it is.
Halle Pajole, 12 Esplanade Nathalie Sarraute – 75018 PARIS
4.
Du Pain et des Idées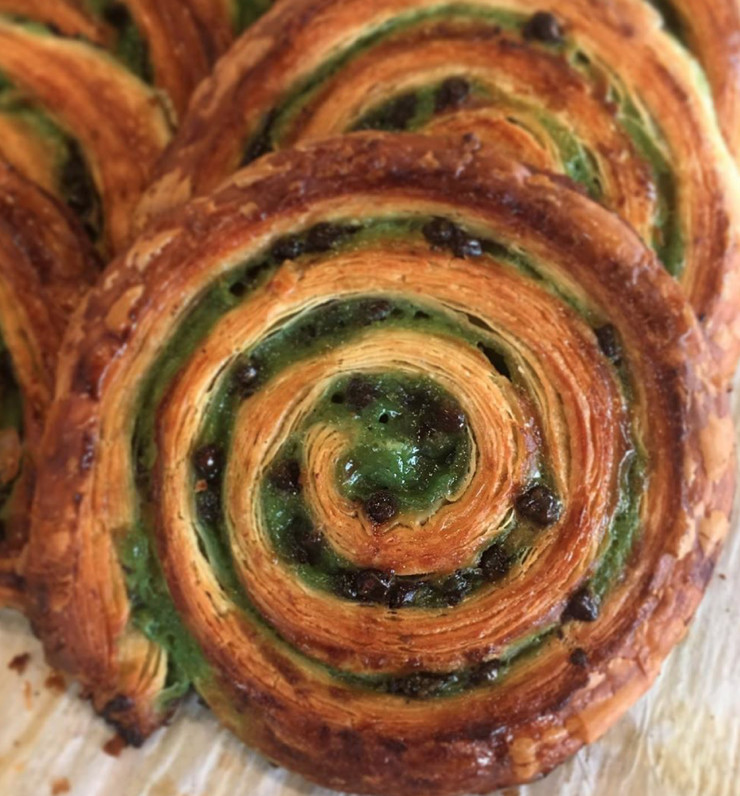 Known as one of the best bread bakeries in Paris, Du Pain et des Idées is also pretty strong on the danishes game.
Madame orders
: the
Pistachio Escargot
, a snail-shaped buttery pastry with swirls of buttery dough and an addictive creamy pistachio filling
34 Rue Yves-Toudic – 75010
5.
La Pâtisserie du Meurice par Cédric Grolet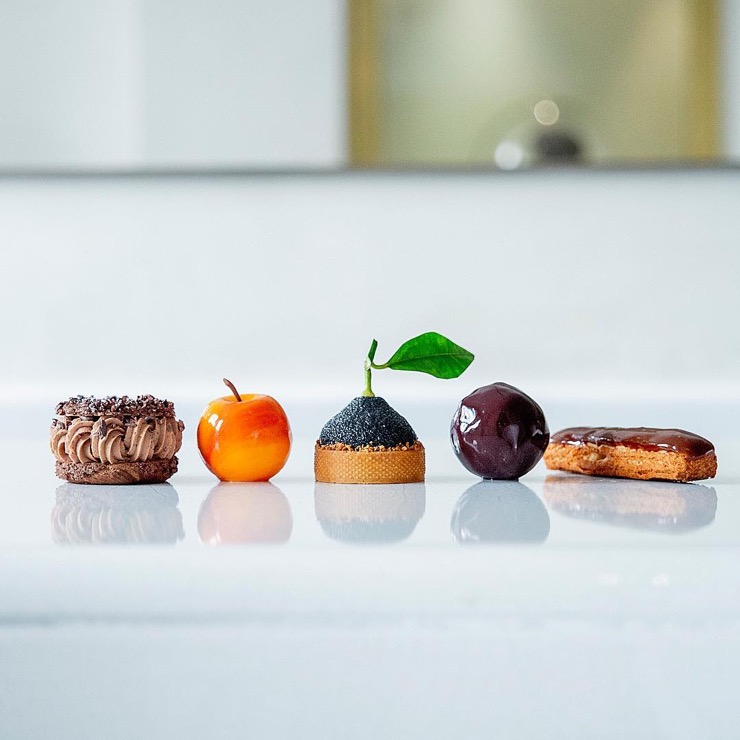 A shop dedicated to all the amazingly beautiful, and no less yummy, sweet creations of World's best Pastry Chef Cédric Grolet.
Madame orders
: pretty much anything! All the freshly-made pastries from Cédric Grolet are to die for!
Madame's tips
:
1. the shops open at 12 pm and closes when all the freshly-made of the day pastries are sold out so you'd better be there close to the opening time if you wanna make sure to get your hands on one of their addictive treats
2. if you are in the mood for sweet indulgence, you might consider treating yourself to Afternoon Tea at restaurant
Le Dalì
inside Le Meurice where you'll enjoy the sweet creations of Cédric Grolet together with scones, finger sandwiches and hot chocolate from Alain Ducasse Manufacture. It's not cheap (EUR 65/person) but absolutely worth it.
6 Rue de Castiglione – 75001 PARIS
6.
Liberté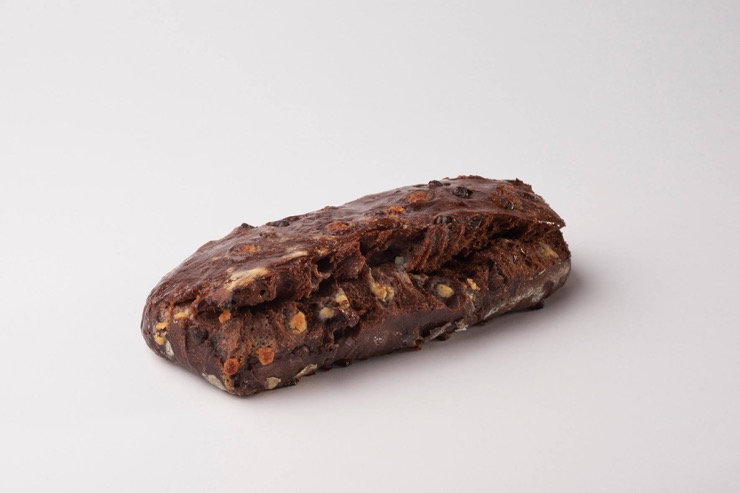 A minimalistic (but so beautiful) shop where pastries are taking pride of place.
Madame orders
:
Pain Tradition au Chocolat
. Before trying this little thing few years ago, I had absolutely no idea there was such a thing as chocolate baguette but god I'm glad this thing exists!
39 Rue des Vinaigriers – 75010 PARIS
10 Rue Poncelet – 75017 PARIS
7.
Le Loir dans la théière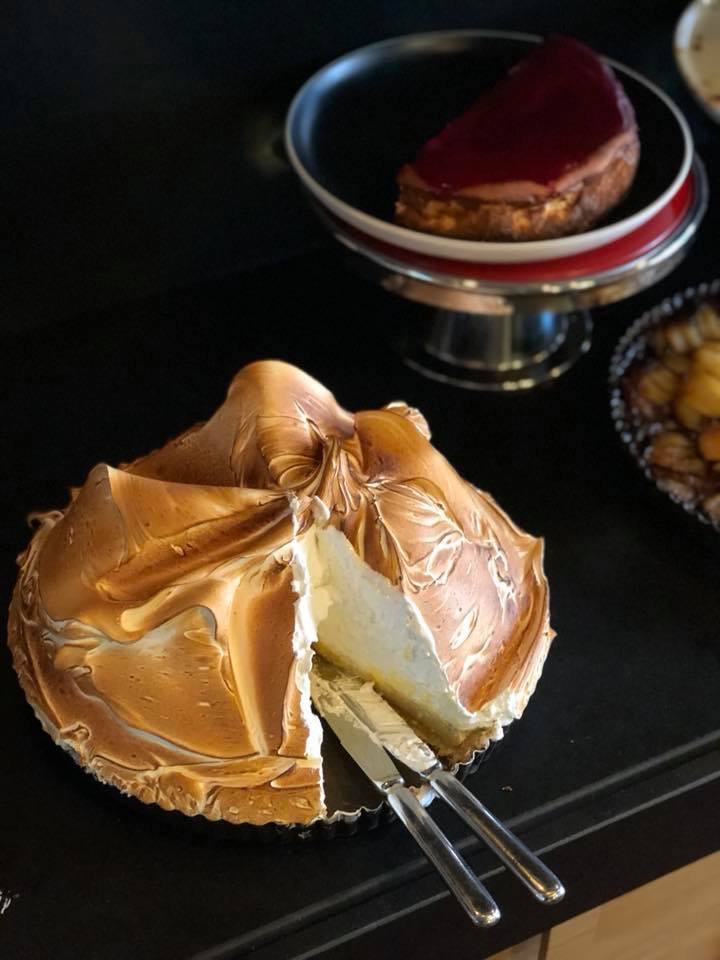 One of my fav desserts on earth is Lemon Meringue Pie and this cute tea room is known to serve one of the best one in Paris. People do actually line-up to get a slice this very special one.
Madame orders
: the
Lemon Meringue Pie
, what else? Look at how high this meringue is! Well, it's also super airy and so so yummy!
3 rue des Rosiers – 75004 PARIS
8.
Pierre Hermé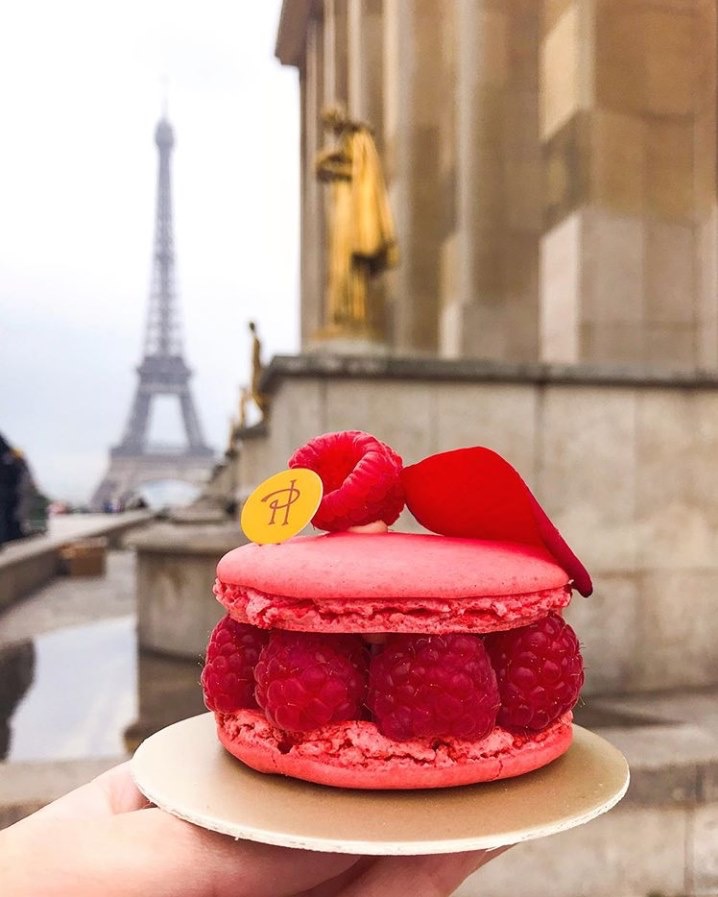 Pierre Hermé is definitely not a hidden gem, and you might already know them from Hong Kong where they also have a few stores, but it is definitely a safe bet whenever you are craving something sweet. They are mostly famous for their macarons (can anyone ever has enough macarons?) but their pastries are also really good.
Madame orders
:
Ispahan
, a beautiful cake inspired by the flavors and colors of Ispahan in Iran. The base is a rose macaron biscuit, topped with rose petal cream garnished with whole raspberries and litchis. Fresh and delicate.
Madame's tips
: Ispahan being such an iconic treat, Pierre Hermé now offers many variations of it ranging from Ispahan croissant (love, love, love) to Ispahan cake, Ispahan Paris-Brest and Ispahan tea.
16 shops in Paris. List can be found
here
9.
Pralus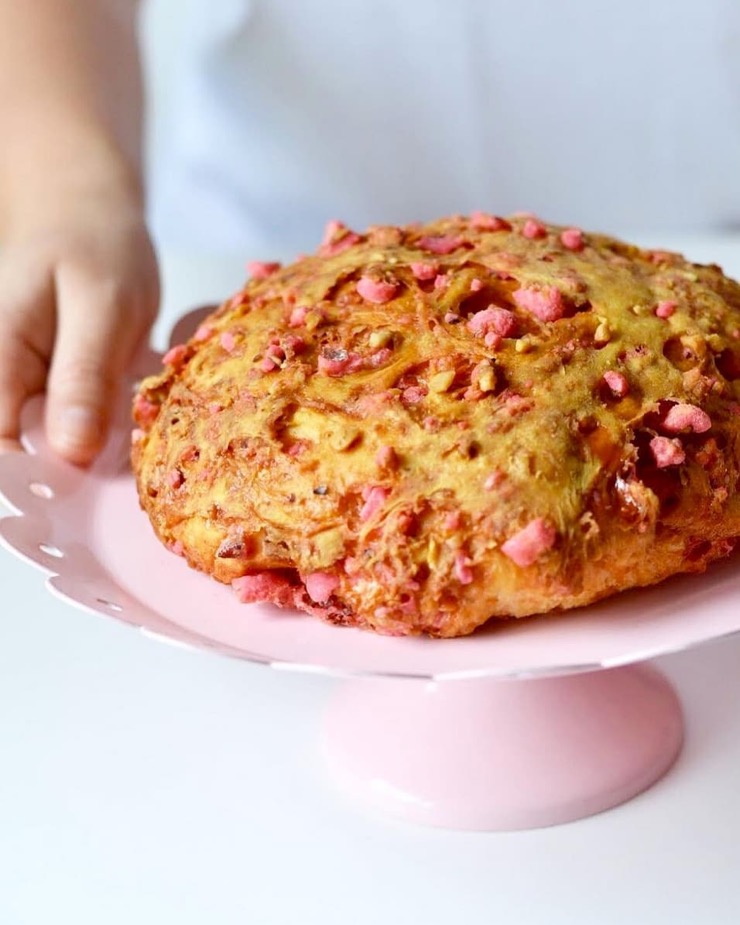 Madame orders
:
Praluline
, a luscious praline-filled brioche invented in 1955
9 Rue de Bachaumont – 75002 PARIS
1 Rue de l'Ancienne Académie – 75006 PARIS
10.
Thierry Marx – La Boulangerie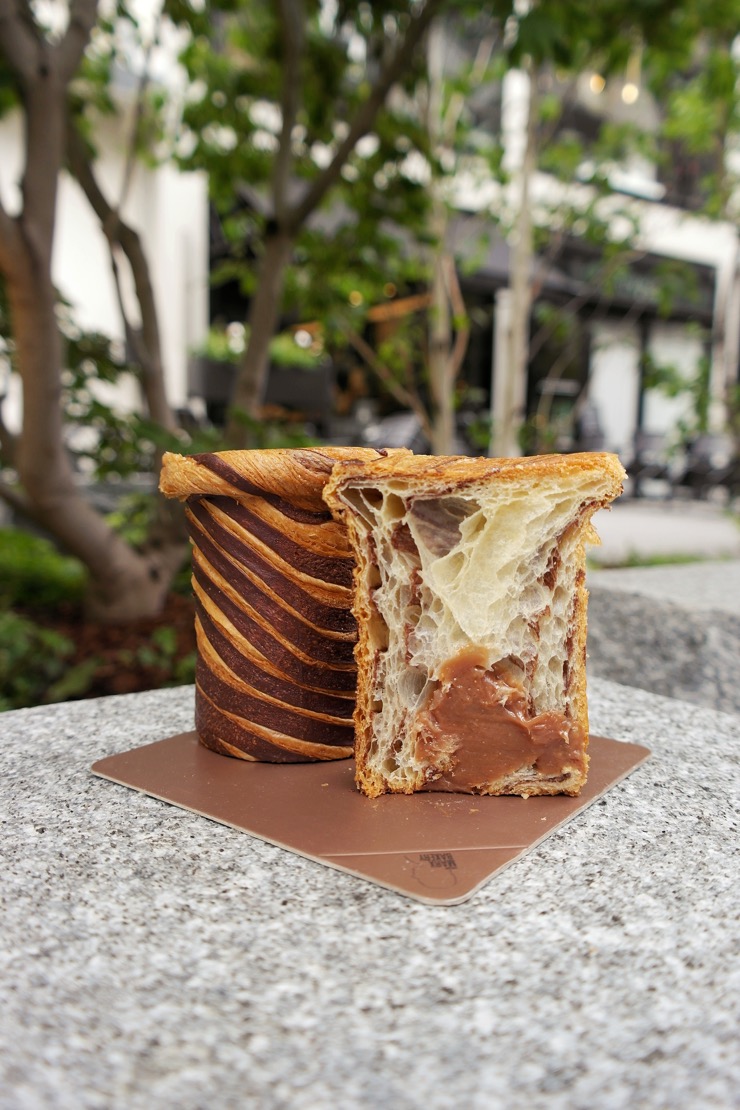 When a Michelin Star chef opens its own bakery you have to give it a go, right?

Madame orders: the Brioche Feuilletée Tigrée, a very buttery treat hiding the most pornfood ever melting praline insert

51 Rue de Laborde – 75008 PARIS
17 Allée du Beaupassage – 75007 PARIS
Galeries Lafayette, 17 Boulevard Haussmann – 75009