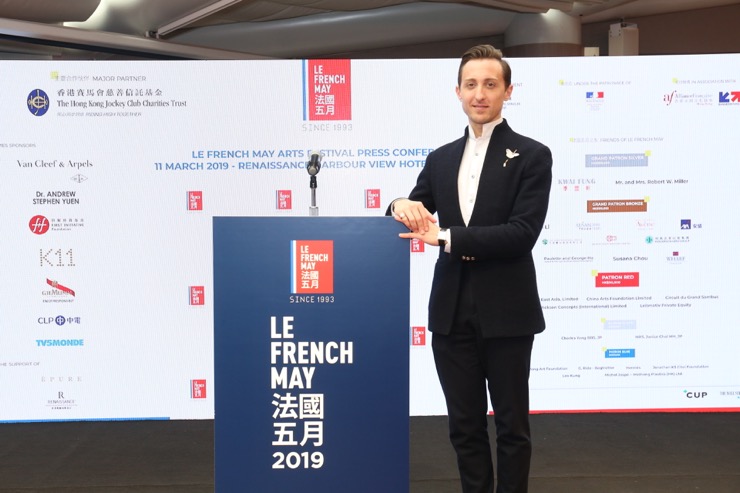 by Aude Camus
Launched 27 years ago as a one-week festival,
Le French May
– aiming at promoting French culture from music to dance but also gastronomy, fashion, design or painting - has quickly grew into becoming a 2-months long landmark in Hong Kong cultural life.
Before embarking on this year journey through arts and culture, I've decided to explore the backstages of the festival and who better than Julien-Loïc Garin, CEO of Le French May, to help me do so?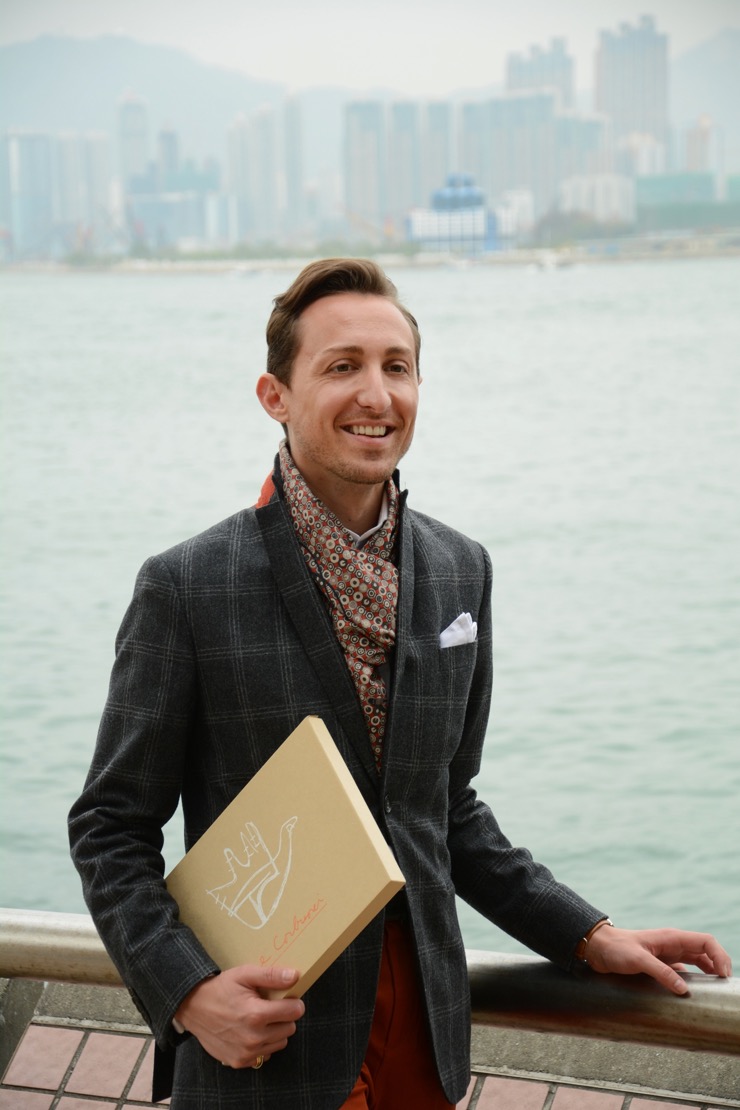 Hi Julien-Loïc, thanks for meeting me today. To kick-off this conversation, I'd be keen on knowing more about the story of Le French May. How and why was it created? How has it evolved over the years?
Le French May was created 27 years ago, in 1993, and we do not have that much insights about the first edition. What we know, for sure, is that it was created under the patronage of the French Consul General of the time, Laurent Aublin, who wanted to gather together the different French events happening throughout the year. I believe the idea was to smooth out communication around those events but also make it easier looking for funds since, as you may know, the festival is entirely supported by private funding. Plus, in 1993, Hong Kong welcomed a beautiful exhibition dedicated to French sculptor Rodin and it was perfect timing for creating a festival dedicated to French culture.

Already under the name Le French May?
Yes, the festival was named Le French May from the very beginnings.

Why in May?
I get asked this question a lot! I believe it was a question of timing knowing that the festival was mainly articulated around this Rodin exhibition for its first edition. Plus, the name does sound nice.

Was it a hit from the beginning?
We can say so. First edition did work pretty well with enough interest from the public and the local authorities for it to be reconducted. And then it started to grow, lasting first a week, then two, then three and is today two-months long. Le French May is today a festival promoting French culture as a whole so not only arts but also fashion, design, gastronomy through Le French GourMay … everything which is so deeply part of our French roots but with the aim of sharing it with the local population.

Would you say the festival has been growing quite equally from the beginning or was there a landmark, a year which has really set Le French May as a major event of Hong Kong cultural scene?
I would say the 20thedition in 2012 has definitely set the festival on another level with the hugely successful (editor's note: 350,000 visitors) and quite unique Picasso exhibition featuring 50 pieces exhibited at a national museum (Heritage Museum). An edition which also welcomed Zingaro (editor's note: worldwide famed equestrian theater) and the Paris Opera. There has been in 2012 a unique excitement from the public, the festival partners and the local institutions. Question after that was: were we going to be able to maintain this excitement? I believe the past few years have shown we were up for this challenge with Le French May today being a landmark in Hong Kong cultural life.

How does it work today in terms of programming the festival? Are partners coming to you?
I would say it's working both ways. Of course, we have a team all dedicated to find the right partners for our theme which we decide a year before the festival based on the message we want to convey and the type of projects we wish to bring to Hong Kong. This year, for example, we have decided to bring onboard the Paris-Mozart Orchestra because we love it that their conductor is a woman and that they have a multidisciplinary program. But throughout the years we have also built quite a solid reputation and we now have a lot of people contacting us.
Whatever we do though, we always make sure to ensure diversity of the programs. For example, if we have a quite important classical music program, we will look for jazz music to balance it in order to show how diverse is French culture and be able to speak to different types of public.

Don't you think people can sometimes see you as rather elitist?
It is true that some of our programs can sometimes seem rather elitist and this is why we also have a great focus on developing accessibility of our programs. Education is at the core of what we do: meet-up and Q&A with the artists, guided tours of our exhibitions, educational booklets … We are working hard on making French culture more accessible. This is also a reason why we introduce less traditional arts such as hip-hop dance or modern art such as this year our Niki de Saint Phalle's exhibition. And we always make sure to also host activities in public spaces such as the racecourse or shopping malls.

Is Le French May involved with local and international institutions for longer terms cultural projects?
I believe our role is more to initiate things while the French Consulate is here for longer terms projects and deeper collaboration with the local institutions. But our work definitely facilitates long term projects such as the partnership between M+ (editor's note: the new museum for visual culture) in Hong Kong and the Réunion des Musées Nationaux in France.

Has Le French May set an example and open-up doors for other French culture festivals across Asia?
Le French May has been around for many years and therefore yes, we have set up an example for other similar initiatives across Asia: Croisement in China, Voila in Singapore … But we are the only ones to be entirely independent from the Consulate, even though we do work very closely with them, and to produce our very own content. We have to look out for places where to host our events, for content, for funds … It creates a lot of restrictions but also gives us an incredible freedom.
We do also collaborate with other French consulates and embassies across Asia for "tours" especially when it comes to exhibitions with pieces that are not easy to get out of France. It's interesting for us to have them visit more than one country in the region so that we can reach a broader audience but also get more financial resources.

The 2019 program is quite extensive, and I won't have time to attend each and every event. Which ones would you say I cannot miss this year?
Really depends on what you like. Indeed, the program is extensive and it's on purpose. This year our program articulated around le Nouveau Cirque is perfect for families: it's short, quite fun and very poetic. We also have the beautiful Niki de Saint Phalle exhibition which I highly recommend as we are bringing more than 100 pieces from the artists and will place them both inside and outside. The Willy Ronis photography exhibition will also be beautiful. We also have beautiful things for classical music lovers. It's very hard to only recommend a few things as we have so many in order to cater very different publics.

What about you? How long have you been with Le French May?
I believe I've always wanted to work in the field of culture but wasn't really planning on living abroad. I first came onboard for the 20thedition and was only supposed to stay for a year and help on this very special edition. Turned-out I ended-up staying in Hong Kong and working on all the following editions.
Over the past 8 years I've seen a lot of changes in regard to Hong Kong cultural life: openings of new museums, beginnings of Art Basel Hong Kong … those changes mean we have to ask ourselves: "What is our role?" What can Le French May bring to the local population and the local cultural life?". It's very important to work on always being relevant.


Is there one edition that you have been working on which you would say stole your heart?
2012 was my first edition and was such a powerful one with this amazing Picasso exhibition that it is of course very special to me. But the 25th edition in 2017 with our partnership with Le Louvre was also something very special.