by Gayatri Bhaumik

This piece is based on a December 2021 stay at W Singapore-Sentosa Cove. The situation is evolving constantly with the coronavirus and current rules and restrictions might differ from the ones mentioned below.

In the years since we finished high school, my childhood friend and I have managed to see each other at least once a year, catching up for foodie adventures and road trips across the world. Then Covid hit, and as I fly down to Singapore on a crisp December morning in 2021, I realise it's been over 18 months since we've seen each other. And so, the idea for a girls' getaway is born—nothing crazy, just a retreat to W Singapore-Sentosa Cove. Still, after two years of social distancing and border restrictions in Hong Kong, the resort-like property is a breath of fresh air—literally and figuratively. Tucked away in a secluded cove on Singapore's Sentosa Island—and its bustling property couldn't have been more different to the dense urbanity of Hong Kong that had been my reality since March 2020.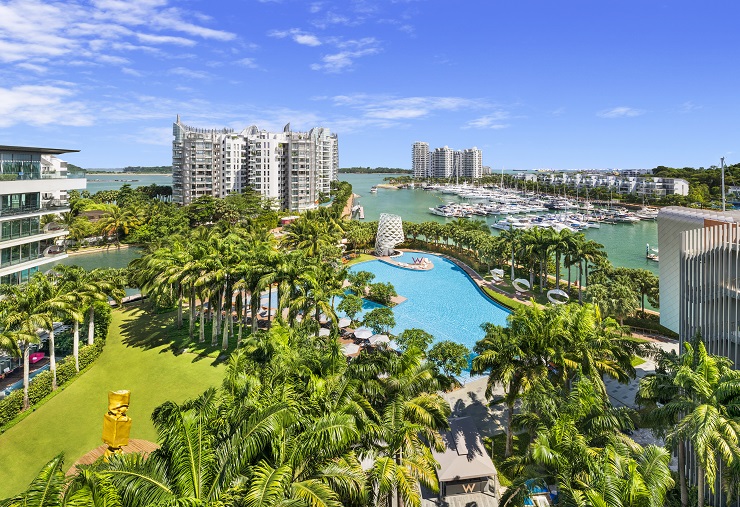 Check-in is a little slow—the lobby is full of Singaporeans checking in for a cheeky staycation; tourists are still thin on the ground despite the launch of Singapore's Vaccinated Travel Lanes—and is full of the red tape we've come to expect in the pandemic. There's a health declaration to fill out; bookings to make for breakfast, the pool, and gym; and a welcome pack of masks and sanitisers to grab alongside our keys. Still, the staff are friendly and after all, it's not too long a wait.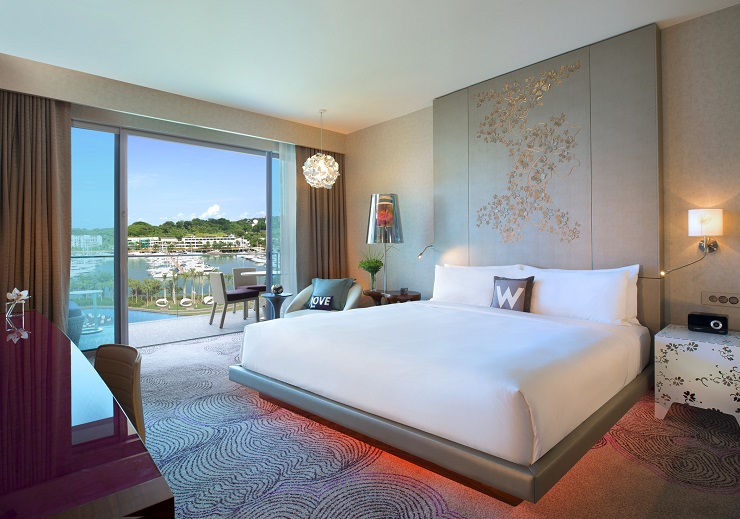 Soon enough, we're checking into our Fabulous Guest Room, a wonderfully spacious, colourful bolthole with a balcony overlooking the hotel's pool deck and neighbouring marina. The hotel team has noted that my birthday had been the previous weekend, so there are balloons draped all over the massive king-sized bed, Champagne chilling by the chaise longue, and cake on the spacious dresser-worktable.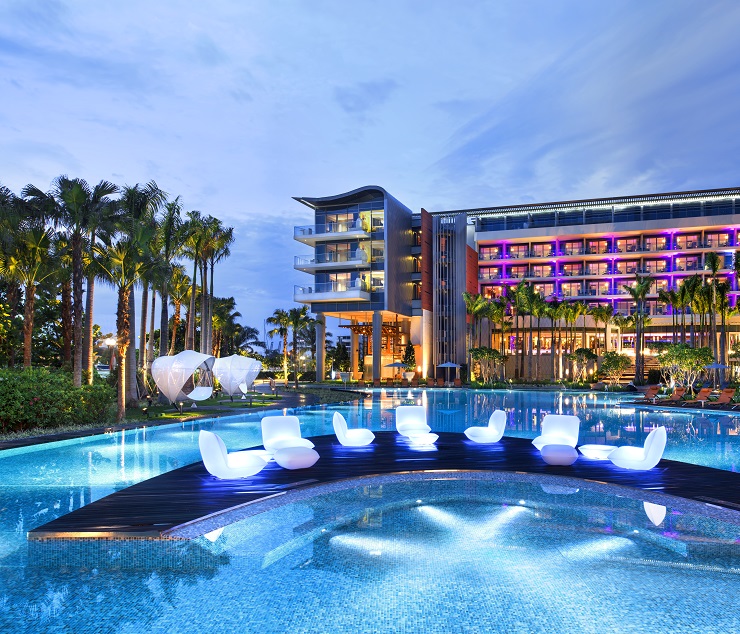 In December, Singaporean hotels were required to take time-limited bookings for their facilities to encourage social distancing, and we've been lucky enough to get slots for the WET Outdoor Pool this afternoon. So, after a quick wardrobe change, we head downstairs, grab two sunloungers by the gigantic, palm-fringed, laguna-like space and spend two hours under the unrelenting Singapore sun between dips in the refreshingly cool water.

We're both fully vaccinated, so we're given red wristbands that indicate we can have our masks off. It's a blissful moment of normalcy after nearly two years of craziness.

That evening, we arrive at SKIRT, W Singapore-Sentosa Cove's grill restaurant, where we've booked a table for dinner.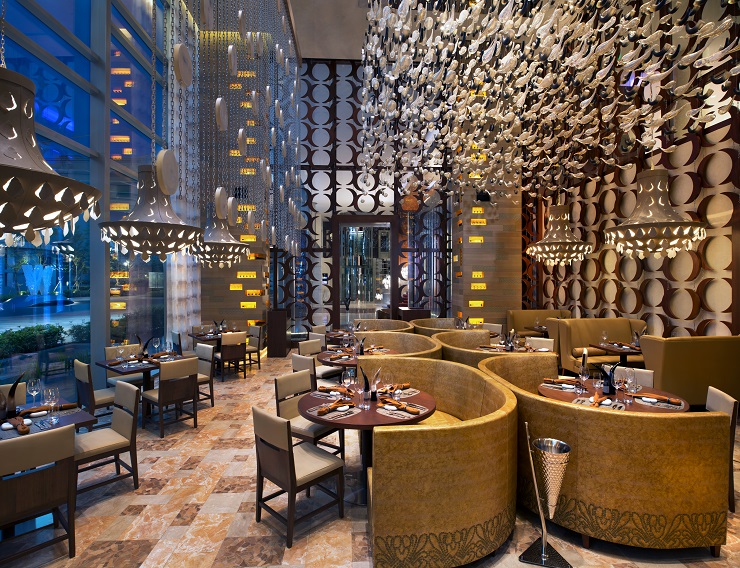 Sustainable barrel-aged cocktails are the restaurant's signature, so we order a round of Negronis for aperitifs—they're utterly delightful, biting yet smooth. For our meal, we embark on the "Grazing Around" menu which is a collection of SKIRT's best seasonal dishes. There's a rich, flavoursome bone marrow served with crispy toast, a hefty salad bursting with the freshest fruits and veggies, an ambitious foie-gras dish, and of course, a perfectly grilled steak served with heaping sides of roasted baby potatoes and green asparagus stalks.
The next morning, I hit FIT—W Singapore-Sentosa Cove's gym—early to work off the indulgences (and prepare for more). In a nod to the hotel's too-cool-for-school character, the gym is a slightly dark space with thumping music to drive your workouts—though, natural light filters in through floor-to-ceiling windows and the equipment is top-notch. Again, because I'm vaccinated, I can work out without a mask and it's a relief to be able to breathe properly through my sweat session.

Unfortunately, by the time we'd checked in the day before, all the breakfast spots at The Kitchen Table—the all-day-dining restaurant—were taken. Instead, we're offered a set breakfast, to be delivered to the room. At exactly 8am, a tray overflowing with fresh fruits, baked goods, and the W's decadent spicy avocado toast is delivered and preps us for a full day of lounging around. Incidentally, we manage to sneak into The Kitchen Table for breakfast the following day before checking out and are delighted to find an all-you-can-eat offering—delivered straight to your table, because Covid—and tuck into a feast of açai bowls, viennoiserie, and, because you can take the girl out of Hong Kong but not the Hong Kong out of the girl, dim sum treats.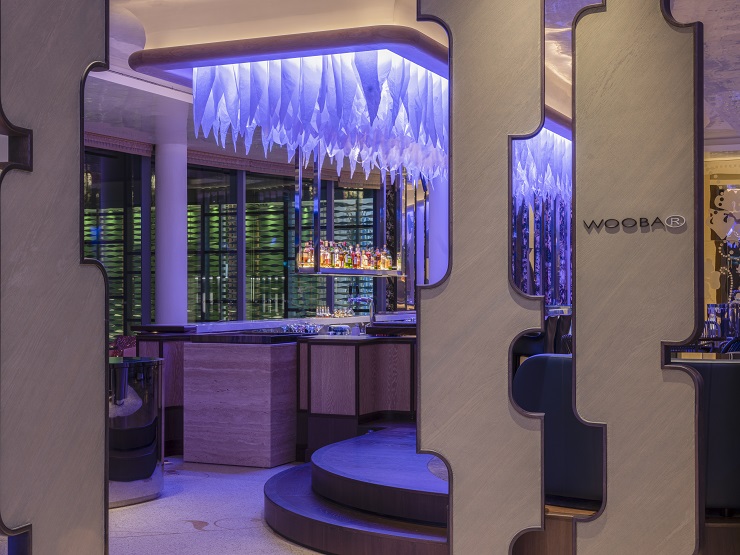 On our last evening, we settle into WOOBAR, W Singapore-Sentosa Cove's stylish lounge bar—and pull up a seat for a personalised cocktail class with the hotel's head mixologist. After discerning our preferences, he decides to keep things simple and show us how to whip up Negronis. Spoiler: we manage to butcher it—slightly—because, apparently, we didn't stir fast enough and diluted the drink.
In going from Hong Kong to Singapore for the Christmas break, it may seem I'd traded one city for another. Still, while the Lion City's far looser Covid restrictions were a welcome break, it was the serene escape at W Singapore-Sentosa Cove, far from the towering skyscrapers and maddening crowds of downtown Singapore, that made the break a holiday.
https://www.marriott.com/en-us/hotels/sinwh-w-singapore-sentosa-cove/overview/
This write-up is based on a complimentary media stay. No money has been paid for publishing this piece which is entirely based on the genuine opinion of its author.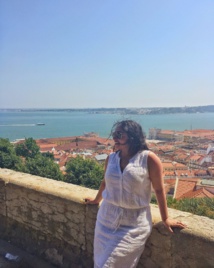 About Gayatri Bhaumik
Always ready for her next adventure, Gayatri Bhaumik took her first flight at 10 days old and hasn't looked back since. After long stints in Bangkok, Melbourne and London, she's now based in Hong Kong. She contributes travel and lifestyle content to titles like Travel + Leisure SEA, ECHELON, Elite Traveler, Forbes Travel Guide and Destination Deluxe. She also founded The Wordsmith's Ink, a corporate copywriting and social media agency, where she works with clients like Shangri-La Hotels and Shopify.