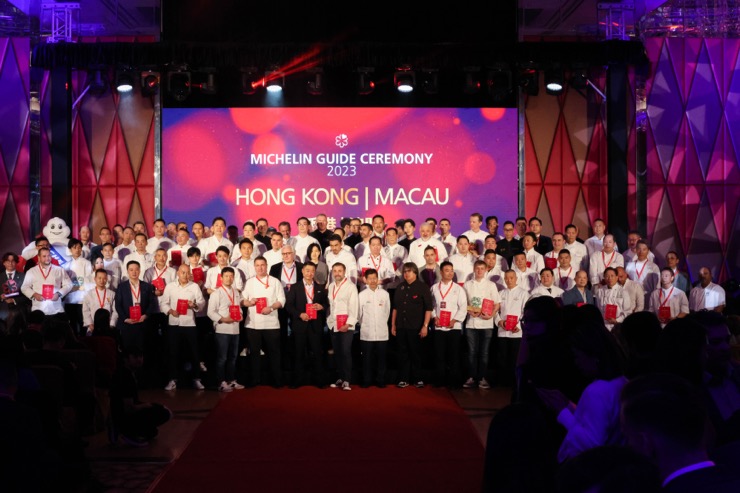 by Aude Camus
Well into its 15
th
year, the MICHELIN Guide Hong Kong and Macau celebrated this milestone with the return of its in-person ceremony – hosted this year at Grand Lisboa in Macau. Among the cheerful faces and chefs congratulating each other after this ceremony, one couldn't miss Japanese chef Hideaki Sato – the newest addition to the very exclusive club of chefs running three-Michelin-starred restaurants. Restaurant Ta Vie is indeed clinching the highest accolade this year.
Three individuals are also being recognised for their contribution to the local culinary scene through three newly launched awards. The MICHELIN Guide Sommelier Award goes Jacky Luk of three-Michelin-starred Forum. The MICHELIN Guide Service Award is given to Kit Li of two-Michelin-starred Sichuan Moon. Last, but no least, chef Steve Lee of one-Michelin-starred Hansik Goo takes home the MICHELIN Guide Young Chef Award.
Among the other highlights of this year's edition is the promotion of Rùn from one to two stars. The Cantonese restaurant at The St. Regis Hong Kong is therefore joining its sister venue, French restaurant L'Envol also at The St. Regis Hong Kong, in the list of restaurants serving "excellent cuisine worth a detour". Two other additions to this curated list are Bo Innovation, which already had the two stars distinction in its previous location but recently relocated to a new one where chef-owner Alvin Leung plates up an art-inspired menu, and Lai Ching Heen, which previously hold the two stars accolade under the name Yan To Heen.
Similarly, to last year, nine restaurants proud themselves in clinching their first star: D.H.K, Estro, Godenya, Kappo Rin, Nagamoto, Neighborhood, Noi, The Chairman (which previously hold the distinction in its former space but was able to retain it after having move to a new address), The Demon Celebrity.
There are of course a few surprises along the way and a few restaurants are still waiting for the Three Michelin Stars accolade while Lung King Heen, the legendary Cantonese restaurant at Four Seasons Hong Kong, was stripped of its third star.
The 2023 MICHELIN Hong Kong & Macau list:
Three Stars
Exceptional cuisine worth a special journey
8½ Otto e Mezzo – Bombana
Caprice
Forum
L'Atelier de Joël Robuchon
Sushi Shikon
T'ang Court
Ta Vie - PROMOTION
Jade Dragon (Macau)
Robuchon au Dôme (Macau)
The Eight (Macau)
Two Star
Excellent cuisine worth a detour
Amber
Arbor
Bo Innovation
Écriture
L'Envol
Lai Ching Heen – new under this new name
Lung King Heen
Octavium
Rùn - PROMOTION
Sun Tung Lok
Tate
Tin Lung Heen
Ying Jee Club
Alain Ducasse at Morpheus (Macau)
Feng Wei Ju (Macau)
Mizumi (Macau)
Sichuan Moon (Macau)
Wing Lei (Macau)
One- Star
High quality cooking worth a stop
Ando
Arcane
Beef Bar
Belon
CHAAT
D.H.K - New
Duddell's
Épure
Estro - New
Fook Lam Moon (Wan Chai)
Fu Ho
Gaddi's
Hansik Goo
Ho Hung Kee (Causeway Bay)
IM Teppanyaki & Wine - NEW
Imperial Treasure Fine Chinese Cuisine (Tsim Sha Tsui)
Jardin de Jade (Wan Chai)
Kam's Roast Goose
Kappo Rin - New
Li Yuan Pavillon
Loaf On
Louise
Man Ho (Admiralty)
Man Wah
Mandarin Grill + Bar
Ming Court (Mongkok)
Mono
Nagamoto – New
Neighborhood - New
New Punjab Club
Noi - New
Pang's Kitchen
Petrus
Roganic
Ryota Kappou Modern
Seventh Son
Shang Palace
Spring Moon
Summer Palace
Sushi Saito
Sushi Wadatsumi
Takumi by Daisuke Mori
The Araki
The Chairman – New at this new address
The Demon Celebrity - New
Tosca di Angelo
VEA
Whey
Xin Rong Ji
Yardbird
Yat Lok
Yat Tung Heen
Yè Shanghai (Tsim Sha Tsui)
Yong Fu
Zest by Konishi
Zhejiang Heen
Zuicho
Five Foot Road (Macau)
Lai Heen (Macau)
8½ Otto e Mezzo – Bombana (Macau)
Pearl Dragon (Macau)
The Huaiyang Garden (Macau)
The Kitchen (Macau)
Wing Lei Palace (Macau)
Ying (Macau)
Zi Yat Heen (Macau)