by Aude Camus

Hong Kong is back; we've been hearing this a lot in the past few weeks. But it's 100% true. And it feels great. Among the many things we can look forward to is the French May. This 2023 edition is bringing back international artists and large-scale exhibition, such as the "Virtually Versailles" one which is a collaboration between the Palace of Versailles (France) and Palace Museum (Hong Kong). It's also the festival 30-anniversary edition and you can expect an exciting line-up to match the occasion. Music lovers can look forward to a series of string quartets, piano duets, concerts, recitals and musicals.

Speaking of musicals, I caught up with Nasthasia Faure, the creative mind behind "Mer Calme" – one of French May 2023 highlights. Not a newcomer when it comes to producing a show, this is her third musical to play in Hong Kong, Nasthasia shares more about the creative process behind the upcoming "Mer Calme".



Hey Nasthasia. Thanks for taking the time to answer these few questions. Can you start by telling us a bit more about who you are and what brought you to Hong Kong?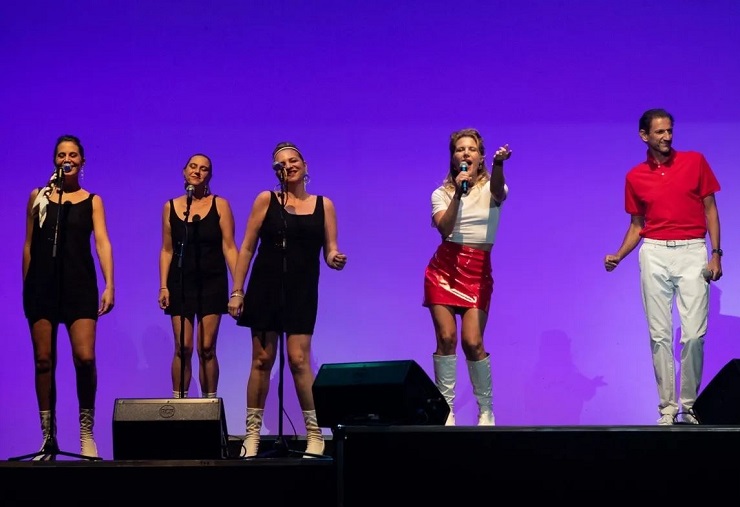 (c): Sophie Bonnin Rocher
I was born and raised in France. I first came to Hong Kong eight years ago to visit my then boyfriend, now husband, who was in town for a limited-time only internship. He loved it and so did I. A few years later, we've decided we wanted to move to Hong Kong, so we started applying for jobs and moved from France to here. It was five years ago, and we still love the city as much as we loved it the first few weeks.



You're a writer, composer, vocal coach, singer … A typical day in your life must be crazy busy, right?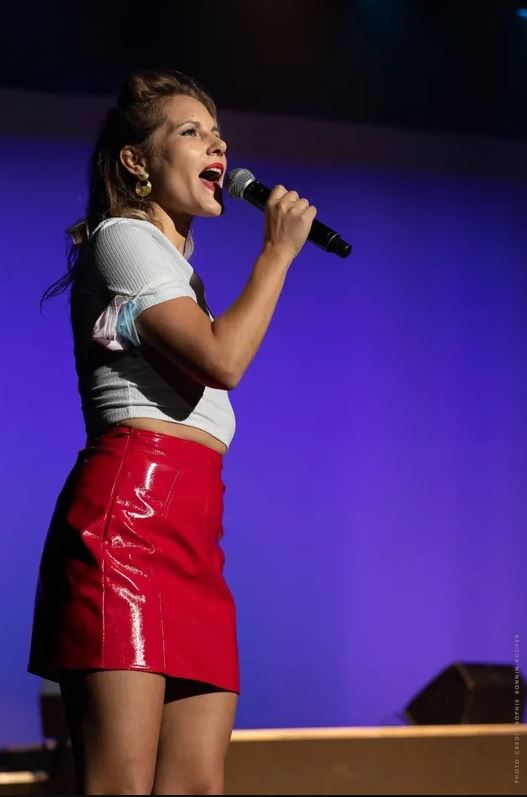 (c): Sophie Bonnin Rocher
It is! Everything is timed because there's so many things for me to pack in one day.

7:00 am – I start my day by answering a few emails before catching up with Perrine Grenier and Catherine Vax, my co-producers for our upcoming "Mer Calme" show. There are a gazillion things we need to talk about, from fundings and official partnerships with French May festival, Alliance Française and Y Theatre to copyrights, logistic, social media plan, tickets booking system and more.

9:50 am – It's time for my (almost) daily call with Catya Martin (editor's note: a prominent figure in the French community in Hong Kong, Catya is the founder of Trait d'Union magazine and French Radio as well as an official delegate for French citizens in Hong Kong). I can never thank her enough for her precious support and direction.

10:00 am – Off we go, it's time for outside meetings. And there's a lot of people to meet these days. There are meetings with people directly involved in the show from Lola Clavel, our costume designer, and Kim Petersen, our choreographer, to Nicolas who is building the set and Stéphane Lam, one of the two directors. And there are also more institutional meetings with the teams from Alliance Française – our main partner, The Consulate General of France in Hong Kong and Macau, or the French International School which gives us access to its auditorium for our rehearsals.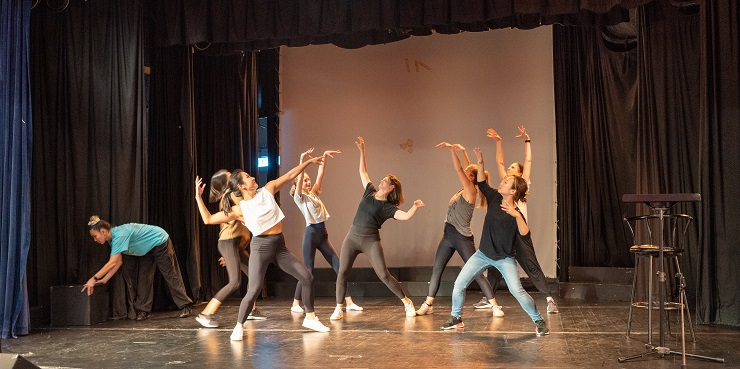 (c): Pierre Sauvage

12:30 pm – The creative team regroups. There's Karine Yoakim-Pasquier and Stéphane, the two directors, myself as well as Kim, the choreographer. Efficiency is key once again as we have plenty of topics to cover. Cue rehearsal schedule, recording sessions, tuning and temperament and more.

2:00 pm – I can finally catch up with Adrien and Marion, our designers based in France, as well as Pierre Sauvage our videographer.

3:00 pm – it's time for me to step into my role as a singing and piano teacher.

8:00 pm – end of my last class, I can focus again on "Mer Calme". Most of our performers have full-time job during the day which mean we can only gather after working hours.

11:00 pm – I write down a few comments from our rehearsal of the night. I like to put on paper what was good and what need some fine tuning so I can sleep on it and share it with the team the next morning.



You're mentioning that most of the performers from the show have a full-time job. How is it like to work around everybody's schedule?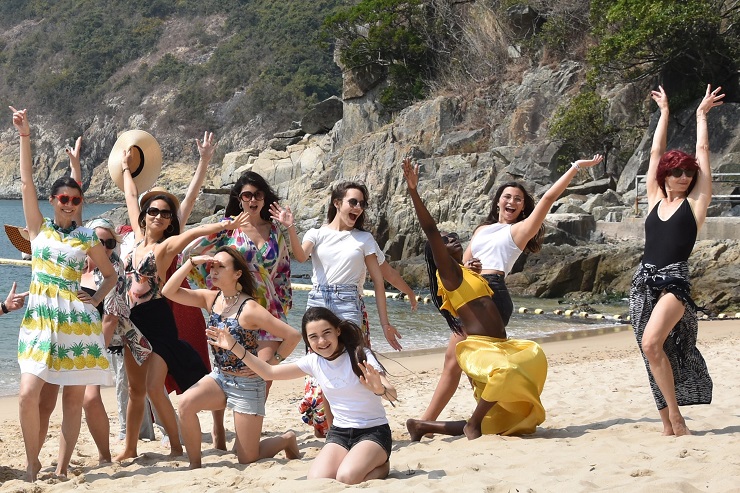 (c): Pierre Sauvage
It requires some serious organisational skills. We rehearse at night and on weekends. Obviously, we can't ask them to be available every single night, so we do sing rehearsals, theatre rehearsals and dance rehearsals and then we try to have everybody together once or twice a week.

What I have to say is that their commitment is amazing, and this show couldn't exist without them. So, I'm taking this opportunity to thank them again for their hard work and dedication.



What about you? For how long have you been working on this show?
I first started to work on the writing in early 2022 but things didn't really pick up before September that same year. The restrictions in Hong Kong at the time didn't help. What kept me motivated was Karine's support and I'm glad she encouraged me to believe in this project because it's now about to become real. I still cannot believe than we will be playing our first show in less than a month!



Until now, you've written all your shows in France. Are you considering a future show in English to help you reach out to a wider base in Hong Kong?
Yes, this is something I have in mind for sure. French came first because it's easier for me, especially when it comes cultural references, but switching to English would open a new world of opportunities that I'm obviously extremely excited about. This could be my chance to write original songs!



Until then, what should we expect when booking tickets for "Mer Calme"?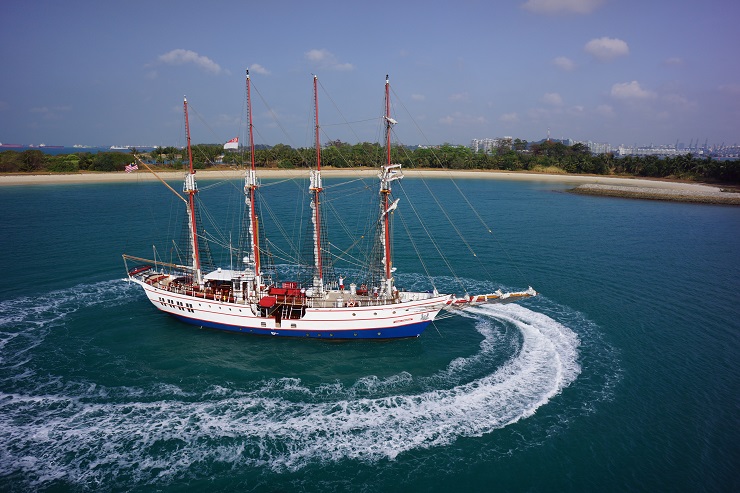 You can look forward to a colourful show filled with joy and laughter. It will lift your mood for sure and will make you want to sing and dance. I hope you'll love it as much as we do.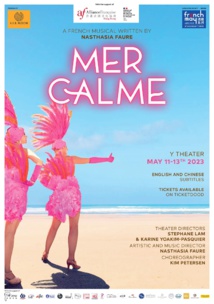 About Mer Calme
Show in French with English and Chinese subtitles
When a solar storm hits the holiday resort Mer Calme, located on a small island in Southeast Asia, everyone, tourists, and staff alike, see their daily lives turned upside down. There is no electricity, no internet, and no food supply. Therefore, they will have to inhabit together, for better or for worse.
In a musical atmosphere, find colourful characters who will make you think about our dependence on technology in our modern society.
Mer Calme is a musical that asks essential questions about the functioning of our time, punctuated by the most beautiful songs of various French artists of yesterday and today.
A play with six characters with vastly different personalities who will have to learn to live together for better and for worse!
https://ticketdood.com/o/nabmusichk-34