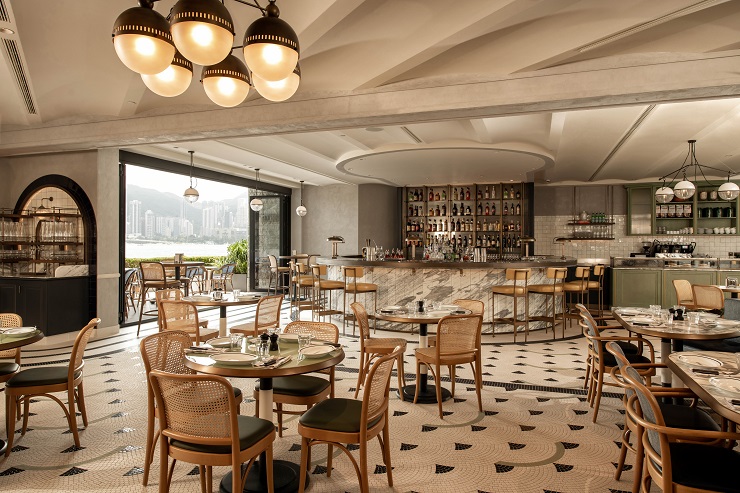 by Aude Camus

Rosewood Hong Kong's newest dining venue – BluHouse, has just opened its doors and invites you to enjoy a taste of Dolce Vita on the ground floor of Victoria Dockside – right next to the Avenue of Stars. The restaurant takes its name from the former Holt's Wharf – which Chinese name translated as "Blue Funnel Wharf", once located where Rosewood Hong Kong now stands. The waterside location gives plenty of space for panoramic views of the Hong Kong Island's skyline and a coastal-like outdoor seating area furbished with white and blue rattan chairs. You can arrive through Rosewood Hong Kong's lobby but I recommend the walk on Avenue of Stars to take in the water views before checking in for a feast of casual authentic Italian fare.

The space actually hosts two distinct dining concepts, both led by Chef de Cuisine Giovanni Galeota. The first is the laidback all-day eatery where I'm taking you today and the second is The Dining Room by BluHouse – a more refined concept set to opened its doors on 23 June 2022.



Interior Design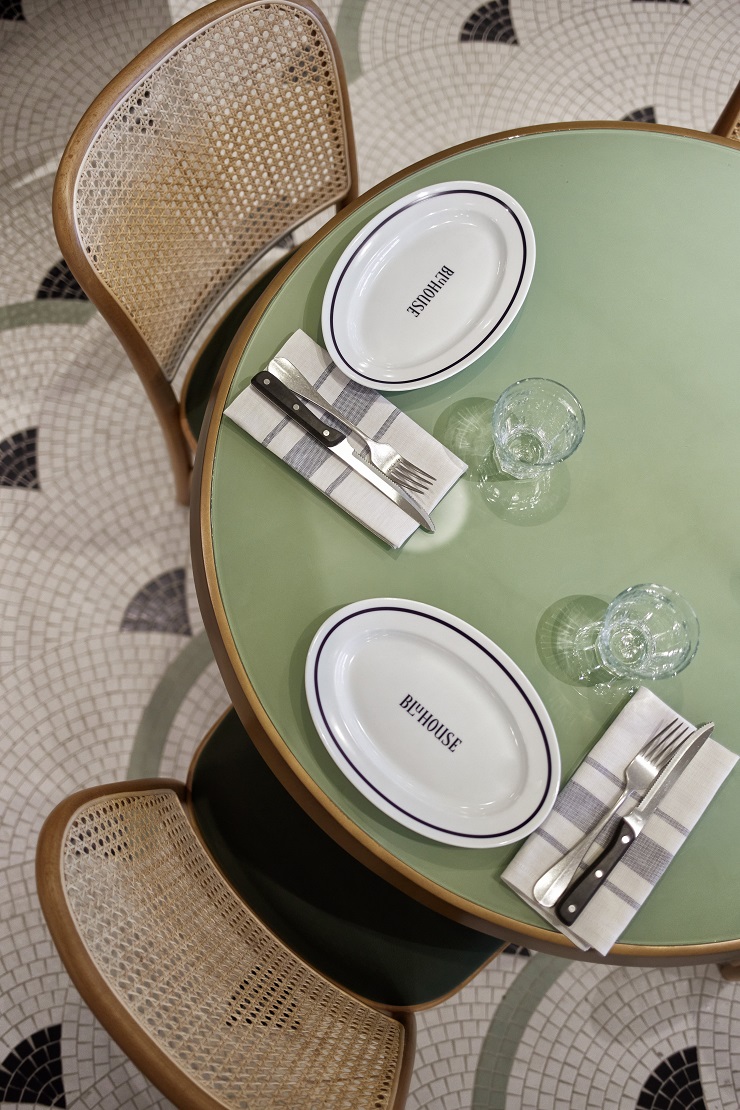 The Victoria Harbour facing all-day dining space is bathed in natural light thanks to the floor-to-ceiling windows. Designed by Afroditi – an award-winning London-based interior studio, the interiors transport you to seaside Italy thanks to elements such as mosaic floors, banquette seating reminiscent of boat seating, undulating ceilings and more.

The expansive space is dotted with several white marble and blue lava stone counters, each dedicated to a different type of freshly prepared casual fare and drinks. There's a barista counter for your morning coffee, a bar, pizza al taglio, a cheese and cold cuts deli counter, a rosticceria counter from which you can order roasted meat including the super indulgent Porchetta "Ariccia Style" - roasted pork with potatoes, and a pasticceria and gelato counter for all the sweet tooth out there. There's also a wine cellar and a Venchi corner, BluHouse having formed a partnership with the Italian gourmet chocolate manufacturer which is also in charge of the gelato corner. You can order everything from the menu – specialties from the different counters as well as main dishes, but there's something exhilarating about navigating your way around the counters just like you would visiting the Mercato Centrale Roma or La Rinascente – a food hall in Milano.




Food

Starters such as the polpo e olive (HKD 190), a simple and fresh but tasty octopus salad, and cavolfiore e carote arrosto (HKD 130), a salad of roasted cauliflowers and carrots with pine nuts, raisins and olives, are to be ordered from La Gastronomia delicatessen counter and are a great way to open up an appetite. There's also mozzarella (HKD 260) and burrata (HKD 260) served with extra virgin olive oil and your choice of adds on such as pesto and datterino tomatoes (+HKD 48) and 24-month Parma ham (+HKD 58). And if I were you, I wouldn't' missed on the antipasti which range from carciofini (HKD 88) – roasted artichokes "Romana" and alici marinate (HKD 88) – marinated anchovies, to funghi cardoncelli (HKD 88).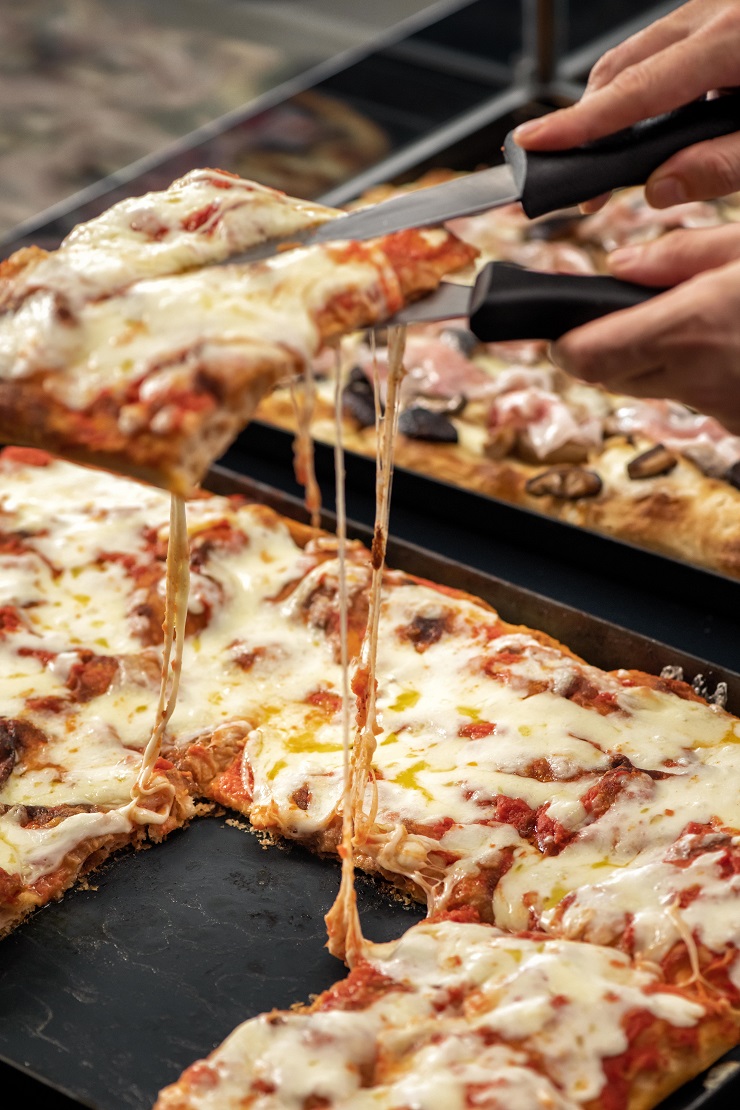 Moving on to something hot, I would encourage you to order a slice of pizza. Here we're talking Roman style pizza which comes in rectangular slices and has a thicker, light and crunchy, base. There's the Pomodoro (HKD 78) with San Marzano tomato sauce – made from a specific type of plum tomatoes, if you like you're pizza simple yet tasty. For something spicy, you can order the Diavola (HKD 88) with Nduja, for di latte Di "Agerola" cheese, Roman salami and charcoal pepper. And if you're just like me and like your pizza bianca (without tomato sauce), I'd recommend you go for the Guanciale (HKD 98) with seasonal mushrooms, curated pork jowl and caramelised onions.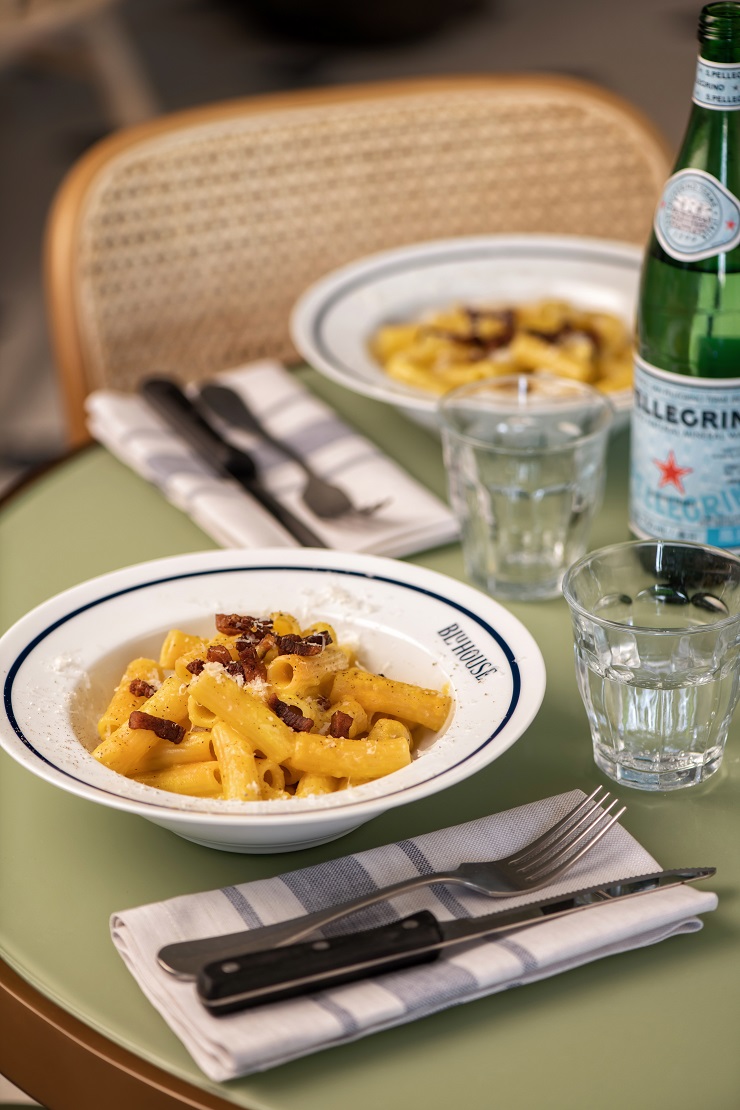 In true Italian style, pasta are to be ordered before the mains and you are presented with a choice of five different pasta including proper (aka with no cream) rigatoni alla carbonara (HKD 198).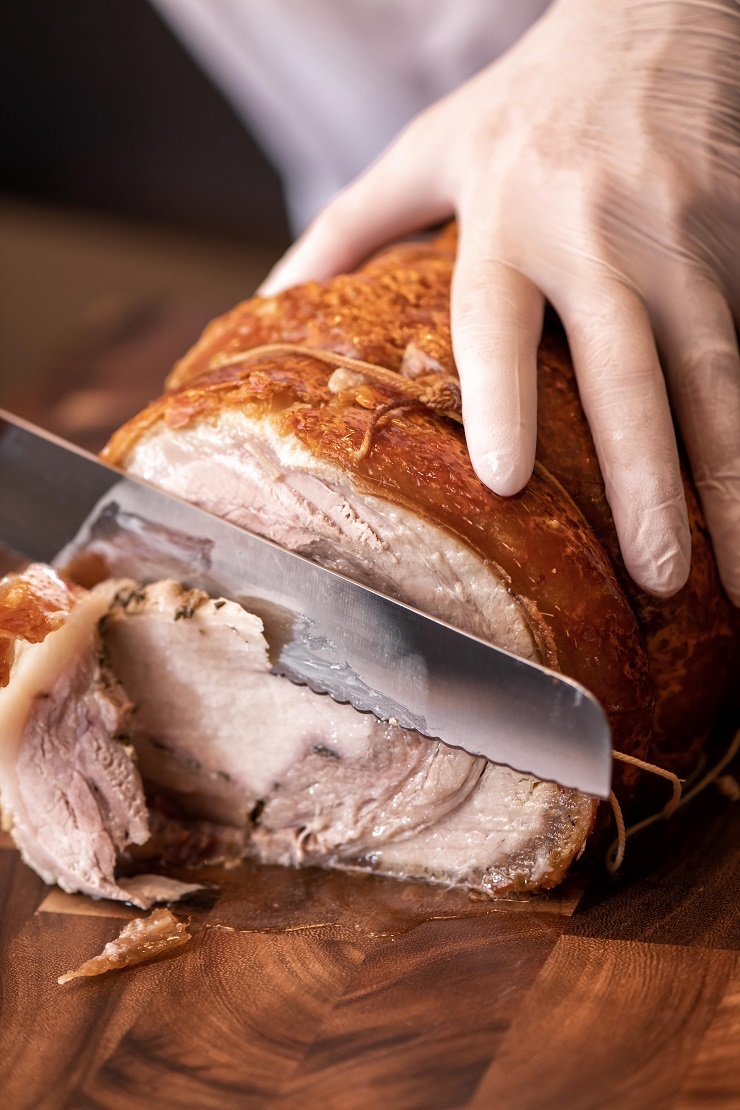 The porchetta (HKD 198) – a roasted suckling pig originated from the Italian town of Ariccia, will satisfy any roasted meat craving. But there's also baccala all livornese (HKD 260) – cod fish in tomato sauce with black and green olives, a very indulgent and super tender Ossobuco alla Milanese (HKD 260) and trippa alla romana (HKD 190) – stewed beef tripe in San Marzano tomato sauce.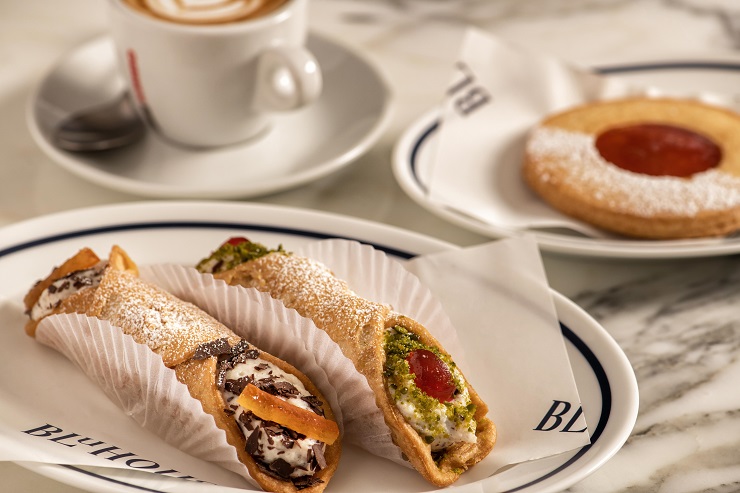 By then, you'll probably feel like you have no room for dessert but its hard to resist the super good looking pastries lining up on the pasticceria counter. From Diplomatica and tiramisu to Cannoncino di Sfoglia and Napoletan Babbà, you're in for a sweet treat. And this is without mentioning the gelato counter from which I highly recommend a scoop of hazelnut gelato. And if you really cannot take any more food, remember you can just buy the pastries for takeaway.



Beverage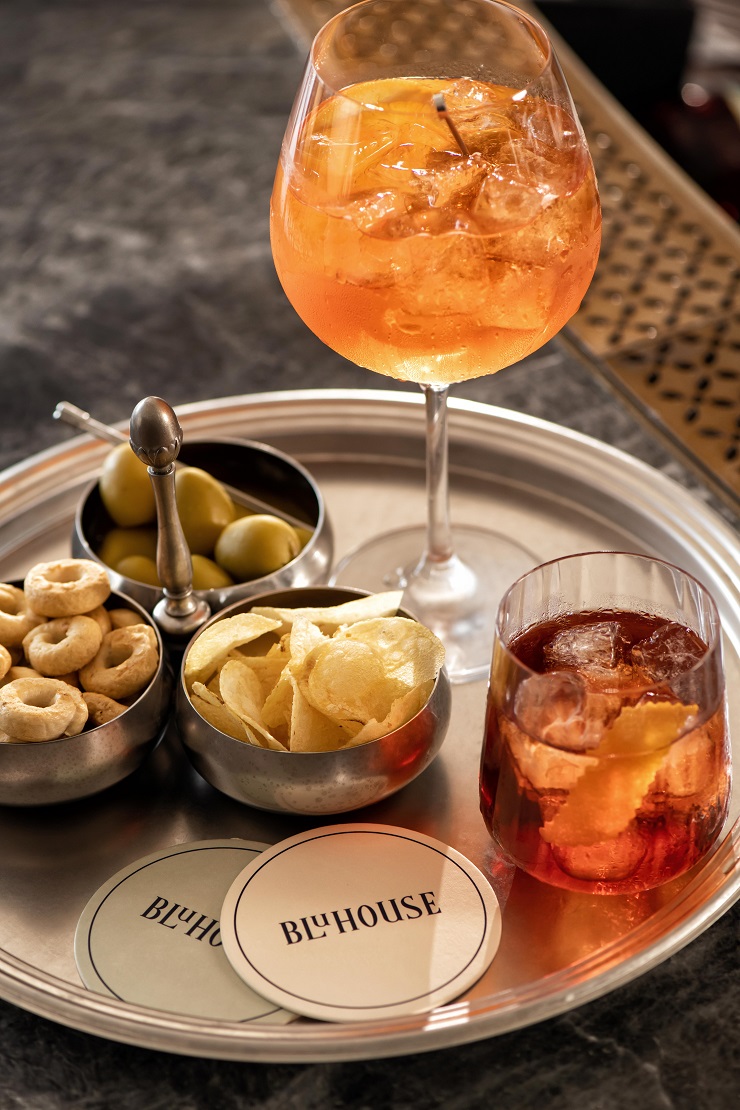 Curated by Simone Rossi – Rosewood Hong Kong's Beverage Manager, and Arkadiusz Rybak – Rosewood Hotels & Resorts' Director of Bars for South East Asia, BluHouse's beverage programme presents a revival of
classic Italian aperitivo drinks
. Cue Garibaldi – Campari and orange juice, Campari Soda, Bellini Campari Shakerato and a selection of Spritzes – such as the BlueHouse Spritz with Hong Kong-made Amaro, and a selection of clay-pot Negroni that have been rested in terracotta pots. What's more, BluHouse pours a one-of-a-kind Amaro, made in Hong Kong with locally foraged ingredients such as pomelo leaves, Cuban oregano, citrons leaves and mandarin peels.
BluHouse
https://www.rosewoodhotels.com/en/hong-kong/dining/bluhouse
G/F, Rosewood Hong Kong, No. 18 Salisbury Road – Tsim Sha Tsui
This write-up is based on a complimentary media lunch hosted by BluHouse. No money has been paid for publishing this article which is entirely based on the genuine opinion of its author.