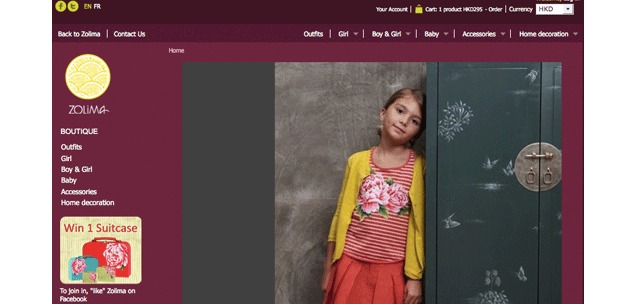 If, like us, you're a fan of this little brand of clothes and accessories for kids, you will be glad to know that Zolima has just launched its online store! You can spoil your little ones in just a few clicks. Feeling a bit lazy happens to everyone and with this heat, we would rather stay cool inside…Visit the e-shop and discover the items for babies, kids and for your home too! We had a crush on the big Panda cushions from the organic collection, which supports Pandas International. In the clothing department, we like the quality of the materials used and the colours that energize your mini-me's wardrobe. The little vintage touch of some products is very much to our taste too! The peony, the brand's signature design, enhances bodysuits, t-shirts and dresses. A bit of freshness and softness doesn't do any harm! The good news: you can take part in a lucky draw* with a chance to win a large case. To do so, log on to Zolima's Facebook page and "like" it. And because good news doesn't come alone, here's another piece of good news: order via the e-shop and receive a free pencil case. Zolima is giving away a pencil case** to all Hong Kong Madame readers who stock up online until the 10th June 2012. To do so, it's very simple: indicate the promotional code HK MADAME when you check out. And bag the pencil case!
*The lucky draw will be held on the 20th June 2012.
**Organic Oval Pencil Case worth 150 HK$.
zolima.com/shop