by Aude Camus

With international travel on hold, my plans to visit Japan for the very first time this year (I know, it's a pity that I've been living in Hong Kong for six years already but still didn't have a chance to visit Japan) now feel like remote prospect but I decided it shouldn't prevent me from enjoying an authentic Yakiniku – aka grilled meat in Japanese - experience.

Few days ago, I visited Yakiniku Ishidaya, a newly opened yakiniku in Central and the first international outpost of a Kobe based restaurant brand.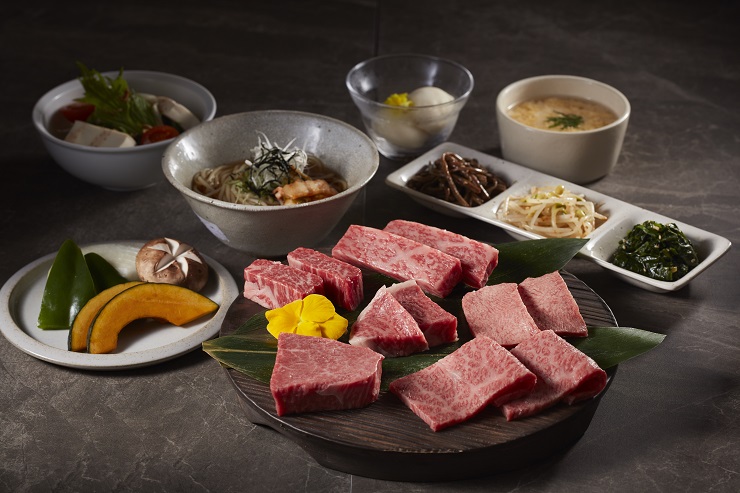 On the menu? Well, you would have guessed: Kobe beef, the pride of Hyogo Prefecture, with each superior cut having been personally handpicked by the founder Kiyonori Ishidaya from wagyu beefs raised in selected cattle feeding farms. A refined experience for all the meat lovers out there!

But the tasty journey wouldn't be complete without the décor offering a modern interpretation of a zen Japanese house by mixing traditional essence of stone and charred wood with new materials such as black metal and weave steel.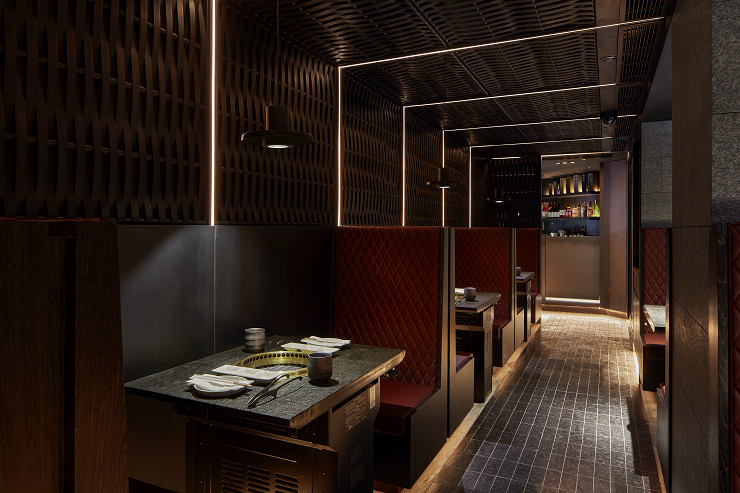 You culinary experience starts with passing by an entrance tunnel bathed in light and shadow before being seated at your table with its private grill.

And now, it's time for the meaty feast! With prices ranging from HKD 158 to HKD 488 for premium cuts of A5 and A5-grade Japanese wagyu and HKD 688 for a Kobe striploin or ribeye, Yakiniku Ishidaya offers a relatively affordable experience compare to other addresses serving a similar calibre of meat.

Highlights of the menu include the A5 Wagyu Chateaubriand (HKD 488), a rich and flavourful cut melting in your mouth like butter and the Premium Omakase Platter (HKD 388) presenting you with three cuts of marinated beef – chuck roll, lean meat, karubi – offering heightened meat flavours and allowing you to experience different textures ranging frow chewy to tender.

Fear not if grilling such thin and premium cuts does not come easily to you, the on-site Yakiniku masters are here to teach you all about the delicate art of grilling Wagyu beef.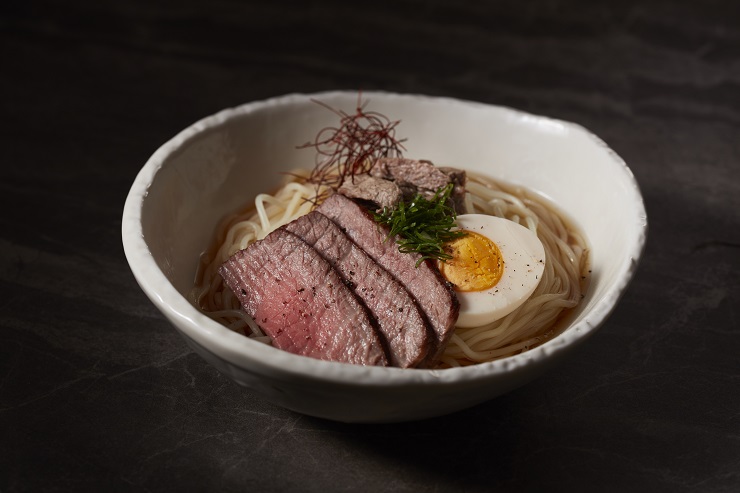 Sides such as the
Ishidaya Salad
(
HKD 98
) or the refreshing
Wagyu Cold Noodles
(
HKD 138
) offer a most welcome refreshing add-on to the meal. I absolutely loved the cold noodles which brought a delicious taste of umami to the entire experience and served as a palate cleanser in between different cuts of meat. I would totally come back for those noodles only if not in the mood for a proper feast, especially knowing that they are part of the set lunch offering (HKD 158 for salad + wagyu cold noodles + dessert).
And for those of you who like their meat with a glass of red, the wine and drinks list has been specifically curated to enhance the flavours of your meat with options such as Japanese wine, sake and shochu from Kagoshima, Kumamoto or Okinawa, cocktails Japanese whiskies and more.
Yakiniku Ishidaya
3/F, Century Square, 1-13 D'Aguilar Street – Central
This write-up is based on a complimentary tasting for two hosted by Yakiniku Ishidaya. No money has been paid for publishing this review which is entirely based on the genuine opinion of its author.