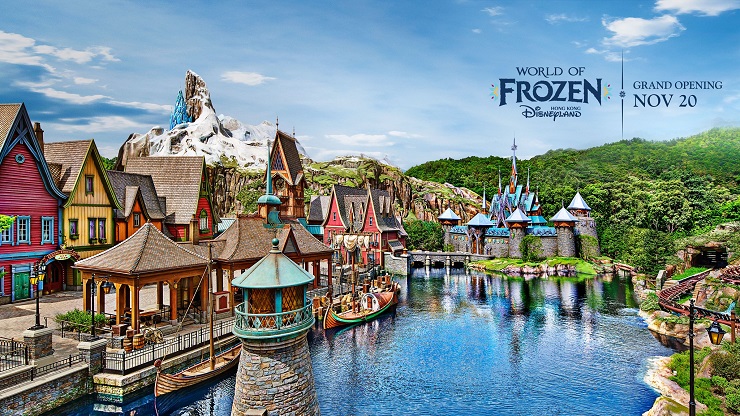 By Aude Camus
Get ready to embark on a magical journey as the world's first and largest Frozen-themed land, the
World of Frozen
, opens its doors at Hong Kong Disneyland on 20 November 2023. As we had the privilege of experiencing it firsthand, we're excited to share with you what you can expect when you plan your visit. Spoiler alert: we absolutely loved it!
Immersive scenery straight from the movie

The World of Frozen is divided into two sections, Arendelle Village and Arendelle Forest. In the village, decors straight out the movie await such as Arendelle Castle, the boat on which Anna fell onto when meeting Prince Hans, King Agnarr Bridge and more. The latest connect the village to the forest side.



Thrilling rides

Tow exclusive rides await for the ultimate Frozen experience.
In Arendelle Village,
Frozen Ever After
invites you to hop aboard a boat for a family-friendly ride through the North Mountain. Popular characters from the movie – including Elsa, Anna, Olaf and Kristoff, are brought to life as Audio-Animatronics. Get ready to visit Troll Valley and Elsa's Ice Palace but watch out, you're not safe from suddenly slide down the mountain.
In Arendelle Forest, the
Wandering Oaken's SLiding Sleights
is a family-friendly coaster. Guests, with minimum heights 95cm, embark on a high-speed (though very short) ride through hills, caves and fjord waters.
Nordic food
You can expect a warm Nordic welcome in Arendelle, ensuring you won't leave on an empty stomach.
For a full meal, head to the
Golden Crocus Inn
. Here you can expect Nordic-inspired set meals generous enough to satisfy an appetite as big as Kristoff's notoriously heart one, with seatings both indoors and outdoors. Think forest mushroom pasta and braised lamb shank with polenta potato puree.
For a quick bite on the go, stop at
Forest Fare
where options range from sausage platter and chicken bun to snowflake churros and cookies.
A sweets and confectionery shop,
Northern Delights
is ready to delight the sweet lovers among you with treats such as Olaf muffin, candy apple snowball, summer snow day marshmallow, summer snow day soft serve and more.


Character encounters

Elsa has opened the doors to her secret childhood hideaway Playhouse in the Woods ! This first-of-its-kind, unique, and engaging theatrical experience found in Arendelle Forest features Anna, Elsa and Olaf, and comes to life through singing, projection mapped content, special effects and sensory elements.

Characters are also often seen wandering the Frozen-themed land so keep an eye open!



Exclusive merchandising

Arendelle's centuries-old toy shop Tick Tock Toys has curated an exclusive selection of Frozen-themed merchandises. Cue soft toys, Olaf-themed headbands, Nordic-inspired sweaters, ice queen accessories and more!




This article is based on a complimentary media tour of the World of Frozen. No money has been paid to post this write-up which is entirely based on the genuine opinion of its author.