by Aude Camus
How many fashion brands originated from Hong Kong can you name? I can probably name 3 or 4 but that's about it. Now, even more tricky: how many activewear brands born in Hong Kong can you think of? Not a single one, right? Yep … that's why I thought. I mean, I have absolutely nothing against the big activewear brands and it would be lying to say I don't live in my Lulu(lemon) and don't own many bras and dry-fit tops from Nike. Yet, when
Diane the founder of Sponge
reached out to me saying she knew this expat woman entrepreneur who had launch her own activewear brand in Hong Kong (
for which Diane did a photoshoot … I mean, doesn't she look gorgeous and fit on those pictures
?) and was a strong advocate of body positivity and who she thought I would love to meet, I knew I had a story. A quick look at
V Apparel's
website and I was like "yes please, I do wanna meet Valentina"!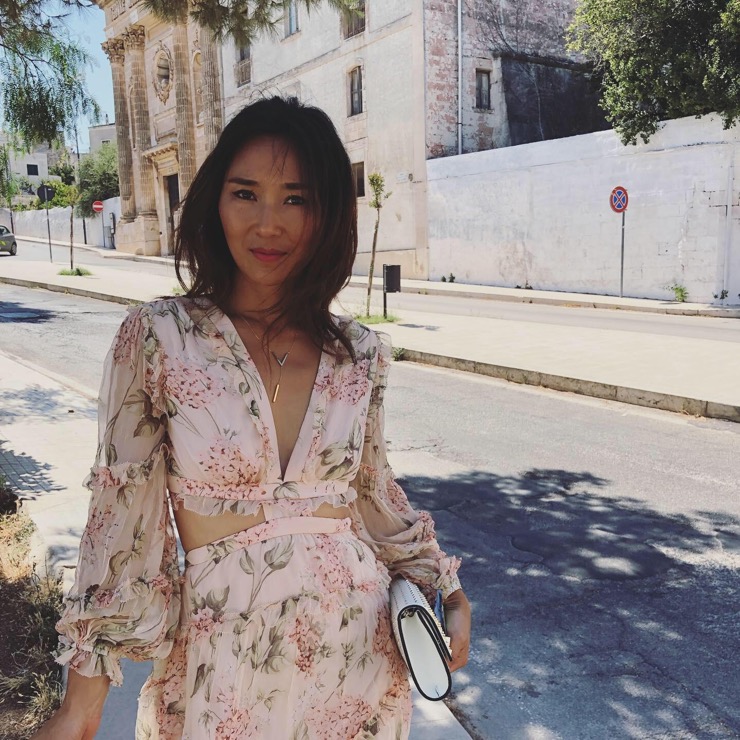 Hey Valentina! So nice to meet you and have coffee with you this morning! Can you tell me a bit more about yourself, your background and what brought you to launch your activewear brand V Apparel?
I was born in China, in a province close to Beijing, and was then sent to a boarding school in the UK when I was 14. I did my middle school, high school and university in the UK. I graduated with a degree in post-modern philosophy but soon realized there was not much career opportunities in my field so had to follow another path and was hired by Ernst & Young in London which then sponsored a Chartered Accountant degree for me. After four years, I knew I had no passion at all for finance and left my job to go to France and enjoy life. Spent the season snowboarding. I was very lost in my life and didn't know what to do with my it. You can imagine how my parents, being Chinese parents, were feeling about this situation. They were actually putting quite a lot of pressure on me which had me moved back to London and take a finance role in a law firm. This company sent me to Hong Kong on a 2 months mission which is funny because even though I was born in China, I had never been to Hong Kong before. It was about six years ago and this is also when I met my husband, who is Australian, here in Hong Kong. We first moved back to London together and then we decided to come back to Hong Kong. It was 5 years ago and that's also when I had my first kid. The first 4 years of my life in Hong Kong have been very much dedicated to my children. I was basically breathing for my son and my daughter. During those 4 years, I have also built a very strong mama tribe: supporting each other, planning activities for our kids and playdates, running after our children, working-out and trying to stay fit together … doing basically everything together and living in our activewear!


So, your background isn't at all into fitness?
Not at all! I actually only started to work out with my mama tribe. But now all I can think of is: "how was I doing before?".


And this how the whole idea of launching V Apparel came to life?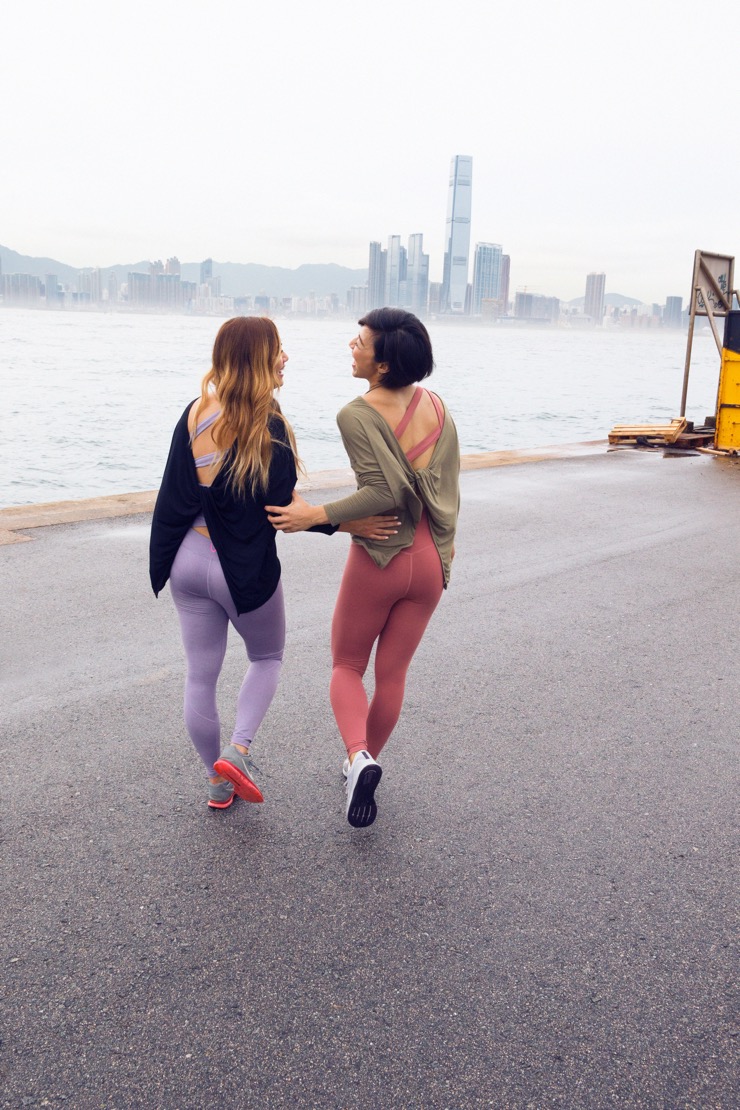 Yes, because I couldn't find what I was looking for: technicity and style. I wanted a product that uses the same fabrics as the Lululemon's (stretch, slimming, contouring) but that is also on trend. And also, because I got fed up paying HKD 1,000 for a legging.


And you had no background in the fashion industry either?
No. Not background in running a business either. I have to say I just followed my heart. I had a vision and decide to trust it.
I do not draw; I share my vision with a designer who can draw the designs for me. But I do source the fabrics myself as I know what I want: those breathable very technic fabrics but with fashionable prints instead of the usual quite neutral tones. We, of course, have some classic looks which will stay as when building a brand, it's important to remember you need a signature look, but every season we are also bringing some seasonal looks.


If you had to describe your brand in just a few words?
Style meets performance.
The prints are fashion prints, inspired by high-end fashion brands. Fabrics are inspired by sport brands.


When did you officially launched?
Christmas 2018 so not even a year ago.


What would you say has been the most rewarding so far, running your business in Hong Kong?
The response of the ladies out there to our products. We want to make women feel good about themselves and we design the products with that in mind. I first designed the tops thinking of my mama tribe, we are not teenagers anymore, we all have kids, so we don't really want to wear crop tops and pretty much all women feel good about their back this is why open-back tops are our signature. Women feel good in our clothes.

Seems like body positivity is one of the key values of your brand, right?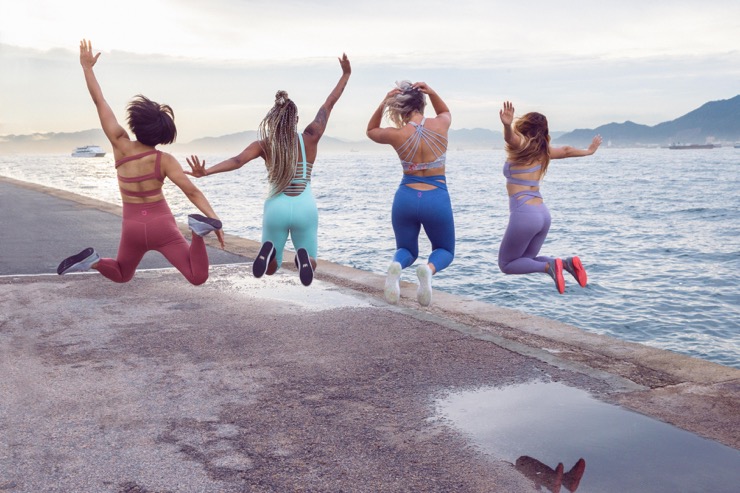 Indeed. Women in life are different sizes! And I want my brand to be authentic, to be real. Why should we listen to what society is telling us on how we should look instead of just looking what we feel is good for ourselves? There's already so much negativity around, I wanted my brand to breathe positivity and spread some love.

Our latest campaign is all about real women, real body shapes, showing that healthy doesn't come in one size.


What about being a mama-entrepreneur? How is it like to balance life between your two babies and then this third baby which is your company?
I am not going to lie; I am still learning myself. Balancing my kids and my job has been the most challenging part of my entrepreneurial journey. Working from home doesn't make it easy for me because I always get distracted by them. Luckily, both my kids are now going to school in the afternoon which gives me some time to work. In the morning, I try to keep them busy: signing them up for dance classes, art classes … And my evenings are totally free for them. After 5 pm, I don't work anymore, and I am fully dedicated to being a mum.


What are the things you love to do with your kids in Hong Kong?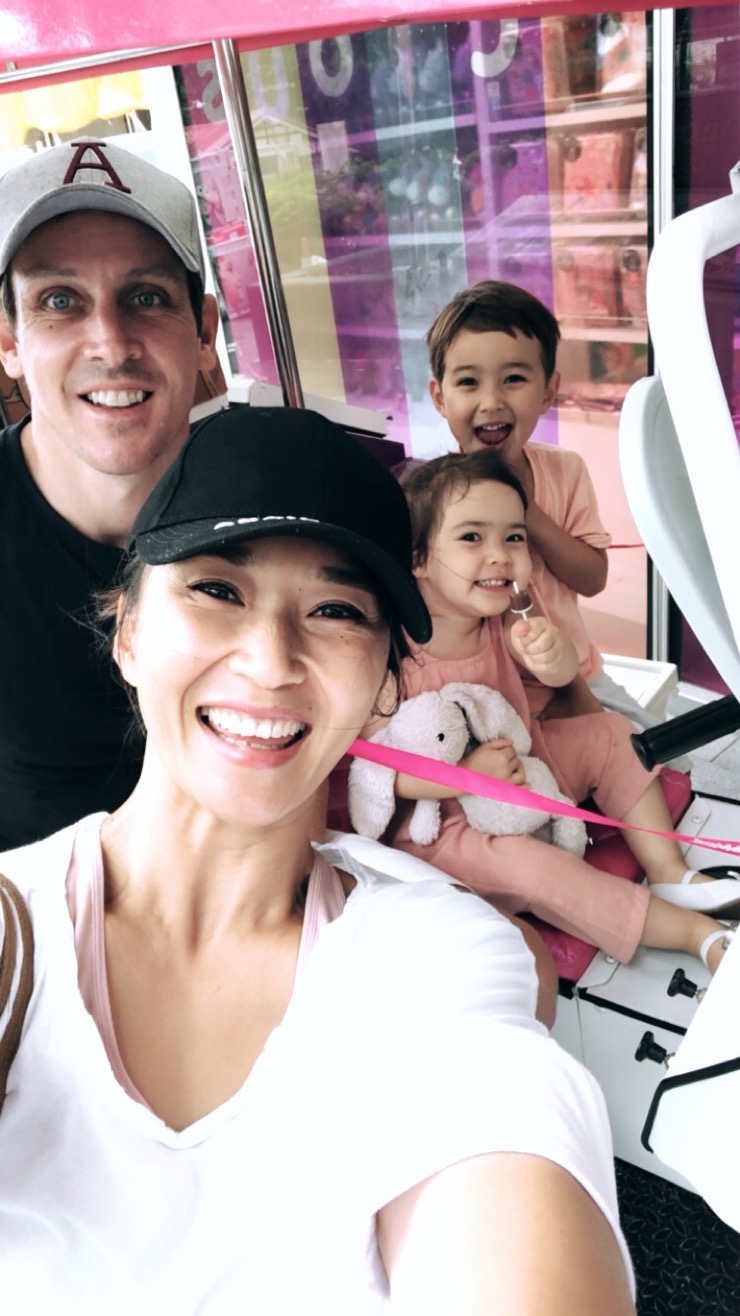 Our favorite thing to do is go on the ocean. We are lucky to co-own a junk boat with a few friends meaning that every weekend, we will spend at least one day on the sea. We sail, kids can swim and play in the ocean, we sail to Lama Island for a seafood feast and sometime to Stanley for a glass of wine … perfect day! We are creatures of comfort; we love our routine such as our Sunday brunch at Bar & Grill in Kennedy Town where we live. Recently, one of my favorite places for brunch on weekend has been Hutong. One thing my kids also love to do is taking the Star Ferry. Basically, our mission on weekend is to keep the kids busy!