by Aude Camus

Around a year ago, I was invited to join a full moon meditation at the Four Seasons Hotel Hong Kong. I'm not really into meditation but was intrigued enough by the invitation mentioning flowers mandala (I find those symbolic Hinduist designs beautifully fascinating) and post-meditation Champagne (I mean, I can never say no to Champagne) to think "why not?". The meditation was led by Shoshana Weinberg, whom I have met before and knew to be the Senior Director of Spa Asia Pacific for the hotel group. What I didn't know is that she also was a wellness practitioner herself, bringing more than 20 years of experience and wisdom to the room. Let me tell you it was quite a night! I was absolutely overwhelmed with emotions and experienced a unique sense of community and bliss, being gathered in that room with women from all nationalities and all backgrounds. I couldn't believe the energy; the electricity Shoshana was sharing with us. So, it didn't really come to me as surprised when, end of 2019, I heard she was not going back to the hotel group after her maternity leave but was instead deciding to focus on her herbalist practice and launching a brand/community: TovEarth.

The situation has been such lately that I haven't been able to find the time to properly catch-up with her, sit and listen to her story. Still, I wanted to share more about Tov Earth with you so decided to send a few questions to Shoshana hoping she will be willing to share her dreams, passions and wisdom with us. Which she did, in pure Shoshana's style, answering my questions through WhatsApp voice notes she recorded while doing a run out in the wild.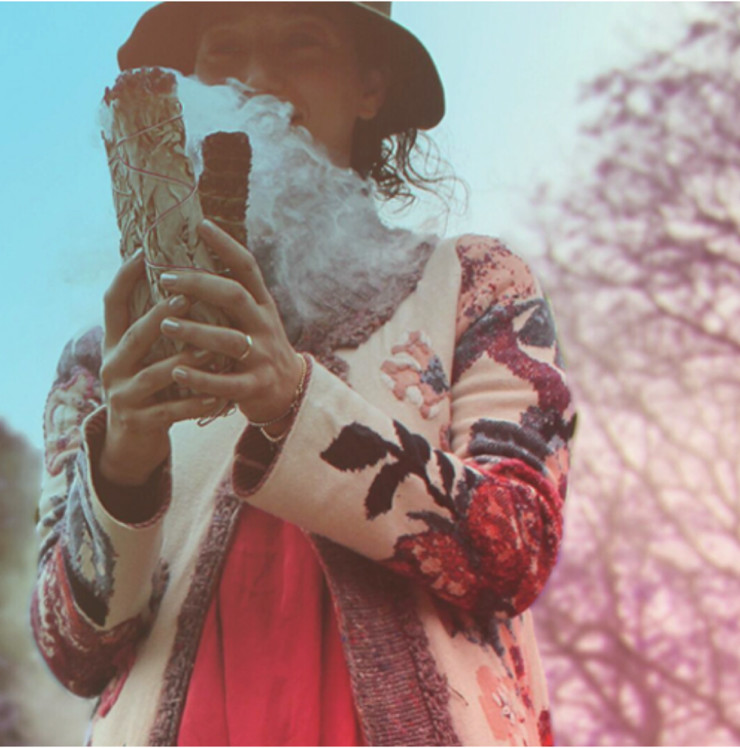 Hi Shoshana! Can you quickly introduce yourself? Who are you? What brought you to Hong Kong?
I have been a practicing herbalist for more than 20 years and have studied different types of meditation healing since I was in my early 20s. I have known many different professional lives, but wellness and meditation have always been at the center of it all. My career started at an ayurvedic skincare clinic where we would see people for skin concerns and treat their mind in order to be able to treat their body because everything that happens on the skin is just a reflection of what's happening inside you. With that experience, I went into following a more corporate path and joined the Orient Express Hotels Group (today known as Belmond) to help opening spas all around the world. It was an amazing experience until I blown out my thyroid which forced me to reconsider my life and slow things down, going back to my roots and my herbal medicine practice. It was also at that time that I met my husband and we had our first baby.
I believe that life is a succession of cycles. And I could feel that a new cycle was starting for me. I had gone from herbalist to corporate and back to herbalist and felt that the corporate world was calling me again. Back then, 10 years ago, we were living in New-Zealand but the opportunities I was looking at were between South-East Asia and Hong Kong. Hong Kong which I had refused to move to 4 years before. Just because it was not the right time then. But being in this new cycle, I knew Hong Kong was now calling me and so I took the chance to join the Four Seasons Hotel Hong Kong. I always thought that I would spend 4-5 years maximum with them before moving to a new cycle but when I reached that 4 years deadline I had my second baby and also moved to a new role, a regional one, to oversee the development of spas in Asia so here I was, embarking on a new cycle but still with the same group. I spent 9 years with them in total, until I was pregnant again last year and had to ask myself "what is it that I'm here to do?". That's when TovEarth comes in.
It was easy for me to leave the corporate world because I had the support of my husband Gonzalo. It was just perfect timing for me to kind of sprout.
Can you tell me a bit more about TovEarth?
In essence, it is a community of people (healers, non-healers) who come together to bring power back into the people's medicine:
Herbs
Touch
Sounds
Gatherings
Secret ceremony
Indigenous thoughts
Mixing those people's medicine with modern days knowledge. The community really is at the heart of it all. It all started with this community, which is now encompassing more than 150 women, and then a smaller part of men, and growing. From that, I started to lead herbal classes and then workshops with other healers around the world who are willing to share their beliefs and their knowledges for let's say "not the going rate" of what they would normally charge. So, it's almost like a school really where both beginners and advanced in healing can learn.
To give you an example, our next workshop is with the Oxford Astrologer: Reimagining the zodiac. And I have some heavy duties astrologers that are joining us because they wanna hear her wisdom. It's a community where people are willing to give and receive.
I also now sell these herbal concoctions that are all made from home. And I do consultations using Ayurveda as a base (yet my toolbox is quite packed with so many other resources) to bring awakening to people. I've also been blessed to go to people places for special moment of their life and do private ceremonies to bring the knowledge that I have.
How did you first experience the Power of herbs? What made you wanna share your knowledge and love for plants and herbs with others?
I think my first experiments with herbs where when I was very young, probably 7 or 8. I was the youngest of 4 kids and my siblings had already left the house, so it was just me and my busy corporate parents. We were living in the woods and most of time was spent outside, befriending the wildlife.
The first person I tried to heal with herbs would be my grandmother. She was visiting us one day and had an injury to her knee on which I decided to apply herbs. She started to laugh seeing me doing so and told me I was exactly like my great greatmother. The herbalist wisdom was basically running into my blood. But my first experience properly healing someone only happened a few years later when I was already an apprentice, living in New Mexico, and one of my friends had a terrible accident. I had just collected a whole bunch of poppies and wild herbs and used them as first aids, applying them to his wounds. Not only did it calm his mind, it also helped with his pain. The power of regeneration provided by the herbs is amazing.
All your teas, tinctures, tonics, oils and skincare are handcrafted. How do you work with your clients to curate the right mix for them? Where do you find inspiration for your bespoke creations? Where did you learn the power of each plant and herb?
Seasons are my inspiration. The moon also inspires me. But most importantly, everything I do is bespoke. A mesWhen I meet a private client, I look at the person fully, both internally and externally, I read the eyes, the skin. It's a lot of talking from their point of view, me listening and directing the questions and then once I've done a full accreditation, I can then make some lifestyle suggestions. Not just herbs but also daily practice, meditation with a mantra, nutrition (adjustments and suggestions) and then possibly go to herbs. My role is to help you get on in life and find the best way for you so that you don't need me in the end.
I learnt the science of herbs from three main teachers. One told me how to forage each season: when to pick, where to pick, what to pick and how to pick and then how to serve those to people. Then from the second one I learned which herbs are good for specific organs, it was a more practical way of using herb medicines. Then the last one, my ayurvedic teacher, taught me about Indian herbs and the energy of those herbs.
What has been, so far, the biggest challenge in your entrepreneurial journey?
Keeping up with the demand. I have been pushed to keep going, create more. Which is incredible. But then the production is all done at home and with the home-schooling happening this year it has been a challenge keeping-up. I put love, energy and devotion in the things that I do and I need to find a safe and quiet space to do so, which has been challenging lately.
And the greatest reward?
When I see a comment or when someone's tell me "that cleanse that I purchase is the best cleanser I've ever used in my life, can I have more" or "Shoshana, I've had this rash for so long and you were able to show me the way and now it's gone" or "Shoshana, my periods were so heavy and, I don't know how, the power of the herbs have regulated it" or "I was having such a difficult pregnancy and what you gave me made me calm down and the birth went so well" That's my reward. It's like electricity that goes through my body.
What's next for TovEarth?
The website. Currently working on that. We just did a photoshoot which was so fun. Online classes have been going really well and we will keep that up, it's easy and accessible for people.
What does a typical day in your life look like those days?
Right now it's waking-up at 6 am and doing a short meditation thanking the divine for giving me another day. Then the kids are waking up and it's cuddles time. We clean the house together making it a safe and quiet space for us to live in harmony, we have breakfast together and school starts. I usually go for a run around 11.30 and then have a quick lunch with the kids. They are back at work and during that time I'm working at well with Tov until about 3 pm and then after that we do after school stuffs with the kids until dinner time. 8 pm is bedtime for the kids which means time for me with my husband or a bit of extra work if needed.
I live right on the backside of the Peak so I hike the morning trail daily, that's my outing for mummy time.
With the kids, if we wanna go out we go to the beach, We love to swim all year round.. We also love to camp. We don't do a lot of dining out. Not because of the covid situation but because to be honest I love eating home. We keep Shabbat, Friday nights we always have our rituals and dinners with other families, but other days are mainly for us enjoying being together in our home.
Date night with my husband would be going on a new hike, just the two of us and getting lost in the woods. We just go the two of us and get lost in the woods. That's our date nights.